Visiting Yosemite With an RV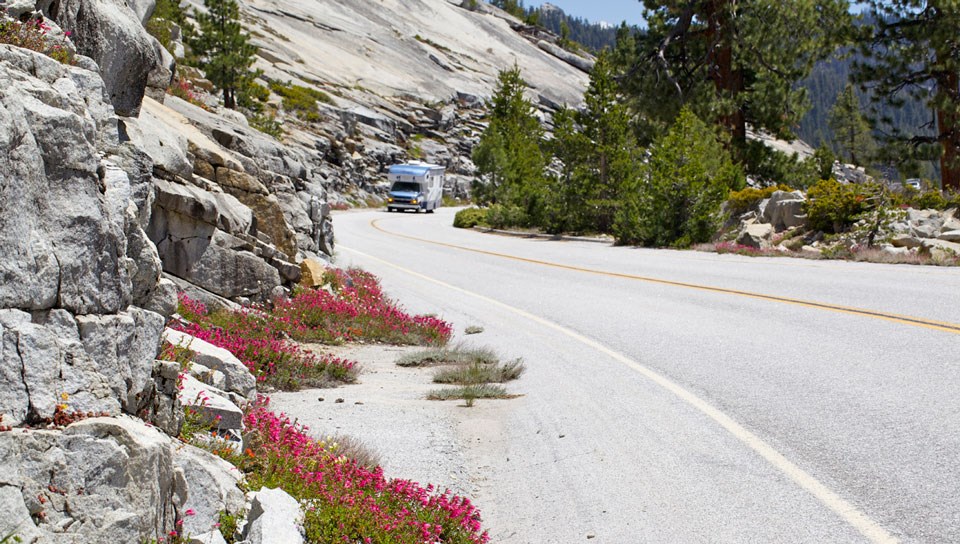 Camping
Most campgrounds in Yosemite allow RVs and trailers, but you must have a campground reservation if visiting Yosemite from April through October. Sleeping in your RV overnight is not allowed outside of campgrounds.
Getting Around
Public Transportation
Public transportation is available both to Yosemite and within Yosemite. Since parking for RVs and trailers is limited in Yosemite, we strongly encourage you to park your RV outside Yosemite and use YARTS to travel into the park if you're not staying the night in Yosemite. Once you're inside Yosemite, or if you're camping inside Yosemite, free shuttles and fee-based tours are available to get you to many areas of the park.
Driving
If you're driving in or around Yosemite, most roads are adequate for RVs and travel trailers. However, some roads, particularly the Glacier Point Road, Mariposa Grove Road, and Hetch Hetchy Road, have restrictions that affect some RVs and most trailers. Some visitors find that Yosemite's winding and often-steep mountain roads and traffic congestion on busy days make for intimidating or challenging travel conditions, particularly for those drivers with limited experience driving large RVs or trailers. If you notice cars behind you, use a turnout to allow them to pass.
Parking
Parking for RVs, trailers, and other oversized vehicles is limited and can fill by late morning during summer, especially on weekends.Parking for larger class A and B vehicles is available at Curry Village parking or at Yosemite Falls parking (in the parking lot west of Yosemite Valley Lodge, across the road from Camp 4). For smaller class C RVs, parking is available in the day-use parking area at Yosemite Village or in the parking area west of Yosemite Valley Lodge.
Driving Safety
Yosemite's roads are steep and winding, often having no shoulders, with steep slopes alongside them. You will frequently find stopped vehicles, people walking or standing on roads, and wildlife standing or crossing roads. The following tips will help make your driving experience in Yosemite safer.
Drive no faster than the posted speed limit or safe conditions allow
If you notice cars behind you, use a turnout to allow them to pass
Stay in your lane: the lanes are wide enough for your RV
Pay attention to your RV's engine temperature; if it is rising, slow down or pull over into a turnout to let your engine cool
Use low gear while traveling downhill to reduce brake usage
If traveling in Yosemite from October through April, be prepared for tire chain requirements due to snowy or icy roads.
Bears and Food Storage
Hundreds of black bears live in Yosemite. While you're unlikely to see a bear during your visit, be sure to protect yourself and bears by storing your food properly, day and night.
You can store food (including drinks, toiletries, and other scented items) in your RV while you're away from it, as long as:

the RV's windows, doors, and vents are completely closed,
all food is out of sight (e.g., in cupboards), and
the RV is completely hard-sided
Do not leave food, drinks, toiletries, or other scented items—including ice chests or boxes containing these items—strapped or otherwise attached to the outside of your RV.
Last updated: March 23, 2023