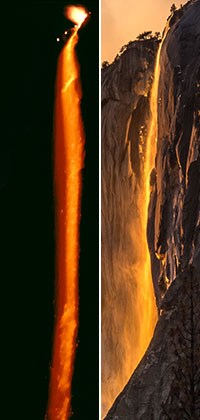 Horsetail Fall flows over the eastern edge of El Capitan in Yosemite Valley. It's a small waterfall that many people don't notice, but it has gained popularity as more and more people have noticed it can glow orange during sunset in mid- to late February, in a way reminiscent of the Firefall that occurred historically from Glacier Point.

The "firefall" effect happens during the second half of February when there is a clear sky and enough snow for the waterfall to flow. Even some haze or minor cloudiness can greatly diminish or eliminate the effect.
Permit Required for Vehicle Access in 2018
In light of the growing popularity of the Horsetail Fall sunset phenomenon, known colloquially as the natural firefall, to provide a better visitor experience and to address safety concerns, the National Park Service will be managing vehicular traffic on Northside Drive in Yosemite Valley. From February 12 to 26, 2018, Northside Drive between Yosemite Valley Lodge and El Capitan Crossover will be closed to unpermitted private vehicular access and parking. If you wish to experience this event, you may walk to viewpoints, take guided tours with Yosemite Hospitality, or obtain a parking permit for this portion of Northside Drive. Reservations for 250 parking permits are available online through The Ansel Adams Gallery.
The reservation is not a permit. If you receive a reservation, you must pick up your parking permit at The Ansel Adams Gallery in Yosemite Valley on the day reserved. Permits are non-transferable. Rain checks are not available.
Reservations are free and limited to one per vehicle per day. If you want reservations for multiple vehicles or multiple days, you must make multiple reservations. Reservations are available up until 8:30 am on the day of the permit, each day of the event.
Registering for a reservation will require vehicle information, including license plate number, make, model, and color. Please have this information handy before you begin. If you will be visiting Yosemite in a rental vehicle, please note "Rental" in the space for license plate number, and bring your rental car contract with you when you pick up the permit.
At least 50 first-come, first-served permits will be available daily at The Ansel Adams Gallery at 9 am.
If you do not have a parking permit, you will be able to reach viewing areas on foot. Guided tours are available through Yosemite Hospitality (reservations required).
Viewing Horsetail Fall Without a Permit Reservation
Even if you don't have a reservation, you can still experience this remarkable phenomenon. Viewing areas are within walking distance of Yosemite Valley Lodge (accessible by shuttle bus) and El Capitan (limited parking), and, depending on how ambitious you are, points further east or west. No parking will be available along Southside Drive between El Capitan Crossover and the Yosemite Chapel.

Yosemite Hospitality will be running special interpretive tours each day of the event (reservations required).
There will be 50 unreserved permits available, for that day, each day from February 12 to February 26 at The Ansel Adams Gallery.
Unreserved Private Vehicle Parking Permits
The Ansel Adams Gallery will open at 9 am to accommodate visitors seeking permits on a first-come, first-served basis for permits for that day.
Bring your vehicle registration or car rental contract.
One permit will be issued per vehicle registration per day.
Chances are it will be cold; please dress appropriately. The average low temperature in February is 30°F (-1°C).
There may be a line.
You can only pick up parking permits on corresponding day of the event. If you have a reservation for a future date, permits for those days will only be available for pick up on that day of the event.
Yosemite Hospitality Tours
Yosemite Hospitality, which is the primary concessioner in Yosemite, will be offering tours with interpretive guides each day of the phenomenon.