Horsetail Fall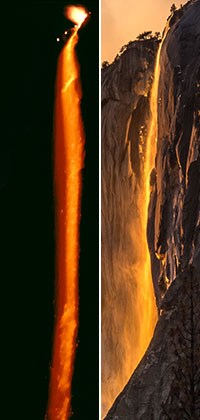 Horsetail Fall flows over the eastern edge of El Capitan in Yosemite Valley. It's a small waterfall that many people don't notice, but it has gained popularity as word has spread of the orange glow it assumes during sunset in mid to late February. This unique lighting effect happens only on evenings with a clear sky when the waterfall is flowing. Even some haze or minor cloudiness can greatly diminish or eliminate the effect. Although entirely natural, the phenonemon is reminiscent of the human-caused Firefall that historically occurred from Glacier Point.

No permit or reservation will be required to view Horsetail Fall in 2019. Due to accumulated snow in pull-offs, icy roads, and nonexistent shoulders, no stopping, parking, or pedestrians will be permitted along Southside Drive between the El Capitan Crossover and Swinging Bridge. No stopping or parking will be permitted on Northside Drive between Camp 4 and El Capitan Crossover, or on El Capitan Crossover. One lane of Northside Drive will be closed to vehicles and bicycles, and will be available for pedestrian traffic.

The closest parking to view Horsetail Fall will be in the Yosemite Falls Parking Area near the Yosemite Valley Lodge and on Northside Drive along El Capitan Straight. Vehicles displaying a disability placard may park at the El Capitan picnic area. Visitors should be prepared to walk at least a mile from their parking location to a viewpoint; remember to bring warm clothes, boots, and a headlamp or flashlight.
Horsetail Fall is a small, ephemeral waterfall that flows over the eastern edge of El Capitan in Yosemite Valley. For two weeks in February, the setting sun striking the waterfall creates a deep orange glow.

Duration:

8 minutes, 12 seconds
Last updated: February 8, 2019