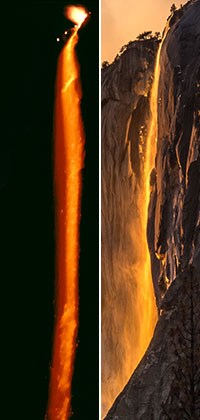 Horsetail Fall flows over the eastern edge of El Capitan in Yosemite Valley. It's a small waterfall that many people don't notice, but it has gained popularity as more and more people have noticed it can glow orange during sunset in mid- to late February, in a way reminiscent of the Firefall that occurred historically from Glacier Point.
Viewing Horsetail Fall
Horsetail Fall at sunset can draw thousands of onloockers, causing significant parking and traffic issues. Parking is limited and shuttle service is not available. Vehicles parked off road or obstructing traffic may be impounded, towed, and cited.
Leaving Yosemite Valley: Northside Drive
(west of El Capitan Picnic Area)
The right lane of traffic will be set up to allow parking west of Yosemite Valley Lodge. Do not park in the left lane or off road.
Entering Yosemite Valley: Southside Drive
(west of Sentinel Beach/Yellow Pine)
The left lane of traffic will be set up to allow parking east of Cathedral Beach Picnic Area. Do not park in the right lane or off road.
Conditions Required for the "Firefall" Effect
The "firefall" effect happens during the second half of February when there is a clear sky and enough snow for the waterfall to flow. Even some haze or minor cloudiness can greatly diminish or eliminate the effect.
Below, you'll find an episode of Yosemite Nature Notes featuring Horsetail Fall.