Hetch Hetchy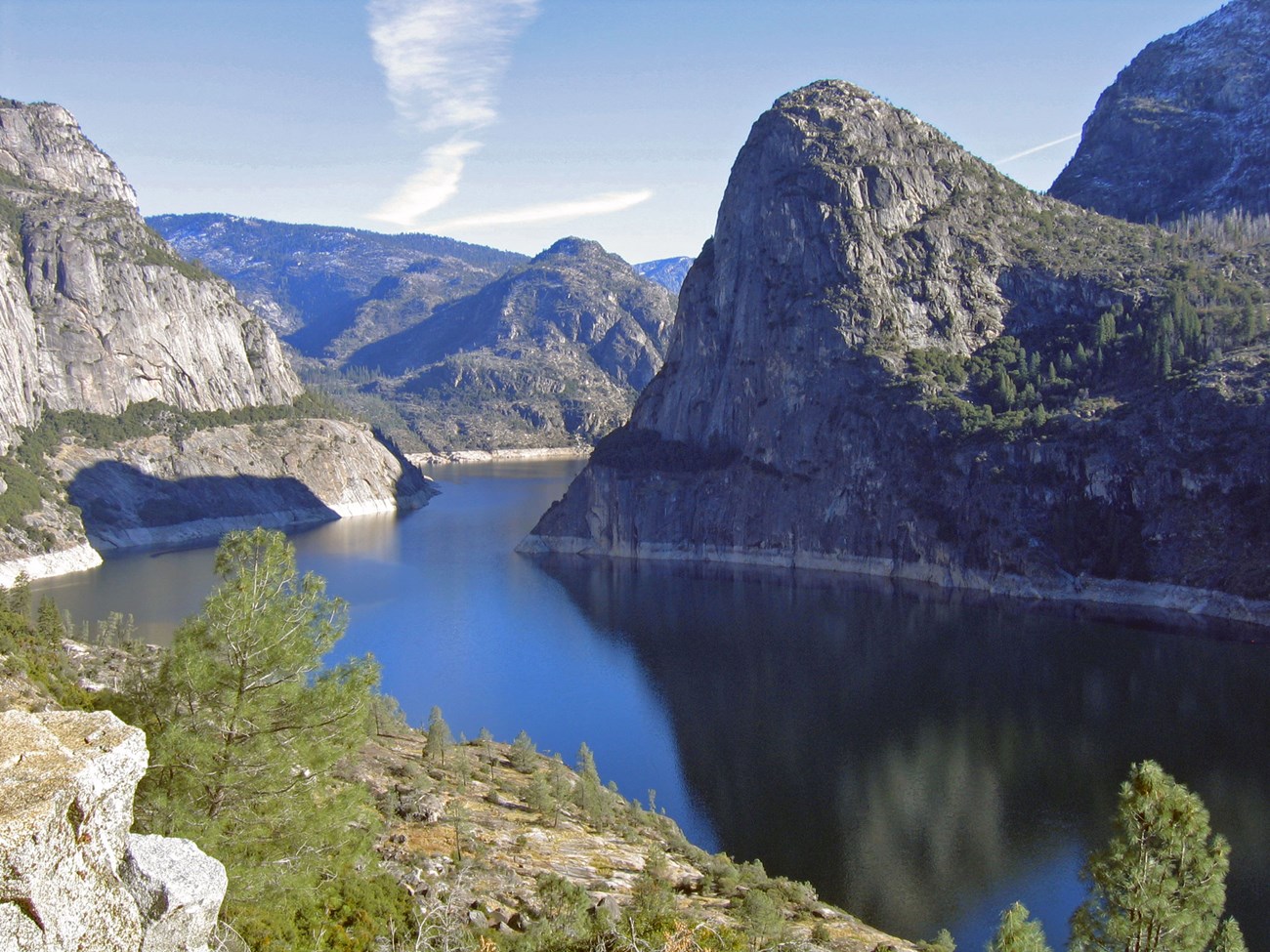 Hidden in Yosemite National Park's peaceful northwest corner, Hetch Hetchy Valley is a treasure worth visiting in all seasons. In spring, two of North America's tallest waterfalls plummet spectacularly over thousand-foot granite cliffs. With its towering falls and dramatic domes, many have compared Hetch Hetchy's grandeur to the more well-known Yosemite Valley. From early spring through late fall, visitors have easy access to a vast wilderness filled with high-country lakes, streams, and wildlife. Snowy winter days give adventurous visitors a chance to explore on skis or snowshoes.
Hours
Unlike other areas of Yosemite, the road to Hetch Hetchy is open only during daylight hours, from sunrise to sunset.
From November through March, the Hetch Hetchy Road may be subject to closures or chain requirements due to ice and snow. Call 209/372-0200 (1,1) for current road conditions.
Getting There
Hetch Hetchy is located 38 miles (61 km), or about 1 hour and 15 minutes from Yosemite Valley. The Hetch Hetchy Road begins just outside of the park on Highway 120, near the Big Oak Flat Entrance Station.
Hetch Hetchy is accessible only by car. There is no public transportation to this area of the park. Vehicles and/or trailers over 25 feet long and 8 feet wide are not
permitted on the narrow, winding Hetch Hetchy Road.
Things to Do
Hike along the reservoir to scenic waterfalls, or explore nearby Wilderness. Due to its relatively low elevation, Hetch Hetchy is ideal for hiking in spring and fall, while summers can be uncomfortably hot. Follow the link for trail information.
A wilderness permit is required for all overnight trips. Hetch Hetchy wilderness permits are available online for trips starting on or after April 7, 2023. Follow the link for information on wilderness permits and backpacking in Yosemite.
Learn more about birding in Yosemite and download a bird checklist!
Public access is prohibited below the high-water mark of the reservoir. For other areas, a valid California fishing license is required. California state and Yosemite National Park regulations apply. Follow the link for more details.
Know Before You Go
Swimming and boating are prohibited in Hetch Hetchy Reservoir in order to maintain a clean source of drinking water. Public access is prohibited below the high-water mark of the reservoir. Pets are not allowed on the dam or on hiking trails.
Clean Water from the Tuolumne River
Hetch Hetchy is on the main stem of the Tuolumne River and is part of the Tuolumne watershed. The Tuolumne River originates in the peaks above Tuolumne Meadows and is the major drainage system for the northern part of Yosemite. The Tuolumne River continues through Tuolumne Meadows and the associated park developments at an elevation of 8,600 feet. It then cascades on its westward descent through the Grand Canyon of the Tuolumne, and enters the eastern end of Hetch Hetchy Reservoir. Hetch Hetchy is dammed by the 430-foot-tall O'Shaughnessy Dam and has a storage capacity of 360,360 acre-feet. It is the primary water source for about 2.7 million residents of the San Francisco Bay Area.
History of the Hetch Hetchy Valley
People have inhabited the Hetch Hetchy Valley for more than 6,000 years. Early American Indian cultures were prominent long before the first European Americans arrived in the 1850s. The modern valley name is derived from the Miwok word hatchhatchie, which means "edible grasses." Native place names are still used for other features in the valley, including Tueeulala Falls, Wapama Falls, Kolana Rock, and the Tuolumne River.
Many groups of people used resources from this area, some also gathering here for trading. The valley offered a year-round water supply, mild winter weather, good hunting and fishing, and abundant acorns and edible plants.
As early as 1882, the rapidly growing city of San Francisco began to look at the Hetch Hetchy Valley as a potential site for a new reservoir. Preservationists, led by John Muir, wanted Hetch Hetchy to remain untouched. Launching a campaign for the protection of the valley, they maintained that another location for a reservoir could be found outside of the national park. Supporters of the dam countered that a reservoir in Hetch Hetchy would offer tremendous social and economic benefits. Due to its increasing population, San Francisco was already facing chronic water and power shortages.
For the first time in the American experience, a national audience considered the competing claims of preservation and development. Until the early 1900s, many Americans viewed wilderness as something to subdue and natural resources as infinitely renewable. The long battle over Hetch Hetchy asked Americans to weigh the true cost of progress.
In 1906, an earthquake and fire devastated San Francisco, adding urgency and public sympathy to the search for an adequate water supply. Congress passed the Raker Act in 1913, authorizing the construction of a dam in the Hetch Hetchy Valley, as well as a second dam at Lake Eleanor.
The first phase of construction on the O'Shaughnessy Dam (named for its chief engineer) was completed in 1923. The final phase was completed in 1938, raising the height of the dam to 430 feet.
Today the reservoir holds 117 billion gallons of clean drinking water.Two plants downstream also provide hydroelectric power. The reservoir is eight miles long and is the largest single body of water within the national park.
Hetch Hetchy's Flora and Fauna
Hetch Hetchy is home to a diverse array of plants and animals. Gray pine, incense-cedar, and California black oak grow in abundance. The distinctive manzanita bush is common, and many beautiful examples of this red-barked shrub can be found growing along the road. Spring and early summer bring brightly colored wildflowers, including lupine, wallflower, monkeyflower, and buttercup. Seventeen species of bats inhabit this area of the park, including North America's largest species, the western mastiff bat. Hikers should remain alert for rattlesnakes and black bears on trails.
Last updated: November 30, 2023