Day Hikes in Hetch Hetchy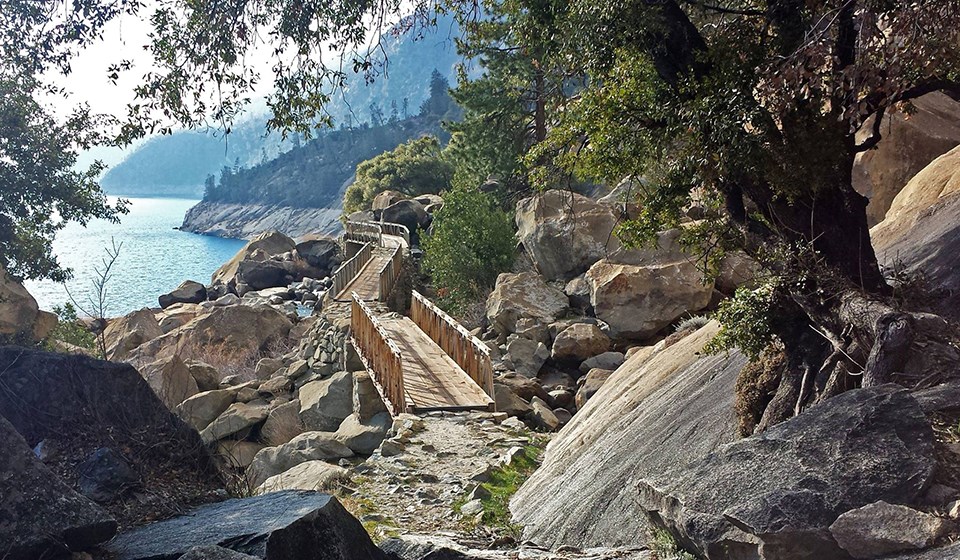 Hetch Hetchy's relatively low elevation provides for one of the longest hiking seasons in Yosemite National Park and the varied trails include something for everyone. Trails around Hetch Hetchy offer great views of the water, towering granite cliffs, and (if you've got a sharp eye) you might be able to spot peregrine falcons soaring high above. Carry plenty of water and sunscreen and watch for rattlesnakes and poison oak.
Swimming and boating are prohibited in Hetch Hetchy Reservoir in order to maintain a clean source of drinking water. This reservoir, located within the Tuolumne watershed is part of a massive system of water and power production operated by the City and County of San Francisco. Hetch Hetchy is on the main stem of the Tuolumne River and is dammed by the 430-foot-tall O'Shaughnessy Dam and has a storage capacity of 360,360 acre-feet. It is the primary water source for about 2.5 million residents of the San Francisco Bay Area.
Dogs and other pets are prohibited on all trails in this area and on the dam. Wild animals are threatened by domestic animals in their territory and may endanger your pets. Dogs are allowed in the parking area but must be leashed at all times.
A brief description of the Hetch Hetchy area, with natural and cultural history, and additional hiking information, is available [1.7 MB PDF].
Lookout Point (moderate)
2 miles (3.2 km) round-trip; 1 hour
Begin at Hetch Hetchy Entrance Station
This shorter hike involves moderate uphill climbing and takes you to a rocky viewpoint overlooking Hetch Hetchy Valley.
Wapama Falls (moderate)
5 mi (8 km) round-trip; 2 hours
Begin at O'Shaughnessy Dam
This hike follows the shoreline of the reservoir with moderate up and downhill hiking. The trail takes you to the base of Wapama Falls, passing two smaller waterfalls (during spring) on the way. The trail includes spectacular views of Tueeulala and Wapama Falls. This is also a good trail for wildflowers in spring. The Wapama Falls footbridge can sometimes close when water levels are too high.

Rancheria Falls (moderate)
13.4 miles (21.4 km) round-trip; 6 to 8 hours
Begin at O'Shaughnessy Dam
The trail to popular Rancheria Falls continues past Wapama Fall and may be done as either a long day hike or a backpacking trip. Along the way, there are beautiful views of the valley and waterfalls.
Smith Peak (moderate to strenuous)
13.5 miles (21.6 km) round-trip; 6 to 8 hours
Begin at Hetch Hetchy Entrance Station
This trail takes you through forest and meadow to Smith Peak, the highest point in the area, where you get great views of the Hetch Hetchy area.
Poopenaut Valley (strenuous)
3 miles (4.8 km) round-trip; 2 hours
Begin four miles east of the Hetch Hetchy Entrance Station (look for small turnout on the right)
This trail provides quick access to the Tuolumne River, descending 1,229 feet (735 m) to the river below O'Shaughnessy Dam.
Last updated: December 6, 2022