Visiting in April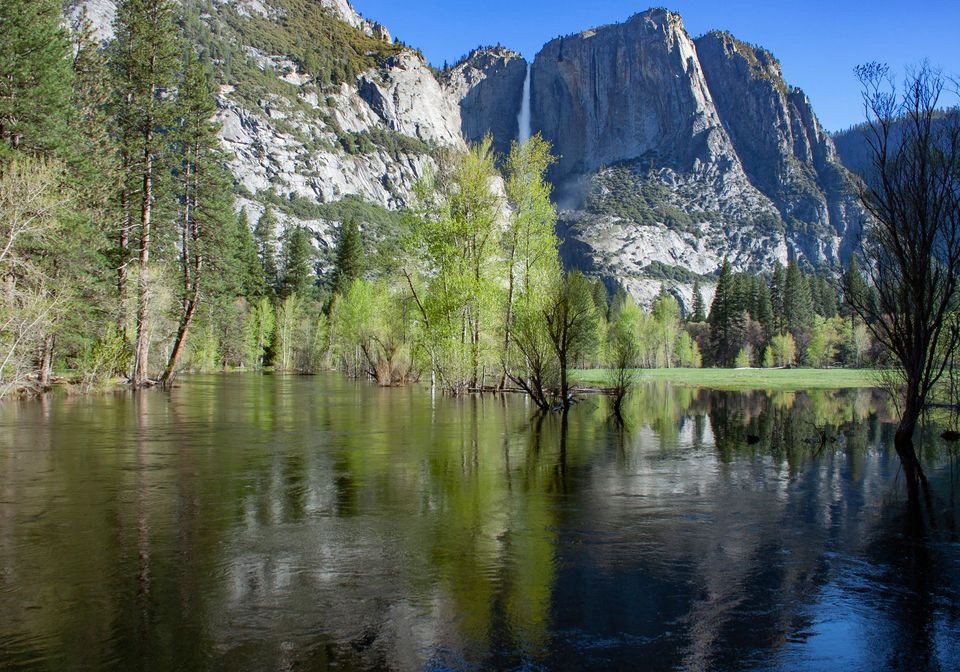 April is a great month for spending time in Yosemite Valley. The waterfalls are flowing very nicely with spring snowmelt and the weather is usually fair (although, rain or snow is still possible).
It's possible to enter the park via Highways 41, 140, and 120 from the west (these roads are open all year). Hetch Hetchy Road is also open all year.
The Tioga Road (Highway 120 through the park) and Glacier Point Road are closed. The Mariposa Grove Road and associated free shuttle typically opens mid-March, conditions permitting. In 2022, the Mariposa Grove shuttle will not be operating until early June and the Mariposa Grove Road will only be open to those vehicles displaying a disability placard.
Tire chains may be required in April, but these requirements aren't as common as during winter. You can check on current requirements by calling 209/372-0200 (then dial 1 then 1).
Yosemite Valley is the most popular area all year and especially in winter and spring. In the Valley, you can see Yosemite and Bridalveil Falls, among others, and various rock formations, such as Half Dome and El Capitan.
Hetch Hetchy, a valley similar to Yosemite Valley that was dammed, is generally snow-free and Wapama and Tueeulala Falls are flowing nicely.
In 2022, the Mariposa Grove shuttle will not be operating until early June.
Mariposa Grove Road usually opens by sometime in April, allowing for access to vehicles displaying a disability placard, with free shuttle service between the Mariposa Grove Welcome Plaza (near South Entrance) and the Mariposa Grove. When the road is closed, the Washburn Trail provides a two-mile route (500 feet of elevation gain) to the Mariposa Grove. The trail may be snowy or icy (skis or snowshoes may be appropriate).
Weather in April is usually pleasant, with average highs in Yosemite Valley in the 60s and lows in the 30s. However, rain and snow are still possible.
Hazy or smoky conditions may occur even during spring. In some areas, the park may have prescribed fires to mimic natural fires to promote forest health and reduce the risk of larger fires; conditions in spring are often good for such fires. Less common, but possible, are fires in the region or in the park. Lightning-caused fire occurs naturally in the Sierra Nevada. Additionally, accidental and arson fires can also occur, but firefighters typically attempt to suppress these fires immediately.
Hiking and backpacking options are still limited in April. Expect snow above 6,000 feet (this varies from year to year). The Mist Trail to the top of Vernal Fall usually opens sometime in April, although it is possible to reach the top of Vernal Fall via the John Muir Trail and continue on to Nevada Fall. The Yosemite Falls Trail is typically snow-free at least most of the way to the top, but snow is likely at the top, making for a snow-camping experience if you're backpacking. The Four Mile Trail to Glacier Point is closed, but may be open to Union Point, about halfway up.
Outside of Yosemite Valley, snow may still be present in the Upper Mariposa Grove, but the lower grove is usually mostly snow-free. Chilnualna Falls Trail (Wawona) may be mostly snow-free and hiking to Wapama and Rancheria Falls (Hetch Hetchy) is another usually snow-free option.
There are no multi-night backpacking options in April that do not involve hiking and camping in the snow. (Read more about winter backpacking.)
The Pines Campgrounds in Yosemite Valley are on the reservation system with few or no sites available the same day. Camp 4, which is first-come, first-served, usually fills up, especially with good weather. Outside of Yosemite Valley, Wawona and Hodgdon Meadow may fill up; these campgrounds also switch to reservations sometime in April.
In Yosemite Valley, Curry Village, Yosemite Valley Lodge, and The Ahwahnee are open. Housekeeping Camp opens in mid-April. The Wawona Hotel is also open. You should make a reservation for lodging within the park. (If you can't get a lodging reservation inside Yosemite, there are also lodging options outside of Yosemite.)
Other Activities
Skiing: Badger Pass Ski Area and the road to the ski area usually close in late March or very early April.
Ice skating: The ice rink is closed.
Biking: Bicycle paths in Yosemite Valley are usually snow-free and are an excellent way to get around eastern Yosemite Valley. Bikes may be available for rent at Yosemite Valley Lodge and Curry Village), conditions permitting.
Last updated: April 18, 2022