Visitor Use and Impact Monitoring - An Example
Learn and Explore
The Utility of Impact Monitoring - An Example
Merced Lake East Meadow (MLEM) is tucked into the mountains southeast of Yosemite Valley. Due to the meadow's proximity to The Merced Lake Ranger Station (located a quarter mile to the west) and the presence of the Merced Lake High Sierra Camp, the meadow receives high level of traffic from people and pack stock. Established in 1916, the Merced Lake High Sierra Camp has historically utilized the meadow for pack stock grazing. As early as 1948 and again in the 1960s impacts from grazing and trampling were noted in the meadow.
Merced Lake East Meadow (MLEM) is included in ORV 1 that protects high elevation small meadows and riparian habitat supported by the Merced River. One of the indicators for ORV 1 is bare soil whose purpose is to monitor the effects of pack stock grazing and trampling by people or pack stock on meadow integrity. The metric used to measure bare soil is percent bare soil, calculated by evaluating points taken at consistent intervals along randomly generated transects. The condition of a meadow based on percent bare soil is dependent on hydrologic type. For example a drier meadow (xeric) is considered in "low" ecological condition when bare soil exceeds 13% while a wetter meadow (hydric) is in "low" condition when bare soil exceeds 9%. Since hydric meadows are wet, they can support a higher density of vegetative cover. This increased natural vegetative cover in hydric meadows means that the same percent bare soil in a hydric meadow corresponds to a worse condition than it would in a xeric meadow. MLEM is defined as a hydric meadow based on the presence of wetland plants. Hydric meadows are more susceptible to the impact of pack stock since hooves can easily penetrate the soil to the rooting zone completely severing the roots from the plants.

Bare soil data from 2012 provided values of 40% bare soil, indicating that the ground cover was in low condition and had tripped Trigger Point 3 where "Bare soil is double the value of "low ecological condition" class at a site."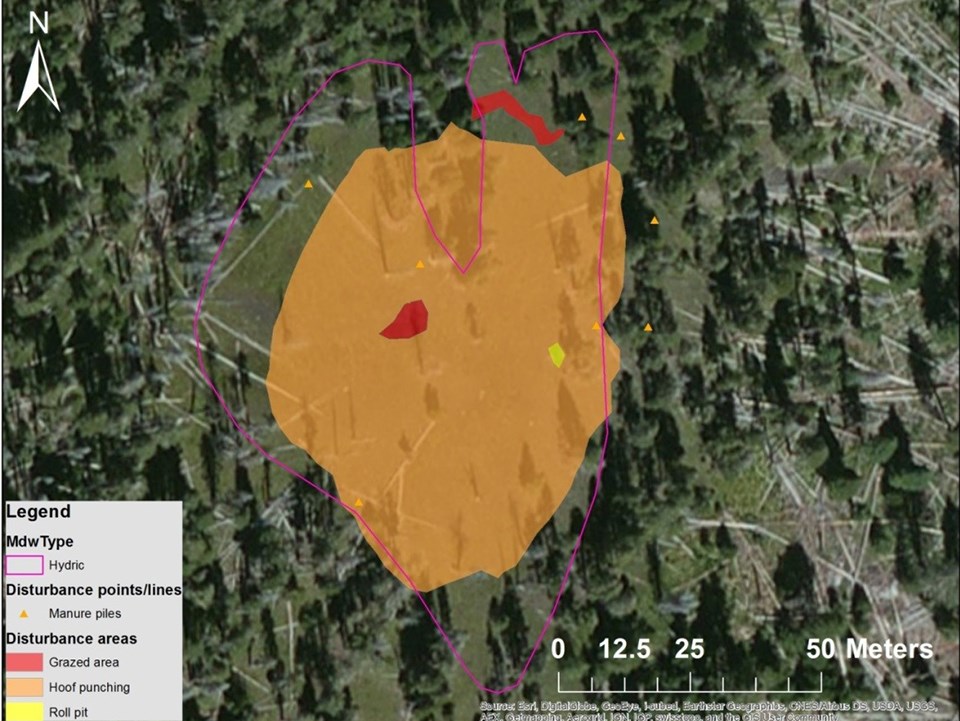 By recognizing the role of excessive use by pack stock in degrading the condition of the meadow, park management took action in the following years to adjust pack stock use to a level the meadow could sustain. As a result, the bare soil percentages improved. In 2014, 2015, and 2016 the bare soil percentages rapidly decreased from 34% to 18% to 9%.
Using a systematically measurable metric to indicate the condition of the meadow provides an objective way of measuring the changing condition. The triggers provide a way of identifying when to take action and what actions are needed to best address the impact occurring at a given site. The formal monitoring process is critical to providing a management framework and ensuring that the resources of the park are preserved for the future.
Last updated: August 2, 2021