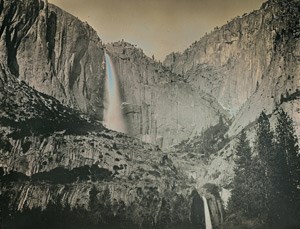 Landmark: Yosemite Through the Lens of Contemporary Landscape Photography
Dates:
November 18, 2016 through January 22, 2017
Hours:
10 a.m. to noon
, and
1 to 4 p.m.
except for holiday closures
November 23-25
,
December 24-27
, and
December 31
–
January 2
The Yosemite Museum is hosting this special display of contemporary landscape photography in celebration of the National Park Service centennial. This traveling exhibition, curated and organized by Cara Goger of the Mariposa County Arts Council, features the work of Binh Danh, Mark Klett, Byron Wolfe, Ted Orland, Millee Tibbs and Jerry Uelsmann. These contemporary artists bring new representation and varied voices to the genre of landscape photography, which has been such an integral part of the park's history. The Yosemite venue for this traveling exhibit will also feature historic photographs and ephemera from the Yosemite Museum collection to help place these contemporary works in their historic context. This exhibit was made possible by a grant from the National Endowment for the Arts.