Views & Visitors: 2011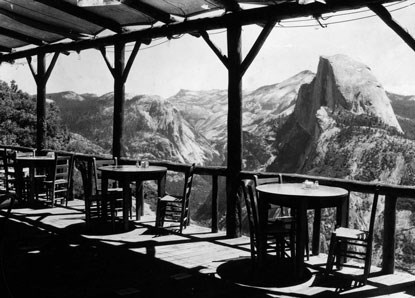 "Views & Visitors: the Yosemite Experience in the Early 20th Century" captures the significant visitation events in the early 1900s: rise of automobile traffic; the construction of a train line to El Portal; development of new roads and hotels; increased popularity of camping, hiking and other outdoor pursuits; beginning of the National Park Service; and a rapid growth in park visitation. To portray the theme, paintings, prints, artifacts and ephemera from the Yosemite Museum's extensive collection are on display.

The exhibit's opening reception is from 5 to 7 p.m. June 7 at the museum, located in the Yosemite Village. The exhibit will continue to hang June 8-Oct. 31. Hours are 9 a.m.-5 p.m. June through through September and 10 a.m.-4 p.m. in October. At the reception, Tom Bopp, a Wawona historian and pianist, will be performing historic songs.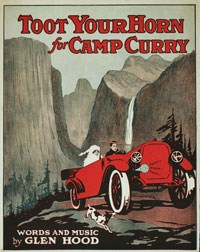 Early camp and hotel brochures, souvenirs and historic signs from this period will be on display, as will artifacts related to the Yosemite Valley Railroad, Yosemite Winter Club, Indian Field Days and the opening of the Tioga Road.
Fine art by Chiura Obata, Theodore Wores and Gunnar Widforss will be included, as will works by photographers George Fiske, Arthur Pillsbury, Edward Weston and Ansel Adams.
The park's collection will be supplemented by loans from DNC Parks & Resorts at Yosemite, Inc. and a number of private collectors.
A digital slide show of historic photographs of Yosemite visitors and digitized film footage of early auto stages, train travel and visitor activities will complement the exhibit of artifacts. A listening station will allow visitors to hear oral histories related to early park visits as well as historic musical recordings.
Seldom-seen items from the collection will be on view, including
a 1912 Indian motorcycle, possibly the first to visit the park
one of the largest trout ever caught in Yosemite Valley
a dogsled used in Yosemite Valley in the 1920s
This exhibit, funded by a Yosemite Conservancy grant, builds on "Views & Visitors: the Yosemite Experience in the 19th Century" that hung in the Yosemite Museum in 2010.
Last updated: March 1, 2015