Past Museum Exhibit 2010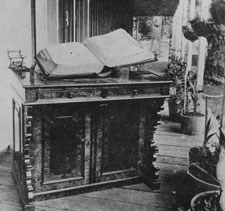 In 1875, J.C. Dotry of New York City wrote: "Very, very, very fine scenery but very, very hard to get to" of his journey across the country. The weary traveler's comment appeared in a thick book called the Grand Register of Yo-Semite Valley that sat on the porch of the Cosmopolitan Bathhouse and Saloon. The Cosmopolitan's register was kept out where all visitors could sign and browse through other tourist entries. Take, for example, what Mrs. E.S. Carr of Oakland, Calif., scribed in 1873: "People should be sure to try Smith baths and mint juleps if they wish to have it said they have seen the Valley."
The Cosmopolitan definitely became part of the experience of Yosemite's visitors in the late 1800s. Its story was a central element in the Yosemite Museum's "Views & Visitors: The Yosemite Experience in the 19th Century" exhibit, which hung in the Yosemite Museum Gallery in 2010.
The Cosmopolitan's register, weighing more than 70 pounds, contains more than 10,000 signatures on 800 pages. U.S. presidents Ulysses S. Grant, Rutherford B. Hayes, and James Garfield signed in, as did many other distinguished visitors. Thousands flocked to Yosemite, which had become a well-known scenic wonder of the western United States in the late 1800s.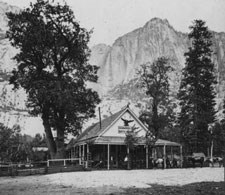 The Cosmopolitan Bathhouse and Saloon was built by John C. Smith, who opened this bathhouse and saloon in 1871 in Yosemite Valley. Known as a spot where visitors could get an excellent bath of hot or cold water at any hour of the day, the Cosmopolitan was furnished extravagantly with billiard tables, full-length mirrors, bathtubs, and a fully-stocked bar. The Cosmopolitan attracted many travelers who appreciated its unexpected comforts. Wealthy individuals from the northeastern United States, Californians, and a large number of foreigners made up the majority of visitors. Many entered their names and comments in the Cosmopolitan's register.
"Why is there no mention of the dust in the guide books?"—William Donald Spence, Scotland, 1874
"Don't come to the valley with a baby and expect to enjoy yourself. Bring a nurse or wait till the baby is old enough to saddle a horse. – Bring a bottle of ginger ale."—Silas Wright Geis, Merced, Calif., 1874
"Can't get out of Yosemite on account of a sick horse. Yosemite Valley is a lovely place in which to be incarcerated. – Long may it wave."—J.R. Kendall, Greene County, Penn., 1875
"Mrs. Biddle was 'packed' in a chair into the valley from the Summit—from Clark's Station—on the backs of four Chinamen. This is the first invalid lady who dared the difficulties of such an undertaking."—Robert Biddle, Philadelphia, 1875
"Never room next to a man that snores."—James J. Withington, San Francisco, Calif., 1875
"People who think it 'don't pay' to visit Yosemite had better not travel."—Joseph Moore, Richmond, Indiana, 1875
"All bitten up with Ants. Suffering awfully."—W.T. Caldwell, originally from Boston, 1880
"Yosemite Falls would make a very fine shower bath in Summer, Cannot see what is so wonderful about this Valley. Have seen finer scenery at the Blue Mountains."—Fred Meredith, Sydney, New South Wales, 1882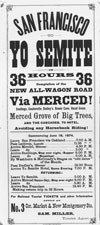 The Cosmopolitan operated until 1884, when it was closed down by the Yosemite Commissioners as inappropriate—any saloon in Yosemite should be operated in conjunction with a hotel. The structure was used for almost an additional 50 years until it burned in 1932.
The Cosmopolitan's register was donated to Yosemite National Park by the Yosemite Fund in 2007.
Other details about traveling to the Yosemite region in the 19th century:
In the 1800s, women typically used side saddles, but the steep trails of Yosemite were difficult if not dangerous on side saddles. To cope with this, some women wore "Yosemite bloomers" while riding astride.
By the 1870s, roads were completed within Yosemite that permitted stage travel to the Yosemite Valley floor, but these roads, constructed with private funds, were subject to tolls, as were riding trails developed in the Yosemite area.
Last updated: March 1, 2015