Ranger Programs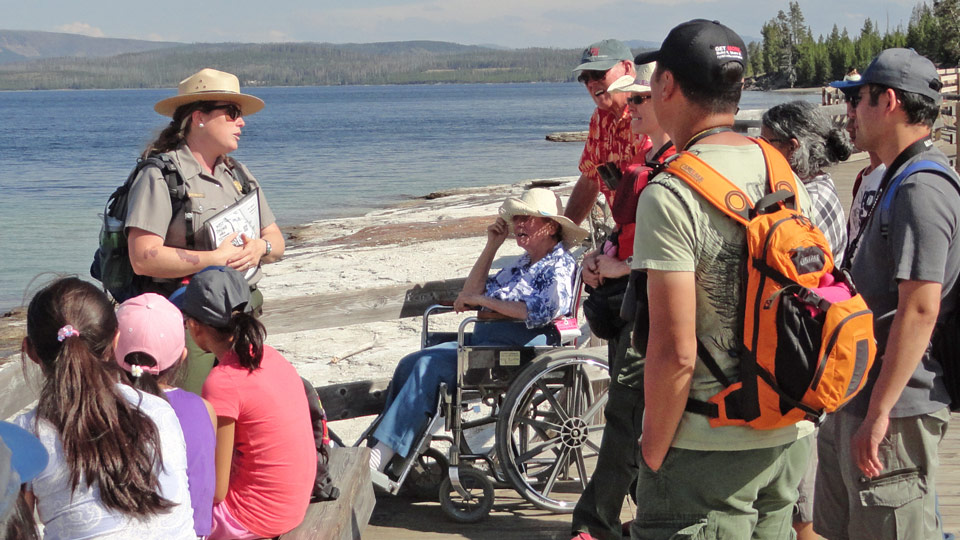 One of the best ways to experience a national park is participating in a ranger program. Yellowstone National Park offers a variety of ranger programs throughout the park, and throughout the year.
Here are descriptions of the different types of programs available. Check the calendar for specific program details.
Talks
Experience a National Park Service tradition and join a ranger for a presentation exploring one of the many fascinating stories of Yellowstone National Park. Examples of ranger presentations include:
Experience Wildlife in Yellowstone: Learn where to find wildlife in the park and experience them safely.
Evening Program: Explore Yellowstone's natural and cultural history while enjoying a campfire outside.
Gazing into the Abyss: Discover the secrets of Abyss Hot Spring, West Thumb Geyser Basin.
Canyon Talks at Artist Point: Discover why artists continue to be drawn to this special place, Artist Point on South Rim Drive, Canyon area.
Tours
Explore a bit of Yellowstone with a ranger via a hike, walk, boat cruise, or citizen science program and gain a greater appreciation for this amazing place. Examples of ranger tours include:
Mud Volcano Ramble: Find out what mudpots and hot springs reveal about Yellowstone's past and future, Mud Volcano.
Lake SceniCruise: Join a ranger of a boat tour of Yellowstone Lake (fee program, reservations required), Bridge Bay.
Hot Springs Terraces Walk: Meander around Mammoth Hot Springs Terraces, Mammoth Hot Springs.
Geyser Hill Walk: Learn about relationships between Yellowstone's volcanic history and hydrothermal features, Old Faithful Visitor Education Center.
Junior Ranger Activities
These programs are designed for kids and are a great way to immerse yourself in Yellowstone's stories. Examples of these activities include:
Wildlife Olympics: Test your skills and compare your abilities to animals in Yellowstone.
Junior Ranger Discovery Program: Investigate the many curiosities of Yellowstone, Grant Visitor Center.
Junior Ranger Station Activities: Learn about Yellowstone's wonderful wildlife, geysers, history, and much more, Madison Information Station.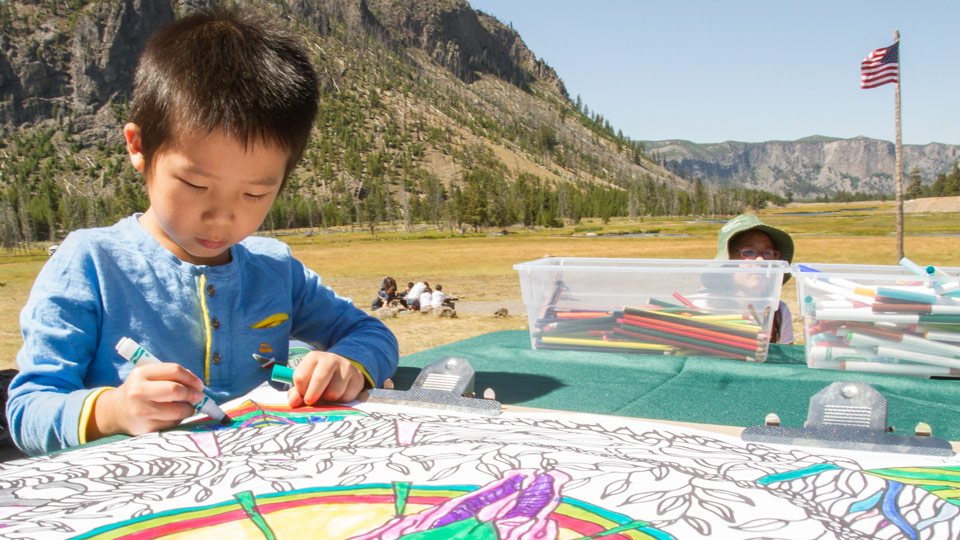 Arts in the Park
Written and visual reflections on Yellowstone aroused the interest of the world and resulted in its designation as the world's first national park. Have you been inspired by Yellowstone? Experience Yellowstone through art with our local artist programs.
Throughout Summer 2017, Yellowstone will celebrate Arts in the Park by conducting a series of two types of themed programs.
Pop-up Art Studio
A total of four pop-up art studios will be held 11:30 am–2:00 pm. Enjoy the splendor of Yellowstone while you create your own art inspired by your surroundings. Local artists and park staff assist you in a group written-word or coloring program to celebrate art's importance in Yellowstone.
Pop-up Photo Workshop
Join Yellowstone's park photographer, Jim Peaco, to enhance your photography skills at one of the four Pop-up Photo Workshops taking place 10—11:00 am. Jim has nearly 30 years of experience capturing the wonder that is Yellowstone.
Waterfalls and White Balance - June 6, Tower Area (Lost Creek Falls)
Arches and Angles - July 13, Gardiner, Montana (Arch Park near Roosevelt Arch)
Extremophiles and Exposure - August 10, Old Faithful Area (Firehole Lake Drive)
Landscapes and Light - September 5, Madison Amphitheater (adjacent to the Madison Information Station)
Contact us for more information on Arts in the Park.
Schedules
Yellowstone's in-park ranger programs vary each season.
Summer
Programs are available Memorial Day weekend through Labor Day weekend.
Fall
Programs are available Labor Day through the end of September.
Winter
Programs area avilable December to March at Mammoth Hot Springs, Old Faithful, and West Yellowstone. The 2017 schedule will be out in late fall. Until then, the 2016 program schedule gives an idea of the types of programs likely to be offered.
Spring
The spring season is a transitional period for the park, so no ranger programs are scheduled during this time.
Junior Ranger
Becoming a junior ranger is a great way to experience Yellowstone National Park for you and your family.
Young Scientist
Solve science mysteries by combining investigation in both visitor center and field settings.
Visitor Centers
Step inside a visitor center and explore the exhibits and interpretive offerings, or talk to a ranger.
Last updated: August 24, 2017