Participate in a Ranger Program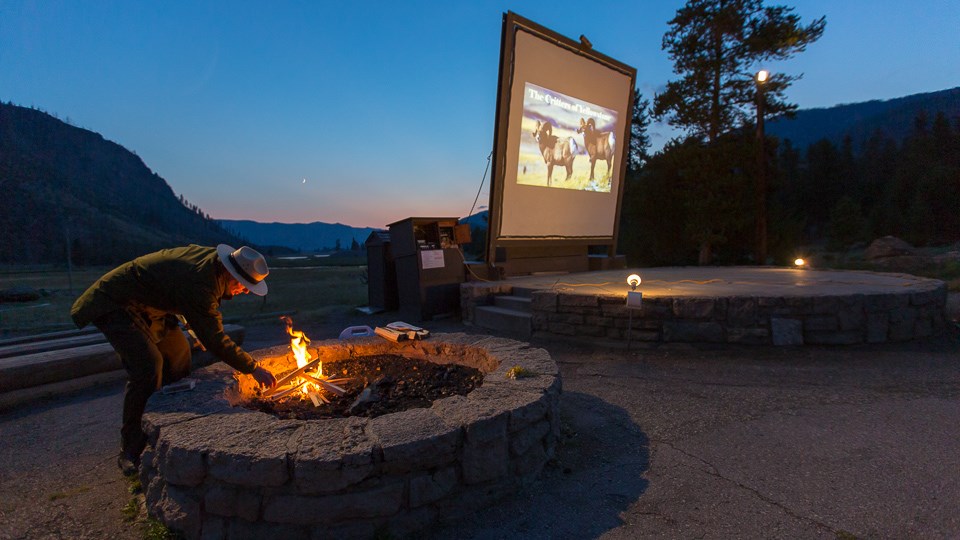 One of the best ways to experience a national park is participating in a ranger program. Yellowstone National Park offers a variety of ranger programs throughout the park, and throughout the year. Check the calendar for specific program details.
Printable Schedules
Yellowstone's in-park ranger programs vary each season.
Spring
The spring season is a transitional period for the park, so no ranger programs are scheduled during this time.
Summer
Programs are available Memorial Day weekend through Labor Day weekend. The 2018 program schedule gives an idea of the types of programs likely to be offered.
Fall
Programs are available Labor Day through the end of September.
Winter
Programs are available mid-December to early- to mid-March at Mammoth Hot Springs, Old Faithful, and West Yellowstone.
Program Types
Talks
Experience a National Park Service tradition and join a ranger for a presentation exploring one of the many fascinating stories of Yellowstone National Park. Examples of ranger presentations include:
Experience Wildlife in Yellowstone: Learn where to find wildlife in the park and experience them safely.
Evening Program: Explore Yellowstone's natural and cultural history while enjoying a campfire outside.
Gazing into the Abyss: Discover the secrets of Abyss Hot Spring, West Thumb Geyser Basin.
Canyon Talks at Artist Point: Discover why artists continue to be drawn to this special place, Artist Point on South Rim Drive, Canyon area.
Tours
Explore a bit of Yellowstone with a ranger via a hike, walk, boat cruise, or citizen science program and gain a greater appreciation for this amazing place. Examples of ranger tours include:
Mud Volcano Ramble: Find out what mudpots and hot springs reveal about Yellowstone's past and future, Mud Volcano.
Lake SceniCruise: Join a ranger of a boat tour of Yellowstone Lake (fee program, reservations required), Bridge Bay.
Hot Springs Terraces Walk: Meander around Mammoth Hot Springs Terraces, Mammoth Hot Springs.
Geyser Hill Walk: Learn about relationships between Yellowstone's volcanic history and hydrothermal features, Old Faithful Visitor Education Center.
Junior Ranger Activities
These programs are designed for kids and are a great way to immerse yourself in Yellowstone's stories. Examples of these activities include:
Wildlife Olympics: Test your skills and compare your abilities to animals in Yellowstone.
Junior Ranger Discovery Program: Investigate the many curiosities of Yellowstone, Grant Visitor Center.
Junior Ranger Activity Site: Learn about Yellowstone's wonderful wildlife, geysers, history, and much more, Old Faithful Junioir Ranger Activity Site (near the Old Faithful yurts, east of the Visitor Education Center).
Arts in the Park
The National Park Service and Yellowstone Forever offer a variety of art and photography activities. These hands-on programs are designed to inspire new and creative ways of enjoying the beauty and wonder of Yellowstone.
Pop-up Art Studio: Create your own art inspired by your surroundings, with Yellowstone Forever artists-in-residence, a local writer, and park staff ready to assist you.

Framed by Nature Writing Workshop with Jennifer Armstrong: June 26, 9 am – 11 am, Albright Visitor Center front porch and lawn
Try it Yourself Watercolor Alchemy with Anastasia Kierst: July 3, 10 am – 12 am, Madison Information Station back porch
Cyanotype (sun print) Workshop with Kathryn Mann: July 17, 9 am – 11 am, Fishing Bridge Visitor Center back porch and beach
Memory Mapping & Drawing with Nayda Collazo-Llorens and Patricia Villalobos Echiverria: July 31, 9 am – 11 am, Old Faithful Yellowstone Art & Photography Center
Creating Mini Art Books in Pastel with Renee Marz Mullis: August 14, 9 am – 11 am, Madison Information Station back porch
Yellowstone Forever Plein Air Painting Event: September 26—28, 10 am – 2 pm, Locations TBA at Yellowstone Forever.

Photo Skills Workshop: Join Yellowstone's park photographer, Jim Peaco, to enhance your photography skills.

Waterfalls & Wide Angles: June 19, 8:30 am – 9:30 am, Artist Point parking lot on South Rim Drive
Wildflowers & White Balance: July 10, 10 am – 11 am, Mount Washburn Trailhead, Chittenden parking area
Architecture & Aperture: July 24, 9 am – 10 am, Lake Hotel Porte Cochere
Extremophiles & Exposure: August 7, 9 am – 10 am, Artists' Paintpots parking area
Arches & Angles: August 21, 7 pm – 8 pm, Arch Park Pavilion, Gardiner, MT
Paparazzi & Prime Lenses: September 18, 9 am – 10 am, Albright Visitor Center (Mammoth) south side lawn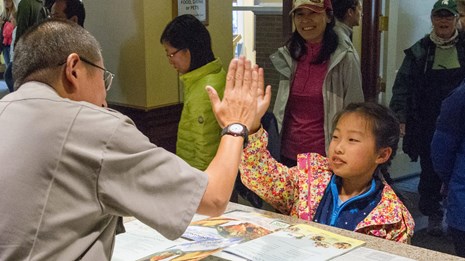 Junior Ranger
Becoming a junior ranger is a great way to experience Yellowstone National Park for you and your family.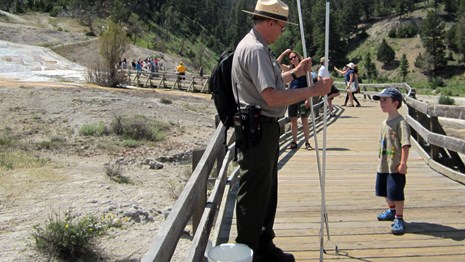 Young Scientist
Solve science mysteries by combining investigation in both visitor center and field settings.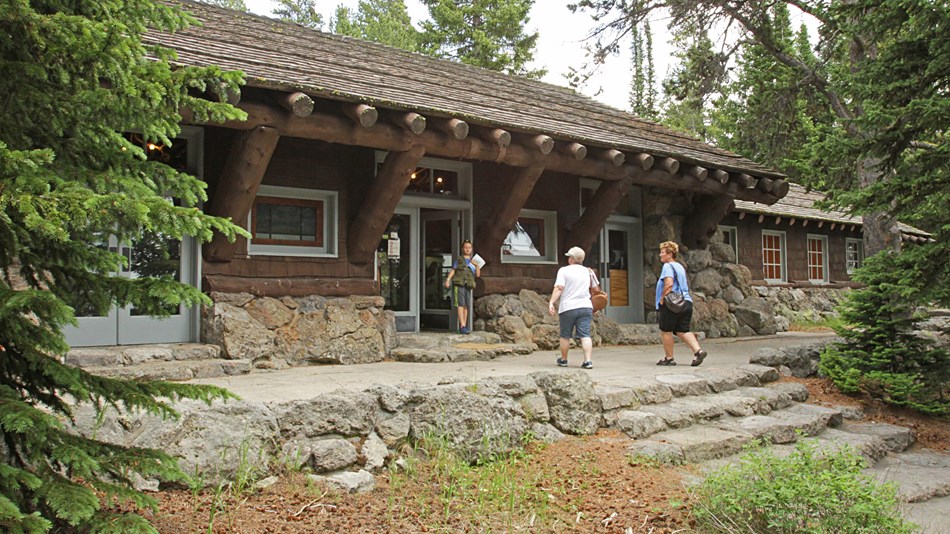 Visitor Centers
Step inside a visitor center and explore the exhibits and interpretive offerings, or talk to a ranger.
Last updated: September 16, 2019