Flood Recovery and Operations
Visit our keyboard shortcuts docs for details
Duration:

2 minutes, 33 seconds
In June 2022, unprecedented amounts of rainfall caused substantial flooding, rockslides, and mudslides within Yellowstone National Park. Historic water levels caused severe damage to roads, water and wastewater systems, power lines, and other critical park infrastructure. (Video includes natural sounds only: no narration.)
Background
On the morning of June 13, 2022, Yellowstone experienced a 500-year flood event. Northern parts of the park received a combined 7.5-9.5 inches of rain and snowmelt in a 24-hour period. The flood destroyed several sections of the North Entrance Road between Mammoth Hot Springs, Wyoming, and Gardiner, Montana, and three sections of the Northeast Entrance Road between Lamar Valley and Cooke City/Silver Gate, Montana.

The park immediately set a range of life and safety objectives to ensure all employees and visitors were safe and accounted for, restore power, divert damaged wastewater systems, and help local communities with emergency response. Within 36 hours of the event, the park evacuated all visitors in developed areas and conducted initial damage assessments. Within 48 hours, the park restored power, diverted severed wastewater lines, and planned for recovery and resumption of operations when and where possible. The south loop of the park reopened on June 22, 2022, nine days after the flood event. As repairs continued, additional sections of road and backcountry trails opened throughout the summer.
---
Flood Recovery Timeline
6/14/22, Conducted initial damage assessments by resident Federal Highway Administration (FHWA) engineers.
6/14/22, Provided $10 million in Emergency Relief Federally Owned Roads - Quick Release (ERFO-QR) funding.
6/15/22, Started to improve Temporary North Entrance Road (Old Gardiner Road) with National Park Service (NPS) roads crews.
6/17/22, Provided additional $50 million in ERFO-QR funding.
6/17/22, Started planning and design for long-term reconstruction strategy.
6/21/22, Started temporary solution assessments to repair Northeast Entrance Road to Cooke City, Montana.
6/29/22, Hosted senior officials from congressional committees, NPS, and FHWA visit to develop strategies around short- and long-term recovery efforts.
7/1/22, Finished NPS improvements to Temporary North Entrance Road allowing for one-way employee traffic.
7/5/22, Started work on Temporary North Entrance Road after Diverting HK Contractors, INC from Old-Faithful-to-West-Thumb project.
7/11/22, Finalized temporary Temporary North Entrance Road designs and awarded contract to HK Contractors, INC.
7/26/22, Finalized temporary Northeast Entrance Road designs and awarded contract to Oftedal Construction, INC.
8/8/22, Started work on Northeast Entrance Road repairs by Oftedal Construction, INC.
10/15/22, Opened Northeast Entrance Road to the public.
10/30/22, Opened Temporary North Entrance Road to the public.
7/1/23, Reopened the Mammoth Hot Springs Hotel and Cabins after Mammoth wastewater system repairs.
Mammoth Wastewater System
A sewer line adjacent to the road that carried wastewater from Mammoth Hot Springs to a sewage treatment plant in Gardiner ruptured. Staff quickly rerouted the wastewater into percolator ponds used between the 1930s and 1960s, allowing for summer day-use visitors and residents to stay in the area. A new wastewater treatment system is being built to serve the Mammoth area with an anticipated summer 2023 completion.
Temporary North Entrance Road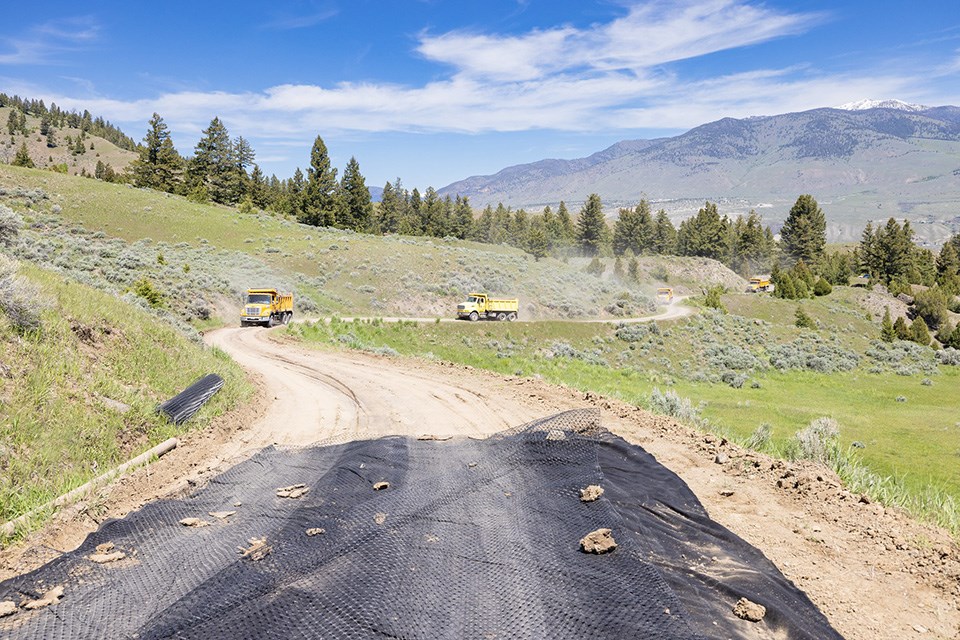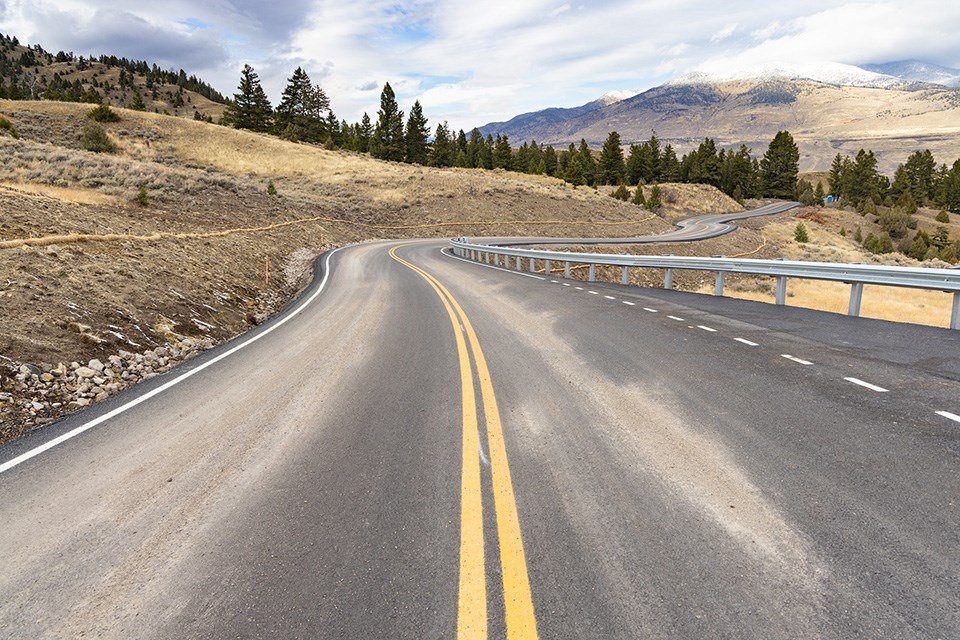 Left image
Temporary North Entrance Road: June 16, 2022
Right image
Temporary North Entrance Road: October 24, 2022
Northeast Entrance Road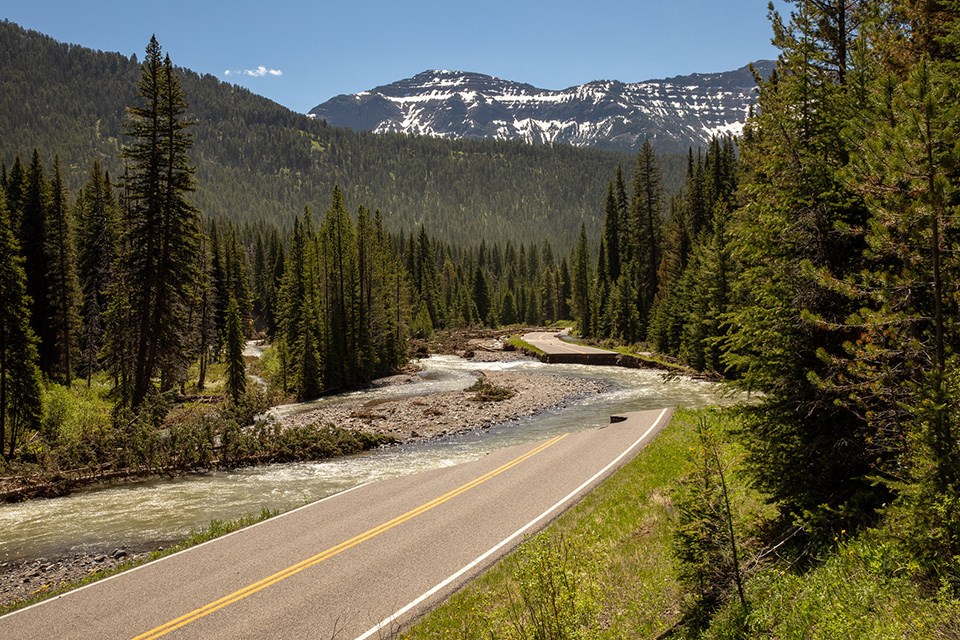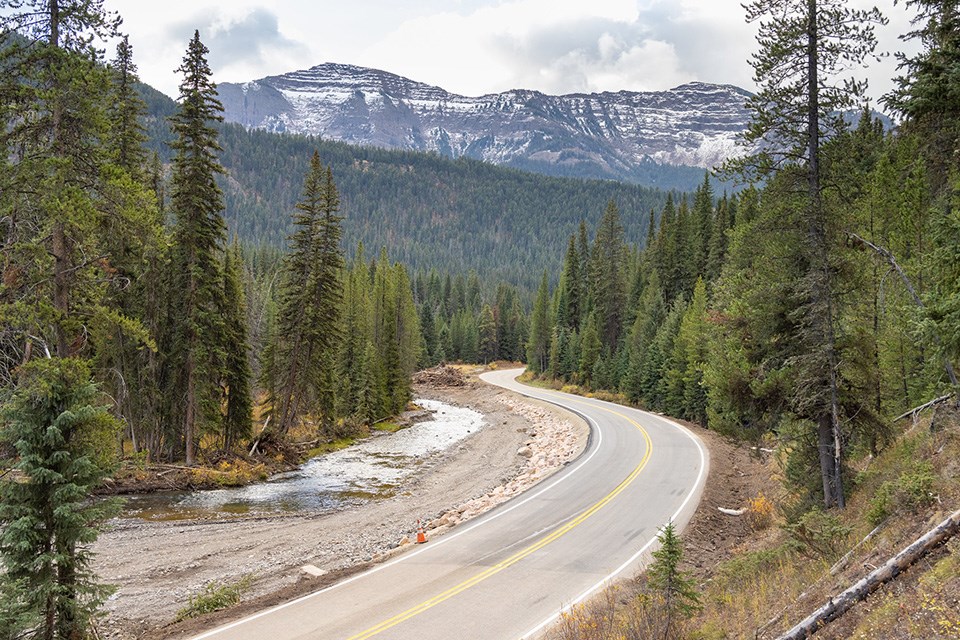 Left image
Northeast Entrance Road: June 27, 2022
Right image
Northeast Entrance Road: October 15, 2022