Osprey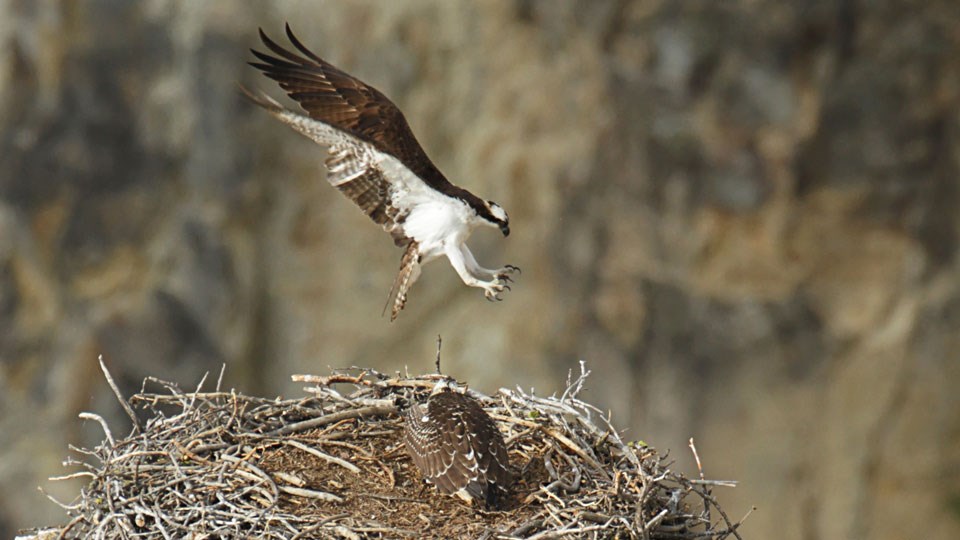 Like many other birds of prey, osprey (Pandion haliaetus) populations declined due to pesticide use in the mid-1900s. Populations rebounded during the latter part of the 1900s. The first study of osprey in Yellowstone National Park occurred in 1917 by M. P. Skinner, the park's first naturalist. It was not until 1987 that the Yellowstone National Park bird program began monitoring breeding osprey annually, although an extensive survey on reproduction, diet, and habitat was conducted during the 1970s.
Since monitoring began, Yellowstone's population of osprey has been considered relatively stable. On average, 50% of nests succeed (produce young) each year, with each successful nest producing an average of one to two young.
Ospreys are surveyed via fixed-wing aircraft and by ground-based surveys from May through August. During the survey flights, the majority of nests are monitored for occupancy and breeding activity. In addition, all suitable lakes and rivers are surveyed for potential new territories and nest sites.
Number in Yellowstone
In 2016, 29 active nests were monitored, with 69% of them successful, higher than the 30-year average (51%).
33 young were produced. Productivity for active nests in 2016 (1.14 young per nesting female) was greater than the 30-year average (0.82).
None of the 3 osprey nests at Yellowstone Lake were successful in 2016.
Identification
Slightly smaller than the bald eagle.
Mostly white belly, white head with dark streak through eye.
Narrow wings, dark patch at bend.
Fledglings have light edges to each dark feather on their backs and upper wing surfaces, which gives them a speckled appearance.
Habitat
Usually near lakes (such as Yellowstone Lake), river valleys (such as Hayden, Madison, Firehole, and Lamar valleys), and in river canyons (such as the Gardner Canyon and the Grand Canyon of the Yellowstone River).
Behavior
Generally returns to Yellowstone in April and leaves in September.
Builds nest of sticks in large trees or on pinnacles close to water.
Lays 2–3 eggs in May to June.
Eggs hatch in 4–5 weeks.
Research
A recently completed study conducted by park biologists found a significant relationship between the declines in cutthroat trout and osprey reproduction at Yellowstone Lake. Recent increases in the number of young cutthroat trout caught by the Yellowstone fisheries program during the fall netting assessment are encouraging. An increase in cutthroat trout production may lead to an increase in nesting pairs of ospreys and improved nesting success at Yellowstone Lake.
Last updated: May 6, 2019