Osprey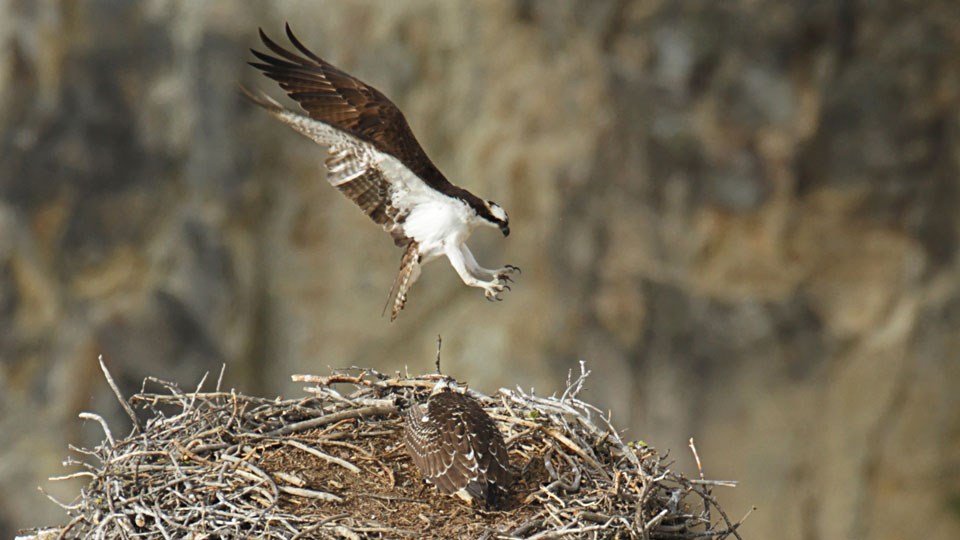 Like many other birds of prey, osprey (Pandion haliaetus) populations declined due to pesticide use in the mid-1900s and rebounded in the latter part of the century, after the banning of pesticides such as DDT. The first study of osprey in Yellowstone National Park occurred in 1917 by M. P. Skinner, the park's first naturalist. It was not until 1987 that the Yellowstone National Park bird program began monitoring breeding osprey annually, although an extensive survey on reproduction, diet, and habitat was conducted during the 1970s.
Ospreys are surveyed via fixed-wing aircraft and by ground-based surveys from May through August. During the survey flights, the majority of nests are monitored for occupancy and breeding activity. In addition, all suitable lakes and rivers are surveyed for potential new territories and nest sites.
Since monitoring began, Yellowstone's population of osprey has declined, particularly on and around Yellowstone Lake. Nest success has remained relatively stable, with about 50% of nests producing one to two young per year.
Research
A recently completed study conducted by park biologists found a significant relationship between the declines in cutthroat trout and osprey reproduction at Yellowstone Lake. Recent increases in the number of young cutthroat trout caught by the Yellowstone fisheries program during the fall netting assessment are encouraging. An increase in cutthroat trout production may lead to an increase in nesting pairs of ospreys and improved nesting success at Yellowstone Lake.
Last updated: July 13, 2020