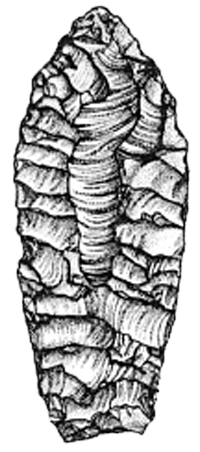 Paleoindian Period
~11,000 years ago
A Clovis point from this period was made from obsidian obtained at Obsidian Cliff.
10,000 years ago
Folsom people were in the Yellowstone area as early as 10,900 years ago—the date of an obsidian Folsom projectile point found near Pinedale, Wyoming. Sites all over the park yield paleoindian artifacts, particularly concentrated around Yellowstone Lake.
9,350 years ago
A site on the shore of Yellowstone Lake has been dated to 9,350 years ago. The points had traces of blood from rabbit, dog, deer, and bighorn sheep. People seem to have occupied this site for short, seasonal periods.