Stage Companies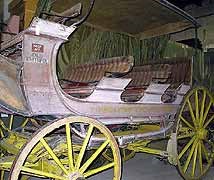 The Monida and Yellowstone Stage Company operated from 1898 to 1913, when it became the Yellowstone-Western Stage Company. Owned by Frank J. Haynes, one of Yellowstone's most famous photographers, it brought Union Pacific Railroad passengers into the park from the west entrance (present-day West Yellowstone, Montana). Monida and Yellowstone also used Abbot-Downing coaches, but these vehicles were named after park geothermal features rather than numbered, and painted red in contrast to Yellowstone Park Transportation Company's yellow stages.
4-horse Yellowstone Observation Wagon, Yellowstone-Western Stage Company "Giantess". Museum Catalog Number YELL 7579. The wooden body of this coach is painted carmine red with "YELLOWSTONE-WESTERN" painted in shaded gilt lettering on both sides of the passenger compartment. "OLD FAITHFUL" is painted in black on both sides of the driver's box over the gilt lettered word "GIANTESS. The undercarriage and wheels are painted yellow with black pin striping. The vehicle features three interior forward-facing seats and leather thorough braces. The raised driver's box has a seat with iron armrests, and an iron divider separates the seat for the driver and passenger(s).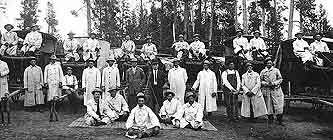 (YELL 108739) Yellowstone-Western Stage Company drivers posing with their coaches in this circa 1914 image. The long coats worn by the drivers are known as "dusters", examples of which are also included in the park's museum collection.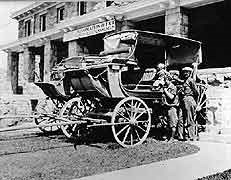 This coach contains parts from at least three vehicles (Monida & Yellowstone coaches "Old Faithful" and "Giantess" and another unidentified vehicle). The use of parts from multiple vehicles undoubtedly represents efforts to extend the life of one vehicle by replacing worn out parts with serviceable parts from retired vehicles. This coach was exhibited outdoors for many years (probably beginning in 1922) near the Mammoth Museum (now the Albright Visitor Center), apparently with the proper left side facing the sun, and presumably visitors as well, due to the fact that it is very faded and covered with graffiti.
Last updated: July 11, 2017