Mountain Stages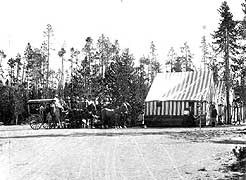 In the late 1800s and early 1900s, tent camps were provided in the park by Wylie Permanent Camping Company and Shaw and Powell Camping Company. These companies offered an affordable option for vacationers who wanted to avoid the expense of
Yellowstone
's hotels and stage lines. Tourists traveled through the park in company coaches and stayed in tent communities at convenient locations. Both companies prospered until the end of the stagecoach era, and helped lead the way to the informal campground experience of today's national parks.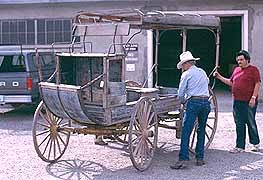 Studebaker
Mountain
Stage (Museum Catalog Number YELL 90058).
This mountain stage used by the Shaw and Powell Camping Company was manufactured circa 1898. Also known as a mountain spring wagon, it has a raised driver's seat and luggage boot, and 3 passenger seats, and could carry up to eleven passengers (one or two sitting beside the driver). The body is painted gray/green (now faded), with an under-layer of dark green paint, while the undercarriage is painted yellow with black pin striping. Extensive graffiti ranging from 1910 through 1944 is also visible on the stage.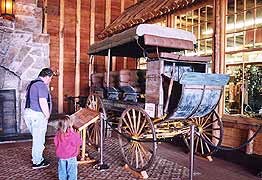 This vehicle underwent extensive conservation treatment in 1997-1998, which included the replacement of missing parts. It was on exhibit for several years at the Old Faithful Inn, but due to renovation work in that building, it is now displayed at the Old Faithful Lodge, which is located on a former Shaw and Powell camp site.
Last updated: July 6, 2016