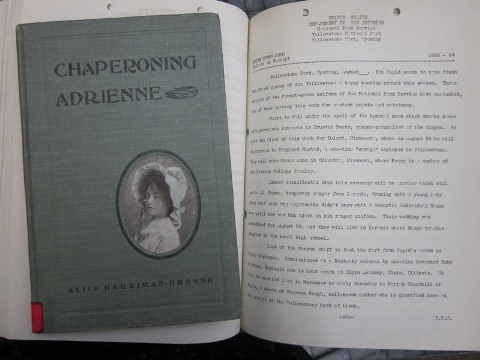 Cover of Alice Harriman-Browne's book, "Chaperoning Adrienne", 1907, and page of Monthly Reports of the Superintendent, August 1936.

Those who do not live here may not believe that being surrounded by insects, bears, and double-digits-below-zero can be romantic, but people can feel the sting of Cupid's arrow anywhere and the Yellowstone Research Library has proof. Visitors and staff have been falling in love with and in the park for over a hundred years. 
Some stories are fictional, like Alice Harriman-Browne's book, "Chaperoning Adrienne." Published in 1907, this novel is written in alternating first-person through a series of diary entries. One of the entrants is Mrs. Annabella Ellis who has been roped into chaperoning her niece, Adrienne, and the niece's ostensible suitor, Senator Rowley, to Yellowstone National Park. Adrienne, a somewhat scatter-brained girl who can never quite finish her entries, is one of the other people who add to the tale as does the Senator, whose entries are brief and never stray from work. General Tennial, Annabella's own suitor, also adds his thoughts to this delightful tale. The book 8is only enhanced by various photos from the park as well as drawings by Charles M. Russell. Yes, that Charles M. Russell.
But true love isn't only to be found in between the pages of a library book. During a recent reference request, librarian Jackie Jerla came across this wonderful press release included in the August 1936 Monthly Reports of the Superintendent. All of the monthly reports were recently digitized and are available online through the Internet Archive (http://archive.org/search.php?query=collection%3Aclemson%20Yellowstone%20Monthly).
PRESS MEMORANDUM
Release on Receipt
            Yellowstone Park, Wyoming, August___. Dan Cupid seems to have found the Grand Canyon of the Yellowstone a happy hunting ground this season. Three wearers of the forest-green uniform of the National Park Service have succumbed, two of them leaving this week for eastern points and matrimony.
            First to fall under the spell of the hymenal moon which wreaks havoc with preseason romances is Trusten Peery, ranger-naturalist at the Canyon. He left the first of this week for Duluth, Minnesota, where on August 28 he will be married to Margaret Hustad, a one-time "savage" employed in Yellowstone. They will make their home in Columbia, Missouri, where Peery is a member of the Stevens College faculty.
            Almost coincidental with this ceremony will be another which will unite Al Raume, temperary [sic] ranger from Laramie, Wyoming with a young lady from the city who apparently didn't know what a romantic individual Raume was until she saw him again in his ranger uniform. Their wedding was scheduled for August 28, and they will live in Laramie where Raume teaches physics in the local high school.
            Last of the Canyon staff to feel the dart from Cupid's arrow is Wayne Replogle. Commissioned as a Kentucky colonel by one-time Governor Ruby Laffoon, Replogle is now head coach at Elgin Academy, Elgin, Illinois.  He will be married late in November or early December to Marian Churchill of Elgin, a niece of Emerson Hough, well-known author who is glorified here as the savior of the Yellowstone herd of bison.  
            J. H.M.-
This trend of love and marriage has carried through with the many marriages performed in the Mammoth Chapel. The earliest record of a marriage in the chapel is from 1914 with weddings still being performed there today. (
https://www.nps.gov/yell/planyourvisit/weddinginfo.htm