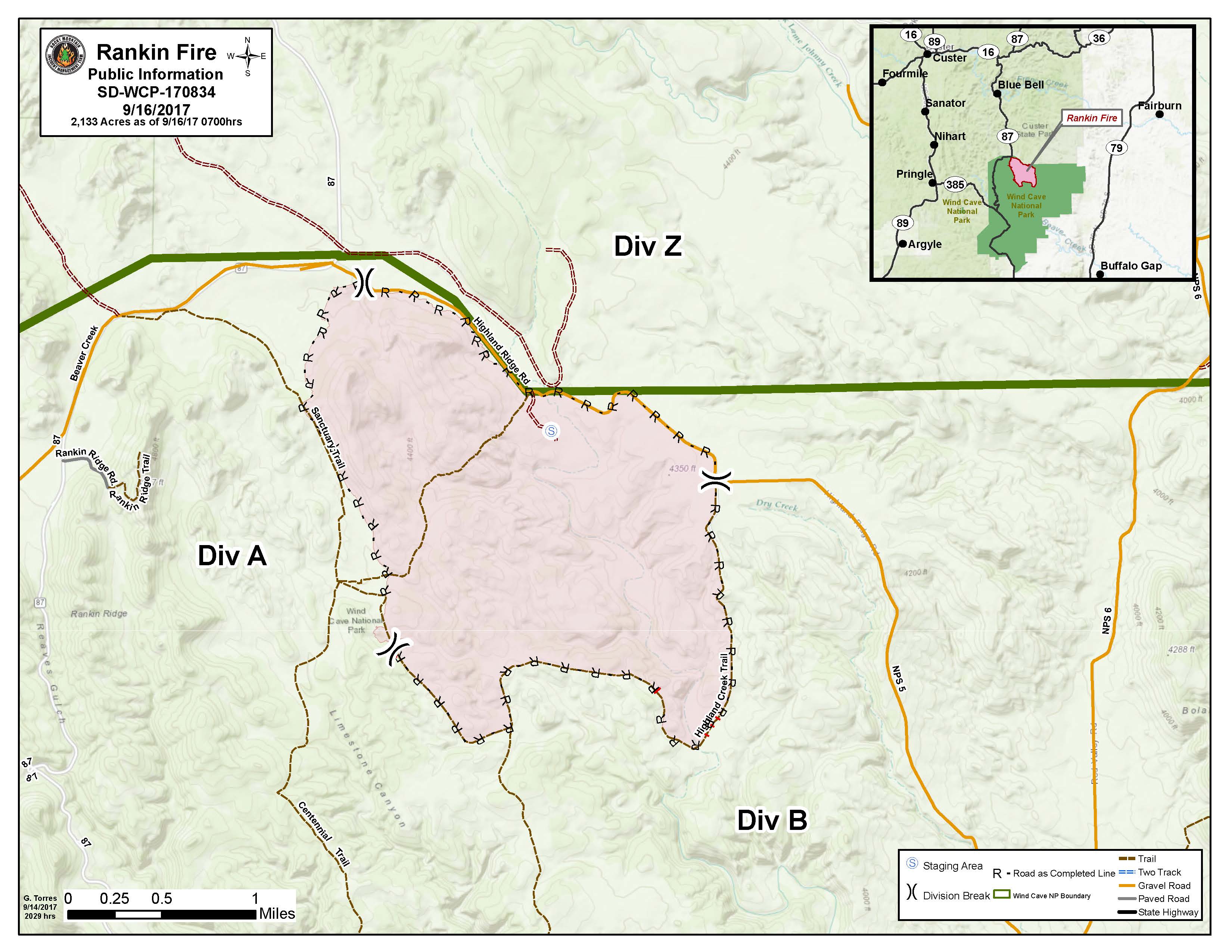 News Release Date:
September 16, 2017
Contact: Tom Farrell, 605-745-1130
Rankin Fire Update
September 16, 2017 – 7:00 am
Rocky Mountain Incident Management Team Black
Shane Greer, Incident Commander  
Information Center: (605) 574-1725
Email: RankinFireInfo@gmail.com
Hours of Operation: 8:00 a.m. – 5:00 p.m.  
Note:
This will be the
final update
for the Rankin Fire from Rocky Mountain Team Black. At 7:00 a.m. on Saturday, September 16, command of the fire will transition back to Wind Cave National Park. Information will continue to be posted on InciWeb (
https://inciweb.nwcg.gov/incident/5613
) and Wind Cave National Park's Facebook page (
https://www.facebook.com/WindCaveNPS/
) as conditions change. 
Current Situation:
The Rankin Fire is now 100 percent contained. There has been no growth of the fire for two days, and the size remains 2,133 acres. The fire area received 0.3" of rain on Friday. The completion of burnout operations coupled with the expected weather change have reduced the fire's threat potential.  
Weather:  
A much cooler air mass will push over the fire area Friday night and Saturday with scattered showers tapering off.  
Closures:
All trails north of and including Wind Cave Canyon Trail remain closed.  
Fire Statistics:
Start Date: 09/11/2017
Location: 12 miles Southeast of Custer, SD              
Cause: Lightning
Size: 2,133 acres   
Containment:
100%
For More Information: 
InciWeb: https://inciweb.nwcg.gov/incident/5613
Facebook: 
https://www.facebook.com/WindCaveNPS/
Info Line: (605) 574-1725
Email: RankinFireInfo@gmail.com  
###