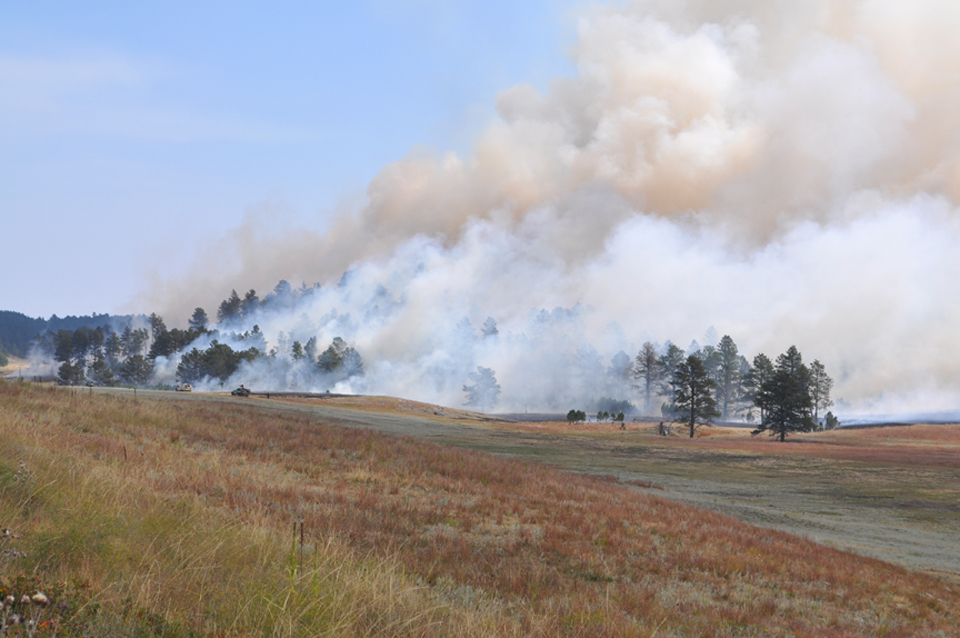 News Release Date:
September 12, 2017
Contact: Tom Farrell, 605-745-1130
WIND CAVE NATIONAL PARK, SD – Firefighters from multiple agencies are working to contain a lightning caused fire in the northern part of Wind Cave National Park.  The fire, first reported Monday afternoon, is burning east of Highway 87 and south of road NPS 5. 
The fire is burning toward the south, in steep, rocky terrain fueled by grass and timber. A Type III incident management team is overseeing the work of approximately 85 firefighters and support staff. 
Utilizing existing roads, trails, and a mow line to aid line construction and to provide for firefighter safety, crews Tuesday successfully conducted a burn-out operation. This operation increased the size of the burn from 300 acres to around 500 acres. At this time, there is no estimate of the amount contained or controlled. 
"September and October are historically when we have the biggest fires in the park," said Park Superintendent Vidal Dávila. "We encourage everyone to be extra cautious with their outdoor activities due to the hot and dry conditions we are experiencing."
Federal, state, and local crews assigned to the fire are from the National Park Service, Black Hills National Forest, South Dakota Division of Wildland Fire, Custer State Park, Argyle Fire Department, Rapid City Fire Department, Nebraska National Forest, South Dakota Department of Corrections, Wyoming Department of Corrections, Boxelder Job Corps Civilian Conservation Center, and the Custer Ambulance Service.
Currently the only closures are the northern segment of NPS 5 and all backcountry hiking trails north of Wind Cave Canyon. The park visitor center remains open with cave tours leaving from 9 a.m. to 4:30 p.m. throughout the day.