Plan Your Visit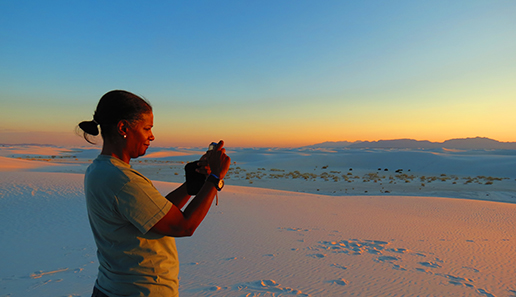 Are you planning a visit to
White Sands National Monument?
Let us help you!
You're about to become part of an amazing legacy that stretches back in time over more than 10,000 years. Seemingly stark and barren, the 275 square miles of brilliant white gypsum sand are home to an amazing diversity of life, weaving a spell over all who visit it. The dunes offer countless opportunities for discovery and it is our sincere hope that you will have fun, make lifelong memories, and develop a deep connection to a place that has provided spiritual and physical sustenance to humankind for thousands of years.
Where to begin? This "Plan Your Visit" section has all kinds of helpful information, including basic information on the monument, things to do, eating and sleeping, safety, accessibility and nearby attractions. As you dig deeper, you'll also find maps, directions, operating hours and seasons, a listing of fee free days, information on fees and passes, publications, and even details on permits and reservations.
NOTICE: Alcohol is prohibited within the park during the months of February, March, April and May.
Links to Travel Planning sites: