Education
White Sands is a living laboratory. Why a laboratory? Because new discoveries are being made here all the time! From our unique wildlife to our fascinating geology, there are many opportunities for your students to learn. You are welcome to bring your class to the monument or check out our loan materials and ready-made lesson plans.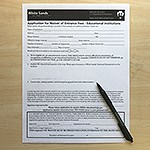 Are you considering bringing your students to White Sands to use the dunes as an outdoor classroom? If so, please download and complete an academic fee waiver. Certain requirements must be met and waivers must be submitted at least two weeks prior to your anticipated trip day.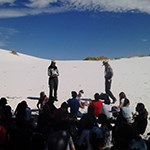 Do you want a ranger to visit your classroom? Would you like to download material for use as part of your curriculum? White Sands offers both of these and more to help you create educational opportunities for your classroom and for yourself!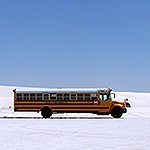 There are a few ways to plan a field trip to the monument: self-guided, ranger-guided programs for youth, or ranger-guided curriculum-based program. Each type of trip has its own requirements so be sure to look at each one to see which program type will fit your needs.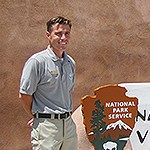 Educators, have you ever thought about working part of your summer in a national park? The National Park Service
Teacher Ranger Teacher (TRT) program
is an excellent opportunity to learn about the resource and create new place-based lessons in the monument to apply back in your classroom. Temporary TRT positions may be available at many of the over 400 National Park Service sites, including White Sands National Monument.
Last updated: July 9, 2018