Commercial Use Authorization
What is a Commercial Use Authorization?
A Commercial Use Authorization (CUA) is a business permit with the National Park Service. It authorizes you or your organization to conduct commercial activities and to provide specific visitor services within a national park.

You must have a CUA if you or your organization provide services that:
• take place at least in part in White Sands National Park,
• use park resources, and
• result in compensation, monetary gain, benefit, or profit.

Your organization is considered a business if it provides goods, services, activities, or other things to the public using National Park Service lands. If you receive any form of compensation for the things you provide, you are conducting a business or commercial activity. The National Park Service definition of a business or commercial organization does not distinguish between commercial and non-profit organizations.

You may not conduct commercial activities in the park without a valid CUA or in a manner inconsistent with the terms of the CUA.

You must always carry a complete copy of your Commercial Use Authorization with you while operating in the park. All vehicles in the group must be identified with a common tag from your business on the dashboards so that park personal can easily identify the entire party.
What are the general criteria for the issuance of a CUA?
The authorization is issued to a qualified operator to permit the provision of appropriate commercial services to park area visitors. A qualified operator is an organization that the superintendent determines has the ability to satisfactorily provide visitor services and carry out the terms of the CUA.

Authorized commercial services must:
• Have minimal impact on park area's resources and values;
• Are consistent with the purpose for which the park area was established;
• Are consistent with all applicable park area management plans, policies, and regulations.

The holder must agree to comply with all of the general and specific conditions described in the CUA conditions. You should familiarize yourself with these documents before applying for a CUA.
What commercial activities are authorized at White Sands National Park?
What fees do I need to pay?
You are required to pay a nonrefundable application fee each time you submit an application. The application fee amount is currently determined by each park. This fee allows the park to recover administrative costs associated with processing and approving or denying your CUA application.

A $250 application fee for each service category is due with the application. This fee is non-refundable.

Market Price Fee

Parks are required to collect a reasonable fee to recover the costs associated with administering and managing the CUA program. CUA holders are subject to a market price fee calculated by gross receipts earned from park-based operations. Application fees are credited to the CUA holder upon payment of market price fee. Fees are based on the following:
Market Price Fee (% of gross receipts earned from park-based operations)

<$250,000.00 – 3% of gross receipts (minus application fee)
$250,000.00 to $500,000.00 – 4% of gross receipts (minus application fee)
>$500,000.00 – 5% of gross receipts (minus application fee)

You will receive a bill of collection for the market price from White Sands National Park. Payment is due by the due date. You may submit your payment via money order or check (business, personal, or cashiers).
Do CUA holders have to pay park entrance fees:
A CUA authorization only pays for the activity, not park entrance fees. Requesting an early opening or staying late outside of park hours will require a cost recovery fee.
How do I obtain a commercial use authorization?
1. Download the CUA APPLICATION form 10-550 CUA application for photography workshops. Complete and sign the CUA application (electronically or in writing). Applications will be accepted beginning October 1, 2022.

2. APPLICATIONS ONLY ACCEPTED VIA EMAIL as the program is managed remotely. Email the completed form to WHSA_CUA@nps.gov along with:
Proof of commercial general liability insurance certificate.
Auto liability insurance certificate.
3. Mail $250 application via money order or check:
White Sands National Park
CUA Coordinator
PO Box 1086
Holloman AFB, NM 88330
4. Proof of adequate general liability insurance and automobile insurance. White Sands National Park needs to be listed on the General Liability Insurance as an additional insurer on the face of the policy. To make sure the park receives a copy, it needs to read as follows:
United States Government
Department of the Interior
National Park Service
White Sands National Park
19955 Hwy 70
Alamogordo, NM 88310

5. We require the following coverage:

COMMERCIAL GENERAL LIABILITY INSURANCE
Single Purpose Activities
$500,000
Vehicle Insurance
(bodily injury and property damage)
Minimum per Occurrence Liability Limits*
Up to 6 passengers
$1,000,000
7 – 15 passengers
$1,500,000
16 – 25 passengers
$3,000,000
26+ passengers
$5,000,000

To make sure the park receives a copy, the policy needs to read as follows:

United States Government
Department of the Interior
National Park Service
White Sands National Park
19955 Hwy 70
Alamogordo, NM 88310

6. A copy of your rates and an itinerary of the areas of the park you are planning on using for permitted activities.

7. Please include a copy of the "Acknowledgment of Risk" that you have your clients sign before participating in the permitted activity. If you require such a form to be signed by your clients, it must follow this format.

Application Review Process: The park requires at least 30 days to process a completed CUA application (application fee must be paid prior to review of the CUA application).
• Applications are reviewed in the order they are received.
• Applicants may receive follow-up emails or phone calls with requests for additional information.
• Applicants will receive approval, denial or requests for modifications to the proposed commercial activity no later than 45 days after the completed application and application fee.

8. Email application and documents to: WHSA_CUA@nps.gov.

All required documents must be received, reviewed, and the permit signed by the Superintendent prior to operating in the park. Once executed, a signed original permit will be returned to you.
What are the reporting requirements?
CUA holders must submit an annual report each year. This report provides the park with visitation statistics, reportable injury data, and a record of annual gross receipts. Download the CUA Annual Report Form.

The CUA annual report is submitted quarterly on April 5th for 1st quarter, July 5th for 2nd quarter, and October 5th for the 3rd quarter. The final annual report is due by January 31st
For what time period are Commercial Use Authorizations Valid?
CUAs are valid from the date of issue until December 31st of the same calendar year. For example, if an application is received on February 1, 2023, and issued on March 1, 2023, the CUA will be valid from March 1, 2023 – December 31, 2023. As another example, if a CUA is issued on September 1, 2023, it will be valid from September 1st until December 31st of the same year.
What areas of the park can the CUA activities be conducted?
CUA activities can be conducted at Dune Life Nature Trail, Playa Trail and public areas past Interdune Boardwalk (including Dunes Drive loop).
Photography Workshop Conditions
An itinerary with dates and times must be emailed to WHSA_CUA@nps.gov 15 days prior to your planned activity if your activity will be during normal park operating hours (park website will have current park hours).
If you plan to have an early/late open request, you must make this request 30 days prior to the date of the planned activity, email request to WHSA_CUA@nps.gov. Early/late open requests depend on NPS staffing availability on the date(s) requested.
The maximum group size for photography workshops is 25 people, including group leaders.
Activity may be conducted in caravans of up to five vehicles, including up to one commercial vehicle and up to four private vehicles for each group. All vehicles in the group must be marked with the company logo and name on the dashboard.
The Park must be in the same condition as when the CUA holder arrived.
Activity may not be conducted on roads that are not open to the general public.
The carrying or storing of a bottle, can, or other receptacle containing an alcoholic beverage that is open, or has been opened, or whose seal is broken or the contents of which have been partially removed, within any motor vehicle in the park area or within park boundaries is prohibited.
CUA holders are prohibited from conducting activities in or entering areas that could be considered residential in nature, including administrative areas, service areas, or employee housing areas.
White Sands National Park lists areas where CUA holders are permitted to access.
No onsite chemical development or processing of films is permitted.
No artificial lighting may be used in park areas. Props are not allowed for photography workshops.
CUA holders must stay in designated areas listed for activities.
All business transactions must take place outside of White Sands National Park.
All representatives and employees of CUA holders must always professionally conduct themselves.
The name and employing company of all CUA representatives and employees must be identifiable using uniforms, name tags, and logos while conducting activities.
Commercially owned, leased, and rented vehicles must be identifiable outside the vehicle.
During military testing, no activities are permitted. Time and dates are subject to change.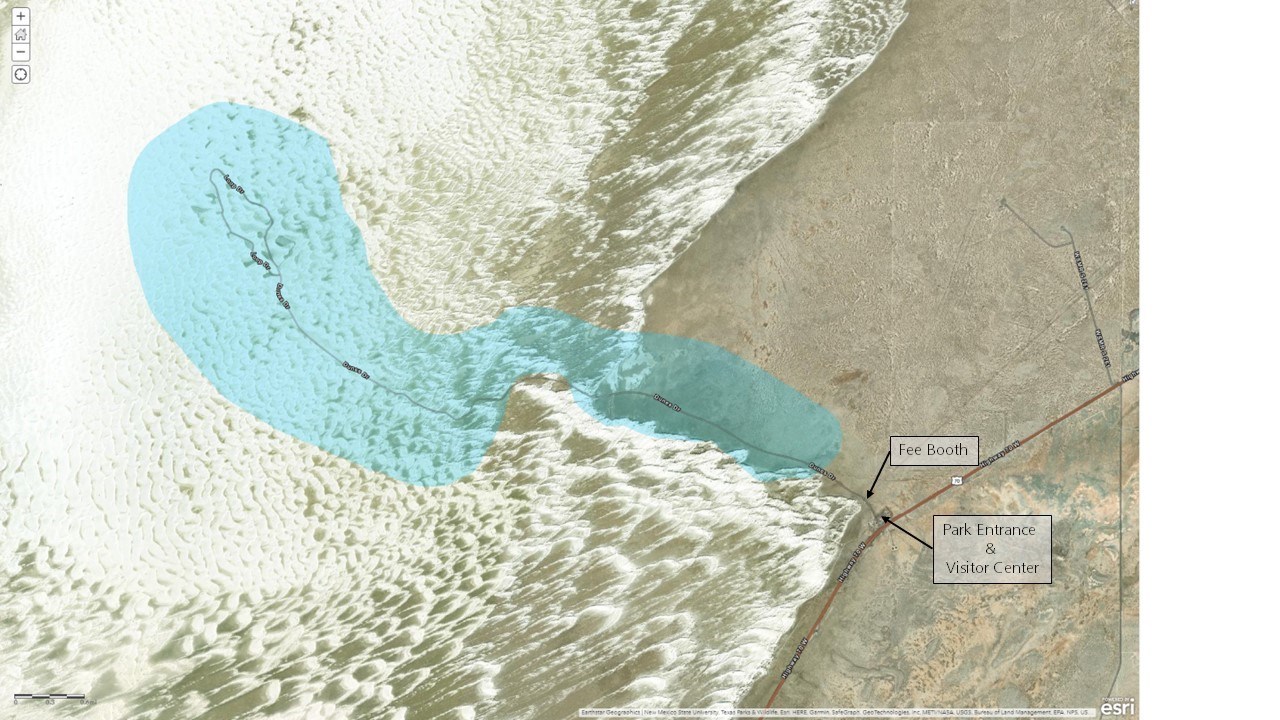 Last updated: February 10, 2023