Date:
April 19, 2013
Contact:
Robert Gutierrez, (530) 242-3432
Contact:
Bill Watkins, (530) 242-3450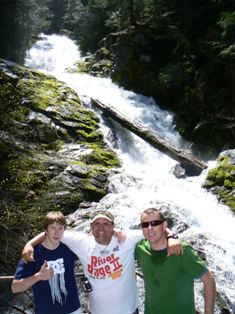 The National Park Service invites visitors to take the Whiskeytown Waterfall Challenge during National Park week, which begins Saturday, April 20 and runs through Sunday, April 28 (click here to visit the "Waterfalls of Whiskeytown" page). A great way to complete the Whiskeytown Waterfall challenge is to join a park ranger for a free ranger-led hike to one of the park's four major waterfalls, including ADA accessible Crystal Creek Falls.Hikes are offered daily at 9:00 a.m. during Waterfall Week.Reservations are required and can be made by calling the visitor center at (530) 246-1225.In Celebration of National Park Week, Monday, April 22 through Friday, April 26, will be a fee-free period for Whiskeytown and all 398 National Park units.This will be a great way to explore and learn about the national treasures and wonders found throughout the country.
Visitors can complete the Whiskeytown Waterfall Challenge on their own by obtaining a free Waterfall Challenge Passport at the visitor center. With the passport, visitors can hike to Brandy Creek, Boulder Creek, Crystal Creek and Whiskeytown Falls and stop at the trail register located at the base of each waterfall. Each register has a unique bronze plaque which visitors can use to create a colored rubbing within their passport.Once all four waterfalls are complete, visitors can then return the passport to the visitor center to receive their completion stamp and a special gift (while supplies last).The challenge can be completed during multiple visits, or, finish them all in one day for bragging rights.In addition, during both weekends of Waterfall Week, park rangers will be stationed at Whiskeytown Falls to provide art supplies for those who feel inspired by the beauty and power of the falls. Visitors can create and take their artwork home, or give it to the ranger for display at the visitor center.Not an artist? Don't worry, park volunteers will be on hand to take photos for families and assist in making a memorable photo of Whiskeytown.
On Saturday April 27, Whiskeytown is celebrating National Junior Ranger Day. The event runs from 9a.m. to 4 p.m. and will take place at Brandy Creek Beach. There will be plenty of fun ways to learn how to preserve and protect national parks and become a Whiskeytown Junior Ranger.Visitors of all ages are welcome to participate, and those who complete the program will earn a Whiskeytown Junior Ranger patch and badge.
For additional information about the activities at Whiskeytown National Recreation Area, please contact Robert Gutierrez at (530) 242-3454.To learn more about Whiskeytown National Recreation Area, visit the park's website at www.nps.gov/whis.For more information on National Park Week, please visit:www.nps.gov/npweek or www.nationalparkweek.org.
-NPS-