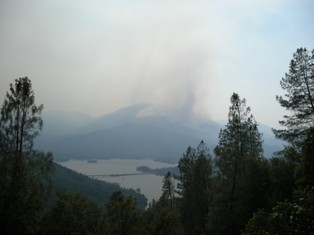 News Release Date:
June 23, 2008
Contact: Carol Jandrall, 530-242-3461
An early morning lightning storm ignited at least seven fires on Saturday June 21, 2008, in Whiskeytown National Recreation Area. Firefighters were able to contain three of these fires for a total of 3.5 acres. There are currently four active fires burning in the park with no estimate of containment.
Date of Fire Starts: June 21, 2008                Cause: Lightning         
Current Fire Status:   Active Fires
Fire Name:    Bally Fire (5-2 Fire)
Location: North side of Shasta Bally
Size: 80 acres plus
Status: This fire is actively burning in steep and rugged terrain and is bumping against Shasta Bally Road. Fire crews are burning out along the road to try and keep the fire on the north side of Shasta Bally Road.
Fire Name:     Boulder (5-3 Fire)
Location: North side of Shasta Bally, near the Boulder Creek drainage
Size: 60 acres plus
Status: The fire is burning in steep and rugged terrain making suppression efforts difficult. Fire   Crews will monitor the fire today and are planning suppression strategies.
Fire Name:    Brandy Fire (5-45 Fire)
Location: North side of Shasta Bally, south of Shasta Bally Road near upper Brandy Creek drainage
Size: 30-50 acres
Status: Fire crews are monitoring and assessing crew safety along road
Fire Name:    Mary Fire
Location:  Southwest side of Shasta Bally
Size: 500 acres plus
Status:  Significant fire activity burning upslope. Fire is being monitored from a distance.
Committed Resources:25 NPS fire personnel, 2 engines, 1 Firestorm contract crews
Operational Objectives:Provide for firefighter safety
Fire Activity:Firefighters observed intense burning during the afternoon with short uphill runs, backing, and flanking fire with short-range spotting. Two other fires are known to be burning along the park's southern boundary, but limited information is available due to poor visibility through the smoke.
Past and Current Actions:Firefighters initially attacked fires on Saturday after an intense lightning storm moved through the region. Three fires were contained on Saturday and Sunday in the Crystal Creek, Mule Mountain and Shasta Divide areas. Crews continue to patrol and mop up as needed. Have. Firefighters will continue gathering data on the fires and develop suppression strategies as more resources become available. 
Closures:Peltier Valley Road, Shasta Bally Road at Kennedy Memorial Drive, including all trails above Kennedy Memorial Drive, and backcountry campsites Brandy Creek 1,2 and Sheep Camp. The trail to Boulder Creek Falls is also closed.
Remarks:There is heavy smoke throughout the park from these fires and surrounding fires, which will settle into the drainages and lower elevations overnight.
Additional Fire Information: Fire Information Number 530-242-3461. Visit the Whiskeytown web page at www.nps.gov/whis for more information.