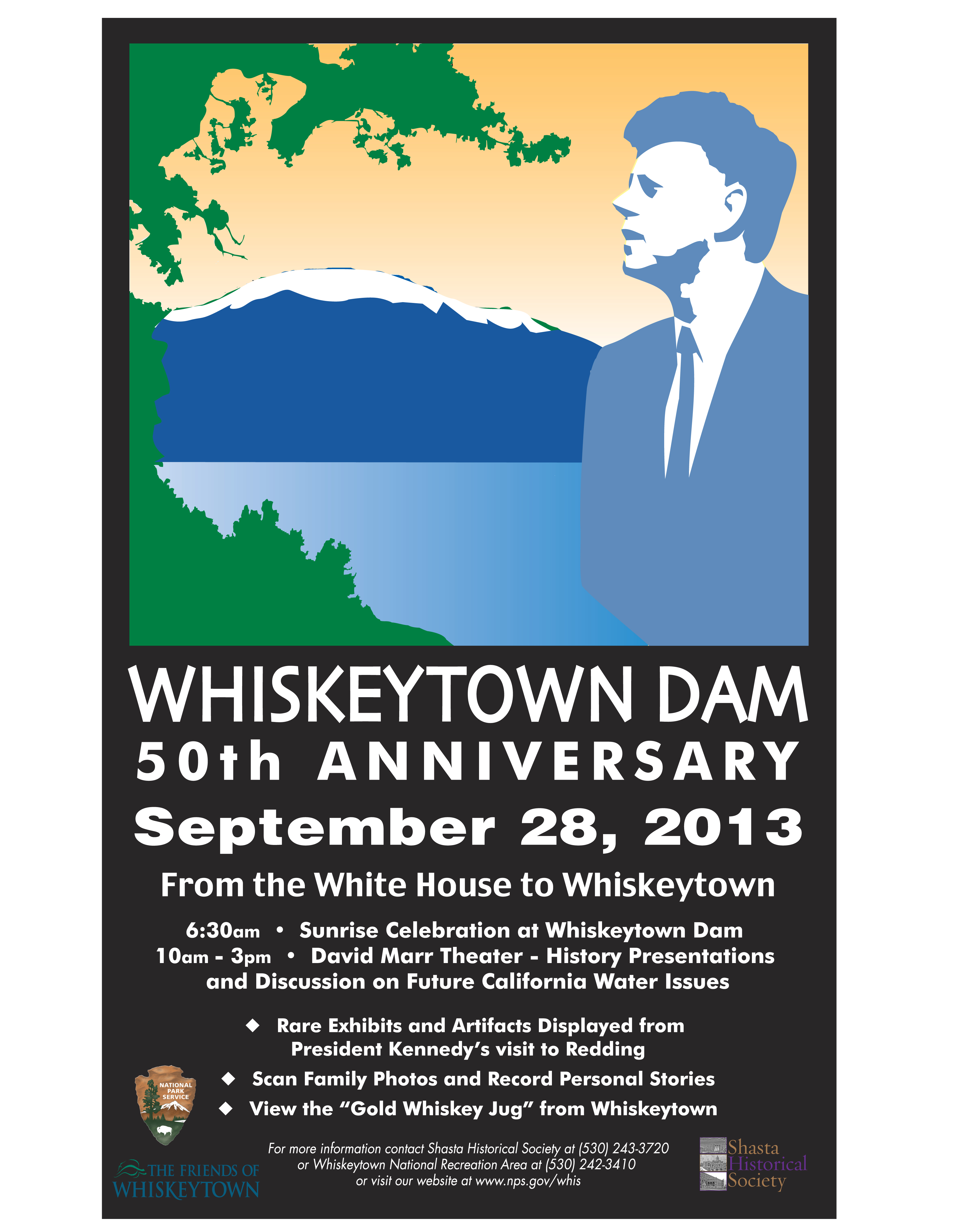 News Release Date:
August 16, 2013
Contact: Jim Milestone, 530-242-3460
Save the Date - September 28, 2013
The National Park Service, Shasta Historical Society, Shasta Union High School District and Friends of Whiskeytown are finalizing plans to celebrate the 50th anniversary of the dedication of Whiskeytown Dam on September 28, 2013. It was on this day in 1963 that President John F. Kennedy made a stop at Whiskeytown on a five day, eleven state conservation tour. Addressing the crowd from a platform placed near the glory hole spillway, the President embraced the water conservation efforts already in place at Whiskeytown as "an investment in our future"; recognizing the value of Whiskeytown's water resources, electric power generation, and recreation potential.
Please join the National Park Service, Shasta Historical Society, Shasta Union High School District, and Friends of Whiskeytown in celebrating this anniversary Saturday September 28th! These organizations will be hosting a special program about the history of the Trinity River Division of the Central Valley Project and discussions about the future of water in California.
The day will begin with a sunrise celebration at the John F. Kennedy Memorial at Whiskeytown Dam. The ceremony will begin at 6:30am.
History presentations and discussion panels on California water issues will be held at the David Marr Theatre at Shasta Union High School from 10am to 3pm. Artifacts from Kennedy's visit to Redding and Whiskeytown National Recreation Area will be on display. The Shasta Historical Society is also requesting participants to bring along their personal stories and family photos from the dedication, or concerning the history of Whiskeytown. They will have a booth to scan the photographs and record the stories, which will be added to the archives at the park and historical society.
"Fifty years ago people gathered by the thousands to see President Kennedy arrive by helicopter to dedicate Whiskeytown Dam," said Whiskeytown Superintendent Jim Milestone." On September 28th 2013, fifty years to the day from that historic visit, Whiskeytown will welcome visitors to reflect on that event, share stories and ideas, and think about the future of water and recreation in California."