Whiskeytown Complex June 25 Update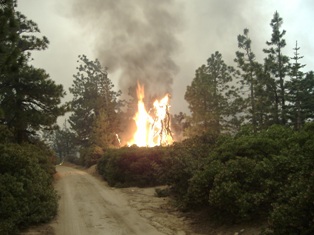 News Release Date:
June 25, 2008
Contact: Carol Jandrall, 530-242-3461
Approximately 3,000 acres have burned on Shasta Bally as four fires continue to converge with no estimated date of containment. Nearly 100 firefighters are working to contain the fires before they reach structures and high voltage transmission lines. Three other fires were contained on Saturday and Sunday and are in patrol status.
Date of Fire Starts: June 21, 2008            Cause: Lightning     Containment: 0 %      
Current Fire Status:
Fire Name: Bally Fire (5-2 Fire)
Location: North side of Shasta Bally
Size: 70 acres plus
Status: Firefighters have made progress constructing handline from Shasta Bally Road north to the Boulder Creek Trail. Crews also continue to prep Shasta Bally Road for a burnout operation to Sheep Camp.
Fire Name: Boulder (5-3 Fire)
Location: North side of Shasta Bally, near the Boulder Creek drainage
Size: 1600 acres plus
Status: The fire has grown significantly to the east. It is burning in steep and rugged terrain making suppression efforts difficult. The north side of the fire continues to back down towards the Boulder Creek. Winds out of the west and southwest have kept the southern and western flanks from growing significantly beyond yesterday's perimeter. This has given crews time to assess strategies for protection of power lines in the Crystal Creek drainage.
Fire Name: Brandy Fire (5-45 Fire)
Location: North side of Shasta Bally, south of Shasta Bally Road near upper Brandy Creek drainage
Size: 325 acres plus
Status: The southern flank backed down almost to the bottom of the Brandy Creek drainage near the end of the Brandy Creek Falls trail.
Fire Name: Mary Fire
Location:  Southwest side of Shasta Bally
Size: 1000 acres plus
Status:  No New information
Committed Resources: 93 fire personnel were committed to the fires today. Engines: 5 Crews:3  Helicopters: 1.
Operational Objectives: Ensure Firefighter safety and public safety and implement Minimum Impact Suppression Tactics (MIST). The intent of MIST is to suppress the fires with the least impact to the land, fire conditions and good judgment will dictate the actions taken.  
Fire Activity: Fires are continuing to grow in size with short uphill runs, backing down drainages as winds shift and fires move into different vegetation types. Smoke conditions are making it difficult to get accurate progress on these fires. The four fires are likely to merge into one or two large fires.
Current Concerns: Though no structures are currently being threatened there are concerns about the distribution lines that supply power to Shasta Bally Communications site, located on the top of Shasta Bally Mountain. This site has multiple communication towers for radio, TV, cell phones and repeaters. Firefighters are also doing structure protection around the few residences and park buildings threatened by the Boulder Fire.
Closures: Roads closed: Crystal Creek, Shasta Bally, Peltier Valley. Trails closed: Clear Creek Vista, Boulder Creek and Whiskeytown Falls, Mill Creek, all trails in Brandy Creek area above Kennedy Memorial Drive. Campgrounds closed: Sheep Camp, Brandy Creek, Crystal Creek.
Remarks: There is heavy smoke throughout the park from these fires and surrounding fires, air quality is poor.
Additional Fire Information: 530-242-3461.   
Last updated: March 1, 2015