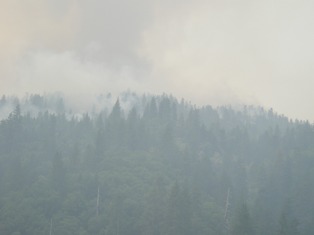 News Release Date:
June 24, 2008
Contact: Carol Jandrall, 520-242-3461
There are currently four active fires burning in the park with no estimate of containment. Three fires were contained on Saturday and Sunday and are in patrol status.
Date of Fire Starts: June 21, 2008              Cause: Lightning       Containment: 0%          
Current Fire Status:   approximately 2100 acres
Fire Name:  Bally Fire (5-2 Fire)
Location: North side of Shasta Bally
Size: 70 acres plus
Status: Firefighters will construct handline from Shasta Bally Road north to a stream that is part of the Boulder Creek watershed. Crews will also begin to prep Shasta Bally Road for a burnout operation to Sheep Camp.
Fire Name:   Boulder (5-3 Fire)
Location: North side of Shasta Bally, near the Boulder Creek drainage
Size: 1000-1200 acres
Status: The fire has grown significantly. It is burning in steep and rugged terrain making suppression efforts difficult. The north side of the fire is slowing down as it reaches snow in the higher elevations. The west side of the fire has reached the Crystal Creek Drainage.
Fire Name:
  Brandy Fire (5-45 Fire)
Location: North side of Shasta Bally, south of Shasta Bally Road near upper Brandy Creek drainage
Size: 150 acres
Status: This fire continues to grow in the Brandy Creek Drainage and is near the north side of Shasta Bally Road above Sheep Camp. Crews will continue to prep Shasta Bally Road for a burnout operation.
Fire Name:  Mary Fire
Location:  Southwest side of Shasta Bally
Size: 750 acres plus
Status:  Fire has slowed some on the south side of the fire as it has hit snow and rock on Shasta Bally. Firefighters will assess the activity on the west side today.
Committed Resources: 30 NPS fire personnel from Whiskeytown NRA, and Crater Lake NP. Two contract crews from Firestorm and Lost River. 3 Engines from NPS and USFS. Total resources 79.
Operational Objectives: Ensure Firefighter safety and public safety and implement Minimum Impact Suppression Tactics (MIST). The intent of MIST is to suppress the fires with the least impact to the land, fire conditions and good judgment will dictate the actions taken.  
Fire Activity: Fires are continuing to grow in size with short uphill runs, backing, and flanking fire with short-range spotting. Smoke conditions are making it difficult to get accurate progress on these fires. The three fires on the north side of Shasta Bally will likely merge together Two other fires are known to be burning along the park's southern boundary, but limited information is available due to poor visibility through the smoke.
Past and Current Actions: Though no structures are currently being threatened there are concerns about the distribution lines that supply power to Shasta Bally Communications site, located on the top of Shasta Bally Mountain. This site has multiple communication towers for radio, TV, cell phones and repeaters. The Boulder Fire has crossed Boulder Creek drainage and has pushed toward these lines.
Closures: Peltier Valley Road, Shasta Bally Road at Kennedy Memorial Drive, including all trails above Kennedy Memorial Drive, and backcountry campsites Brandy Creek 1, 2 and Sheep Camp. The trail to Boulder Creek Falls and Mill Creek Trail at Eldorado Mine and Crystal Creek Road are also closed.
Remarks: There is heavy smoke throughout the park from these fires and surrounding fires, air quality is poor.
Additional Fire Information:
Map
of fires in Whiskeytown area. Fire Information Office 530-242-3461.