Date:
March 27, 2011
Contact:
Sheila Edridge
, (530) 246-1225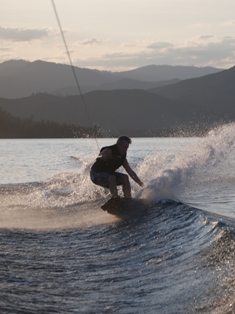 Whiskeytown National Recreation Area is inviting photographers, professional and amateur, to submit current photographs of park visitors and staff experiencing one of Whiskeytown's many adventures including mountain biking, horseback riding, sailing, motor boating, running, hiking, swimming, sunning, hunting, picnicking, snow shoeing, reading, painting, relaxing, sightseeing, working, camping, and playing. "The outdoor-recreation opportunities at Whiskeytown are endless, and it is our hope that through this exhibition we can showcase all the park has to offer visitors through the seasons," stated Superintendent Jim Milestone.  

Photographers are invited to submit up to three JPEG photographs per entry to the Artist- in-residence Coordinator, Sheila Edridge, at WhiskeytownFunPhotographs@gmail.com Please provide your name and telephone number along with your submission. Photographs will be accepted until August 1, 2011. You will be notified if one or more of your photographs are selected. Selected photographs will be included in the upcoming exhibition "The Whiskeytown Adventure," and may be included in an upcoming book that will highlight the adventures of Whiskeytown. Selected photographs must be framed as directed and ready for display. Applicants also need to understand that the park's nonprofit friends group, Friends of Whiskeytown, will have the right to use the image for publicity and reproduction.

The first-place photographer will be awarded a $100 prize, and a $50 award will be granted to the People's Choice recipient. The "Whiskeytown Adventures" photographic exhibition will run August 19 through October 16, 2011. A reception for the artists will be held on Thursday, August 18 at the Whiskeytown Visitor Center. For more information, please call 530-246-1225 and leave a message for Sheila Edridge.


-NPS-