Date:
March 12, 2007
Contact:
Jim Milestone
, (530)242-3460
Contact:
Steve Thede
, (530)242-3450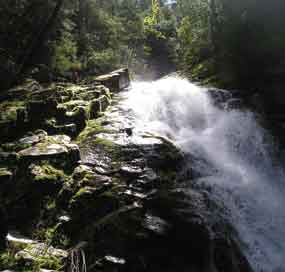 May 20 through May 26 has been designated "Waterfall Week" at Whiskeytown National Recreation Area. The week will begin with a fee-free day on Sunday May 20, when the park will waive the normal daily entrance fee of $5.00.
Sponsored by the National Park Service and the Friends of Whiskeytown, Waterfall Week will include a series of free ranger-guided hikes to three of the waterfalls found in the park: Brandy Creek Falls, Boulder Creek Falls and the spectacular Whiskeytown Falls. "Waterfall Week" encourages families, friends and children to get outside, enjoy nature's beauty and get some good exercise in the process. Additional waterfall-related activities will be scheduled throughout the summer. All sponsored activities are tobacco-free events.
Waterfall Week is timed to encourage visits to the park's three major waterfalls during their peak flows when snowmelt off of Shasta Bally Mountain provides the most water for spectacular displays of rushing whitewater. New trail construction and bridges have been designed to allow safe access year-round, including these high flow periods.
Free Ranger-Guided Hikes: Hikes are scheduled throughout the week. In addition, rangers will be available for school groups during the week. Schools are encouraged to call Ranger Clinton Kane at 530-242-3451 to reserve a date and time for individual school hikes to the falls. The expanded hike schedule will end on National Trails Day, Saturday June 2.
Waterfall Stamp Card: Adults and children can obtain a free waterfall stamp card at the Visitor Center, or at the waterfall registration boxes located at the base of each waterfall. After signing the journal visitors can use a pencil to make a rubbing off a bronze plaque that is unique to each waterfall. Return your completed card with the rubbing from each of the 3 waterfalls to the Visitor Center. Everyone that hikes to all three of the waterfalls will receive a free waterfall poster. In addition children can redeem their completed card at the Visitor Center for a certificate good at the City of Redding's Aquatic Center to have one day of free swimming this summer!
Artist in the Parks: The Friends of Whiskeytown have arranged for the Whiskeytown Plein Air Painters to be stationed at the base of each waterfall from 11am to 3pm on Sunday May 20 and Saturday May 26. Visitors can meet the artists while they are painting and also get some helpful suggestions. Professional and amateur photographers will also be on location at the falls to assist visitors in photographing the waterfall during Waterfall Fall week. Check at the Visitor Center for schedules. The Whiskeytown Plein Air Painters will be showing their completed artwork during an Art Fair on Sunday May 27 from 10am to 5pm at the Visitor Center's lawn area. The group's mission is to promote outdoor painting in northern California and consist of 13 founding members, each with many years of art education, exhibit back ground, and painting experience. Click here for the schedule of Whiskeytown Plein Air Painters during Waterfall Week.
Handicap Accessible Waterfall: For visitors with a valid entrance pass and a handicap vehicle placard, the National Park Service will allow special entrance to the service access road to Lower Crystal Creek Falls. Please check in at the Visitor Center for instructions and a map on how to visit this beautiful waterfall just off Crystal Creek Road. A picnic table and barbecue grill is available at the falls for all visitors to enjoy.
This project is made possible by a grant from the Shasta County Anti-Tobacco Fund Community Grant Program to the Friends of Whiskeytown, Inc. For more information on the Friends of Whiskeytown please visit www.friendsofwhiskeytown.org
If you have questions regarding Waterfall Week, please contact Chief of Interpretation Steve Thede at 530-242-3450 or Superintendent Jim Milestone at 530-242-3460 or visit the park's website at www.nps.gov/whis
Click here to print a schedule of the events planned during this year's Waterfall Week.
Click here to print a Waterfall Stamp Card.