Transit of Venus Special Event at Whiskeytown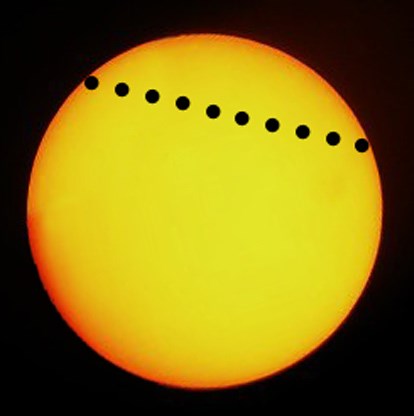 Date:
May 31, 2012
Contact:
Robert Gutierrez
, (530) 242-3454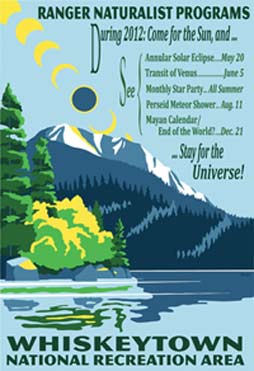 In celebration of the Transit of Venus-one of the rarest astronomical alignments-the Shasta Astronomy Club and the Schreder Planetarium will be partnering with the National Park Service to provide public viewing of this once in a lifetime occasion. Since the invention of the telescope, there have been seven recorded human observations of this alignment. When first observed, this celestial event provided the key to understanding one of astronomy's greatest questions-the scale of the solar system. On June 5th, 2012, the Transit of Venus will mark the first time since 1882 that the Transit of Venus will be visible in Western United States. This rare event will not occur again until 2117!
Throughout North America, people with PROPER EYE PROTECTION (approved solar glasses or welder #14 glasses) will witness Venus at 1/30th the size of the sun's apparent diameter crossing westward on the northern half of the sun, beginning at 3:27pm and continuing until sunset. While the size of Venus will be small to the unaided eye using only solar glasses, visitors will have a great opportunity to view Venus at a much larger scale with one of the many powerful solar telescopes that will be available thanks to the generosity of the Shasta Astronomy Club and Schreder Planetarium.
The event will start at on June 5th 2:30 pm at Brandy Creek Beach lot B. Day use permit is required. There will be several powerful solar telescopes on hand along with passionate and knowledgeable amateur astronomers and educators. There will also be fun educational sky ranger-led programs throughout the event. Don't forget to pick the commemorative astronomical NPS poster to help support future events by making a small donation to the Friends of Whiskeytown.
This celestial event will not happen again in our lifetime, we strongly urge everyone to join us and to "Come for the sun … stay for the universe!"
- NPS-
Last updated: March 1, 2015