Scouts Help Whiskeytown's Native Plant Garden on Earth Day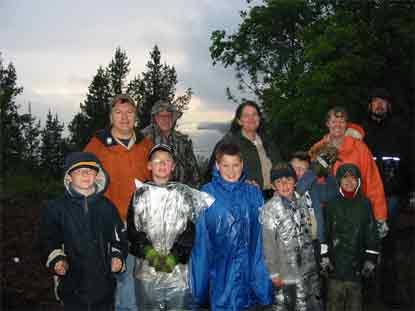 News Release Date:
April 24, 2008
Contact: Steve Thede, 530-242-3450
Despite wind and rain, Cub Scouts from Dens 5, 41, 42, and 181 helped Park Rangers from Whiskeytown National Recreation Area and Shasta State Historic Park clean out weeds and exotic (non-native) plants from the Native Plant Garden at Whiskeytown's Visitor Center.
The Native Plant Garden is an example of how we can use native plants to create an attractive and enjoyable garden at home. Native plants are already adapted to the local environment, and once established, often need very little extra water or care, and therefore, save money, time and critical resources, which helps the local environment and the planet.
Even though Native Plant Gardens need less water and work in general, that does not mean they are maintenance free. Just like any garden, leaves and weeds need to be cleaned out every once in awhile. The Scouts, along with their adult leaders picked hundreds of weeds and put them into a compost pile, making a huge difference in the appearance of the garden.
The activity was organized by rangers from both the National Park Service and California State Parks in honor of the "Kids in Parks" theme for National Park Week this week (April 19th – 27) and Earth Day. Last year on Earth Day, National Park Rangers from Whiskeytown supported a clean up effort at Shasta State Historic Park. This year was Whiskeytown's turn.
Last updated: March 1, 2015