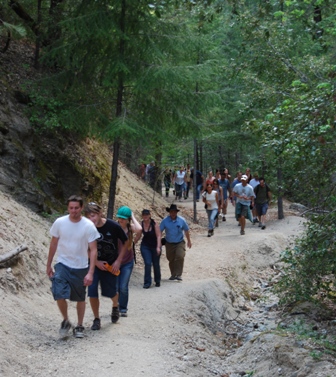 News Release Date:
March 1, 2010
Contact: Clinton Kane, (530) 242-3451
In collaboration with the Healthy Shasta Initiative and First Lady Michelle Obama's Let's Move Campaign, both of which recognize daily exercise as an essential component of a healthy lifestyle, Whiskeytown will be offering special hikes to the Whiskeytown Falls through the end of May 2010.  "Building the foundation for healthy lifestyles in today's youth is a community effort, and we are happy to be able to offer this free activity to ensure that present and future generations are able to enjoy the quality of life that all children deserve," stated Superintendent Jim Milestone.
The hikes are open to students of any age, and three hours are required for the 3.4-mile roundtrip hike to Whiskeytown Falls.  "Although the hike can be challenging, rangers will take opportunities along the way to rest and hydrate, appreciate the sounds and sights of the forest, and to make the acquaintance of the abundant plant and animal life that share the trail and surrounding riparian habitats," concluded Milestone.  Students' reward for their heart rate elevating efforts will be a glorious view of the 220 ft Whiskeytown Falls, the tallest of the park's four waterfalls.
In addition to the waterfall hikes, Whiskeytown offers Gold Rush programs in the park's Tower House Historic District, which meet the Fourth Grade California Curriculum Standards.  The program focuses on the California Gold Rush and tells the story of two pioneer-prospectors and their families, Charles Camden and Levi Tower, who settled in this area  in the early 1850's.  The program features a tour of the beautiful Camden House, one of the oldest in Shasta County, a hike in the woods to an historic gold mine and stamp mill, as well as the opportunity for students to strike it rich by panning for gold in the creeks.
The Ranger-guided waterfall hikes and Gold Rush programs are both free, though reservations for the programs are required and allotted on a first-come-first-served basis.  Reservations can be made by calling Park Ranger Clinton Kane at (530) 242-3451.
For more information on small changes that lead to a healthy life, please visit Healthy Shasta's website at http://www.healthyshasta.org and First Lady Michelle Obama's Let's Move Campaign at http://www.letsmove.gov
More information on Whiskeytown National Recreation Area can be obtained by calling the Visitor Center at (530) 246-1225, or stopping by during the hours of 10:00 a.m. to 4:00 p.m.  You can also visit the park's website at https://www.nps.gov/whis
-NPS-