Ribbon Cutting Ceremony for Redesigned Vista Trails at Whiskeytown National Recreation Area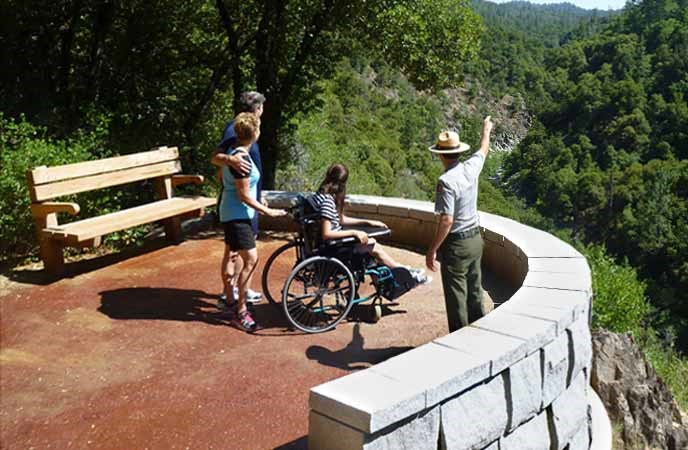 Date:
July 10, 2012
Contact:
Jim Richardson, (530) 242-3413
Whiskeytown National Recreation Area, a unit of the National Park Service, will be holding a ribbon cutting ceremony to commemorate the reopening of the Guardian Rock and the Crystal Creek Falls trails. Funded by park visitor's day use fees, the trails have undergone a complete redesign making them fully accessible to visitors who require the use of a wheel chair or walker. These trails are perfect for families with young children and those looking for a brief walk culminating in a great view. The ribbon cutting will take place at the Guardian Rock Trailhead on Thursday, July 19, 2012 at 9:30 a.m. Please meet at Horse Camp on Mule Town Road, a half mile east from the entrance of the Whiskeytown Environmental School.

Rediscovered by rangers several years ago, this Guardian Rock vista provides a panorama of Clear Creek Canyon. Until the brush was cleared away and the vista opened, many hikers on the old Guardian Rock Trail never realized the view of the canyon existed. A brief five-minute stroll from the parking lot, this gently sloping trail passes through a pine forest to the spectacular vista point. Visitors will see an unhindered view of water flowing from Whiskeytown Lake on its way to the San Francisco Bay and the Pacific Ocean. This important stream and its upper gravel beds are the spawning grounds for two federally threatened species, the steelhead trout and the spring-run Chinook salmon. All visitors will now have the opportunity to witness their long journey from the Pacific Ocean. 

The Crystal Creek Falls trail has also been newly paved making it ADA accessible from the parking lot to the picnic area at the base of the Crystal Creek Falls. Shaded picnic tables and barbeque grills provide a great place to spend some quality time with friends and family. Hikers who make it to the trail's end are encouraged to use the trail register book and impression plate station. The trail can be accessed from Crystal Creek Road, approximately 2 miles from State Highway 299. Maps and details are available at the park's Visitor Center. For more information contact Jim Richardson at 530-242-3413.
-NPS-

Last updated: March 1, 2015