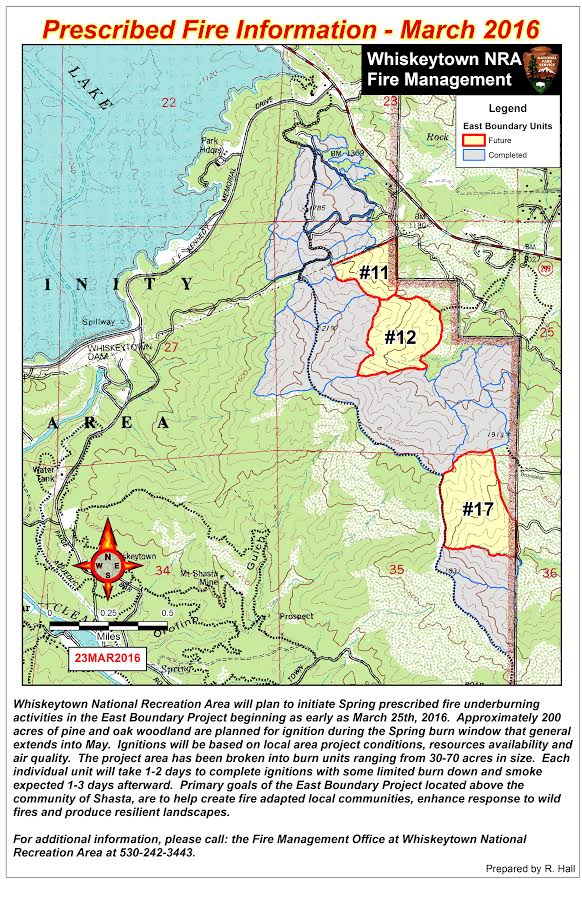 News Release Date:
March 22, 2016
Contact: Fire Management Office, (530) 242-3443
 Whiskeytown National Recreation Area will plan to initiate Spring prescribed fire underburning activities in the East Boundary Project beginning as early as March 25th, 2016. Approximately 200 acres of pine and oak woodland are planned for ignition during the Spring burn window that generally extends into May. Ignitions will be based on local area project conditions, resources availability and air quality. The project area has been broken into burn units ranging from 30-70 acres in size. Each individual unit will take 1-2 days to complete ignitions with some limited burn down and smoke expected 1-3 days afterwards. Primary goals of the East Boundary Project located above the community of Shasta, CA, are to help create fire adapted local communities, enhance response to wildfires and produce resilient landscapes.
For additional information, please call: the Fire Management Office at Whiskeytown National Recreation Area at (530) 242-3443.