Date:
November 12, 2010
Contact:
Clinton Kane, (530) 242-3451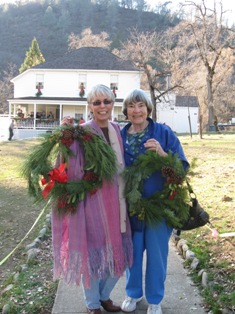 The National Park Service and California State Parks are gearing up for their free annual "Old Time Holiday" celebration on Saturday, December 4, from 11:00 a.m. to 4:00 p.m. Staffs at both Whiskeytown National Recreation Area and Shasta State Historic Park are breaking out the garlands, ribbon, and bows to bring the holiday season to life in your parks. Live music will be provided by the local Back Forty String Band. Events at both parks are offered free of charge, and will go ahead as scheduled rain or shine.  

Free wreath-making will highlight the activities at the Camden House in Whiskeytown's Tower House Historic District where families can make their own unique wreath to take home for the holidays. Other holiday craft activities for all ages will also be offered. The Camden House will be open for viewing and a handout for a self-guided tour of the apple orchard will also be available. Visitors at Whiskeytown's celebration will not be required to display a pass on their vehicles within the Tower House Historic District. There will also be a special 15% off sale on all books and souvenirs at the Whiskeytown Visitor Center just in time for the holiday shopping.

Shasta State Historic Park will offer free entrance into the Courthouse Museum, shopping at the 1800's general store and decorating cookies in the historic Blumb bakery. Other activities will feature a '49er miner's tent camp and candle making. Western Star Lodge No.2, the oldest Masonic Lodge in California, and still active in the town of Shasta, will offer a scrumptious breakfast for a small fee from 7:30 am to 11:00 am.  

Sharing in the holiday spirit of giving, the National Park Service and Shasta State Historic Park are asking for visitors' help in providing food items for people in need within our community. Food drive containers will be available at the Camden House, as well as the Courthouse Museum in Shasta. Visitors are asked to deposit only canned and dry, non-perishable foods (check expiration dates please) in these containers. The food collected from the two events will be donated to local charities and food banks to aid in providing a joyful holiday for all.

A printed program describing the scheduled events will be available at both locations. In addition, visitors can pick up copies of a self-guided "auto tour" identifying historic points of interest on the drive between Shasta and Whiskeytown's Tower House Historic District. For more information on the Old Time Holiday Celebrations, please call the Whiskeytown Visitor Center daily between 10:00 a.m. and 4:00 p.m. at (530) 246-1225, or Shasta State Historic Park, Thursday through Saturday between 10 a.m. and 5:00 p.m. at (530) 243-8194.
-NPS & SSHP-