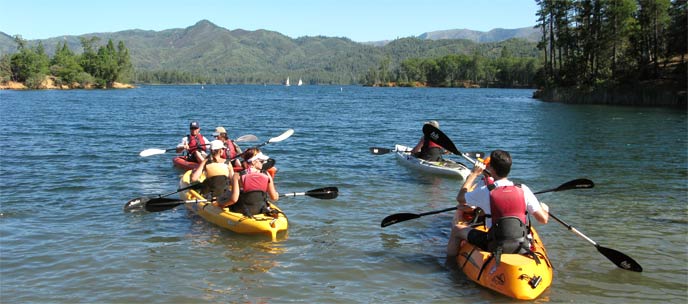 News Release Date:
May 10, 2013
Contact: Bill Watkins, (530) 242-3450
Whiskeytown National Recreation Area will once again offer free ranger-guided kayak tours during the Memorial Day weekend Saturday, May 25th through Monday, May 27th. "Whiskeytown is a wonderful place to visit with family and friends and this is the perfect time for kayaking as well as other healthy outdoor activities", stated Superintendent Jim Milestone.
Reservations for the 9:30 am and 5:30 pm kayak programs are required and can be made beginning Monday, May 20th through Saturday, May 24th by calling (530) 242-3462. The kayak volunteers will be taking reservations on a first-come, first-served basis from 9 a.m. though 1 p.m. Although parked vehicles must display a valid Day Use Pass, there is no additional fee for attending ranger-guided programs.
Also, in observance of Memorial Day, American flags throughout the country will fly at half-staff until noon on Monday, May 27th. Visitors are welcome to join in a National Moment of Remembrance at 3:00 p.m. local time, by pausing in an act of national unity for the duration of one minute to honor for those who have died during military service for the United States of America. "The peace and beauty of the park provide an ideal environment for quiet reflection and remembrance of those who made the ultimate sacrifice in defense of their country", concluded Milestone.
The Visitor Center will begin its extended summer hours (9:00 a.m. to 5:00 p.m.) on Friday, May 24th and will continue through September 2nd. Located eight miles west of Redding and at the intersection of Highway 299 and Kennedy Memorial Drive, the Visitor Center offers exhibits on the history and development of the Whiskeytown area as well as information on summer interpretive programs, camping, and other local information. Annual and Day Use passes, as well as books, maps, postcards and other publications can also be purchased at the Visitor Center.
For more information, please contact the Visitor Center at (530) 246-1225 or visit the park's website at www.nps.gov/whis.
-NPS-