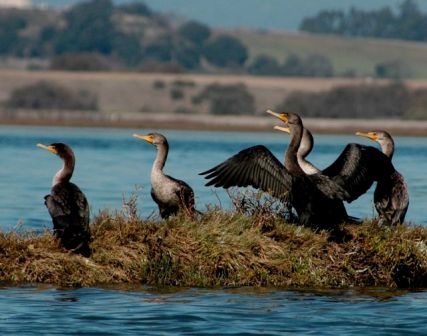 News Release Date:
January 12, 2010
Contact: Sheila Edridge, (530) 246-1225
Whiskeytown National Recreation Area will present an exhibition of photographs by nature photographer Jim Duckworth at the Visitor Center from January 24 through March 13.  On exhibit are beautiful images of birds that are commonly found at Whiskeytown.  Jim, a Shasta County resident, is an active retiree who enjoys the outdoor life.  He participates in kayaking, skiing, hiking, and nature photography. During his working years he played professional baseball for eleven years, including four years in the Major Leagues as a pitcher with the Washington Senators, spent 25 years with the California Highway Patrol before retiring as a Lieutenant, taught elementary and middle school for seven years, and then worked 2 years for the Penguin Paddlers Kayak store in Redding. 
Jim is married and has five grown children. His wife, Kaydee, is an accomplished artist in Redding who works with watercolor, acrylics, and collage.  In 2006, Jim began to focus full-time on developing his skills as a nature photographer. His primary emphasis now is photographing wild birds from his sea kayak while paddling on the many lakes throughout northern California. Photographing from a kayak enables him to slowly and very quietly approach the birds without disturbing them and to photograph them in natural situations within their environment. "It is a very relaxing and satisfying way to spend a day, especially when the birds cooperate and pose nicely for the camera," explains Jim. 
The Whiskeytown Visitor Center is located on the corner of Highway 299 West and Kennedy Memorial Drive and is open daily from 10:00 a.m. to 4:00 p.m.  For more information, please call (530) 246-1225.
-NPS-