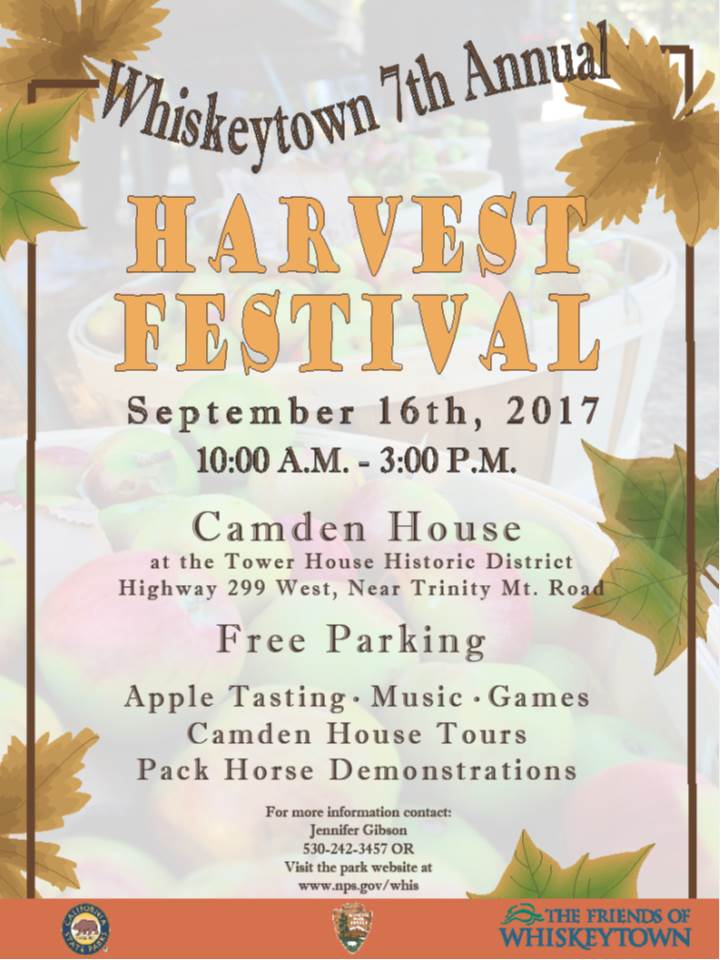 News Release Date:
August 31, 2017
Contact: Jennifer Gibson, (530) 242-3457
Celebrate the Fall Season at Whiskeytown's 7th Harvest Festival
The National Park Service and California State Parks invite you to join us for the 7
th
Annual Harvest Festival on Saturday, September 16
th
, from 10:00 am to 3:00 pm at the Whiskeytown National Recreation Area's Tower House Historic District and Shasta State Historic Park. At Whiskeytown, you'll find a fun and family-friendly event which will feature the tasting of unique apple varieties, crafts and games for all ages, and light refreshments provided by the Friends of Whiskeytown. Additionally, there will be fiddle music from the Old Time Fiddlers, horse packing and "Leave No Trace" demonstrations presented by the Backcountry Horsemen of California, and the festival will feature orchard tours by renowned arborist Rico Montenegro. Shasta State Historic Park will feature family-friendly pioneer games, cornhusk doll making, arts and crafts, and a blacksmith demonstration.  
The Tower House Historic District, listed on the National Register of Historic Places, encompasses 20 acres and 16 structures and is home to 148 historic fruit trees. This area is significant because of the contributions of Levi Tower and Charles Camden in the development of commerce, transportation, agriculture, and industry in Northern California in the two decades following the discovery of gold in 1848. Levi Tower was famous for his orchards, gardens and his hotel. The landscape in this area is a critical part of the story to be told in that it was described as "oasis-like" and a major attraction in the day. Tower planted the first peach trees north of Sacramento and was possibly the first person to experiment in the raising of fruit and berries in Shasta County. He planted more than 1,000 fruit trees around the Tower House. It was so famous a landmark that it appeared on county and state maps for over a century. Today, there are only remnants of the lush gardens and orchards, which offers visitors a glimpse into the past.  
Harvest festival participants should park in the Tower House Historic District parking lot and follow the footpath to the Camden House where festivities will be held. Overflow parking will be located across the highway at the junction of Trinity Mountain Road and Highway 299, where visitors will be encouraged to take a walking path that passes under the highway along Clear Creek. The day-use fee will be waived for those participating in the Harvest Festival. For more information, please contact Jennifer Gibson at (530) 242-3457. For more information on Whiskeytown National Recreation Area, please call or stop by the Visitor Center during the hours of 10:00 am and 4:00 pm, or visit the park website at
www.nps.gov/whis