The Carr Fire of 2018 and Ongoing Recovery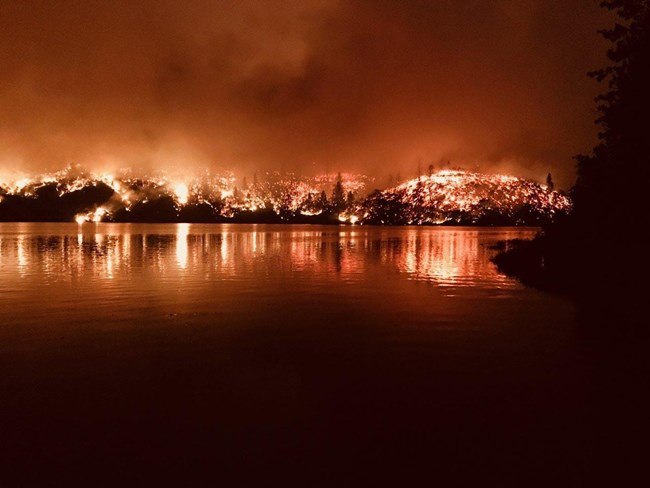 The Most Destructive Fire in National Park System History
During a record-tying heat wave in late July of 2018 in which daytime highs hit 109 degrees Fahrenheit on several straight days, the Carr Fire began inside Whiskeytown National Recreation Area. There was an Immediate and aggressive response by emergency services personnel from the National Park Service, CalFire, U.S. Forest Service, and other important partners. The fire was fought aggressively utilizing hand and engine crews, bulldozers, and air attack, and substantial life and property was saved.

Nevertheless, the fire quickly spread due to extreme heat, extreme wind, extreme dryness, and other factors. The fire ultimately grew to 229,651 acres and spread into nearby communities. Three firefighters died, four civilians died, and over 1,000 homes and buildings were destroyed. With over 97 percent of Whiskeytown burned and over 100 structures (buildings, boats, etc.) within the park destroyed, the Carr Fire was the most destructive fire in the history of the National Park System.

While the entirety of Whiskeytown National Recreation Area was initially closed, park staff, partners, and contractors have made significant headway in rebuilding infrastructure and reopening much of the park. Although these reopening and rebuilding tasks will be ongoing for years, rest assured that one day, all of the park will be back open - and Whiskeytown will be better than ever.
A BAER of a Task: Deciding How to Move Forward
Immediately following the fire, a National Park Service Burned Area Emergency Response (BAER) team was assembled and brought in to work with Whiskeytown staff to assess the park's conditions, survey natural and cultural resources, and inventory park equipment and supplies. Next, after determing which areas or specific park features needed to be stabilized or treated, the BAER team developed a reopening strategy for the park. Finally, BAER staff were hired on a year-round basis to help permanent park staff implement the reopening strategy.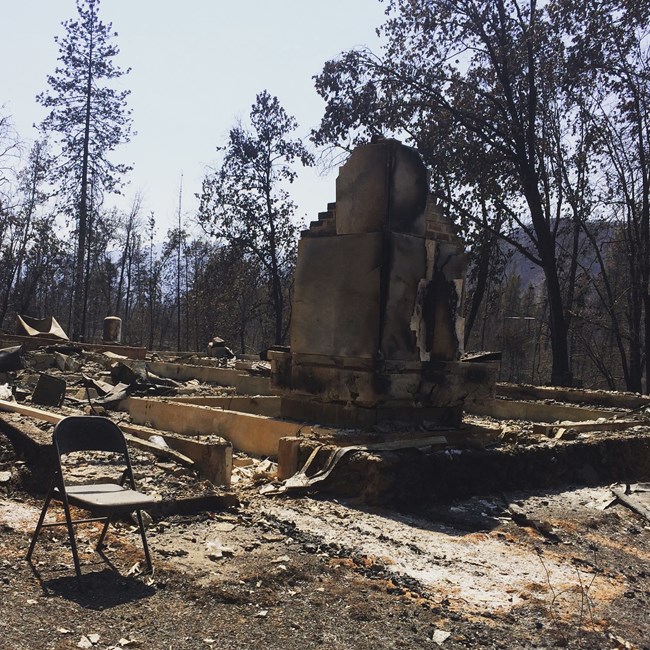 Damages to Park Infrastructure
With 39,000 acres burned out of the park's total 42,000 acres, Whiskeytown National Recreation Area suffered significant facility damage. Some of this damage includes but is not limited to the following:
Five of the park's six employee residences were completely destroyed.

The Oak Bottom Marina suffered significant fire damage to boat docks, concession-owned boats, and private boats.

The Whiskey Creek and Brandy Creek water treatment systems were heavily damaged.

The remnants of the historic Whiskeytown Store and Post Office burned to the ground.

Ten camper cabins were destroyed at Whiskeytown Environmental School.

Many trailhead signs, wayside exhibits, and informational signs throughout the park were burned.

Nine buildings were burned at the Crystal Creek Boys Camp.

The Search and Rescue (SAR) Cache and other SAR and emergency medical equipment was destroyed.

The park law enforcement building and dispatch center obtained significant damage.

The majority of historic fruit trees within the Tower House Historic District burned.

All wooden structures associated with the historic El Dorado Mine were destroyed.

Numerous bridges throughout the park burned.

Several park employees living near the park lost their homes and personal belongings.
In addition to the immediate losses, during the winter after the fire, the park received 100 inches of rain, or 40 inches more than average. Because much of the organic layer of soil burned in the park, and because little vegetation remained to hold soil in place, runoff and erosion was substantial during the rainy season. Dozens of miles of backcountry trails and primitive roads were destablilized and washed out.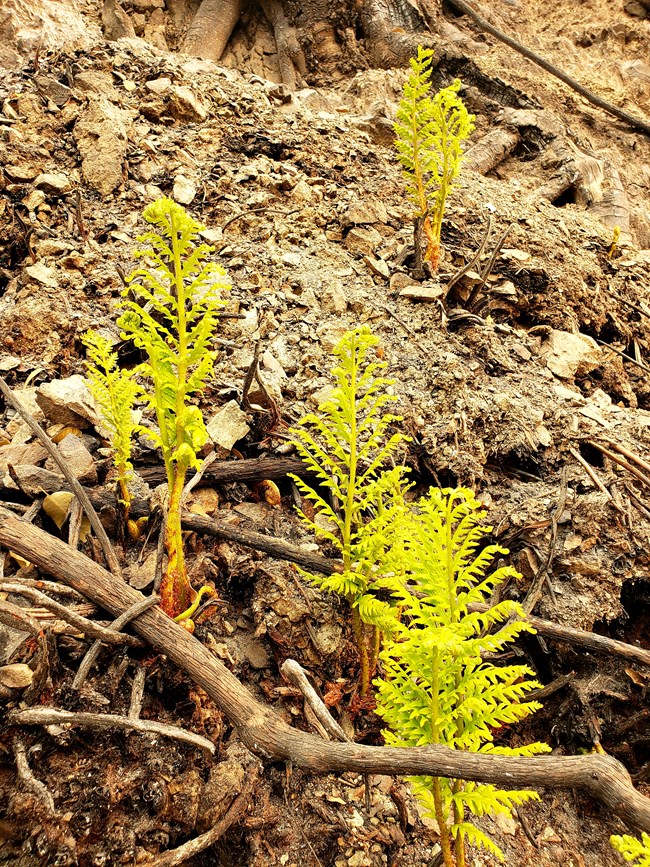 From Death, Life: Fire and the Forest
With the exception of Whiskeytown Lake and a couple hundred acres of vegetation around Park Headquarters and the Visitor Center, the entirety of Whiskeytown's forest and chaparral environments burned during the Carr Fire. As destructive as this sounds, it's important to understand that fire is nature's recycling system on a grand scale. Wildland fire is generally recognized by the National Park Service as a natural process, and ever since the Carr Fire, vegetation has been slowly but surely restoring itself onto the landscape. Ecosystems are not stagnant but rather always changing. In time, Whiskeytown's woodlands will once again be home to tall trees - but then they will burn again.

Another important point to be made in regards to fire and the forest is that the Carr Fire did not burn equally thruoghout the park. Fire intensity and fire severity differed throughout Whiskeytown due to factors including but not limited to specific topography, land use history, vegetation, and weather. In other words, a fire mosaic was created where some patches of trees were burned to the ground while other stands only minimally burned.

To see some of the greener areas of the fire mosaic, hike the trail to Whiskeytown Falls or walk the paved path to Crystal Creek Falls. These areas of the park are within the upper Crystal Creek drainage, and in part because of its steep topography and cooler, wetter north-facing slope, most trees survived. Another good area to see the fire mosaic is along the Buck Hollow Trail off of Mule Town Road. Park fire management staff conducted a prescribed burn along the trail just prior to the Carr Fire, and because of this, some green vegetation remains.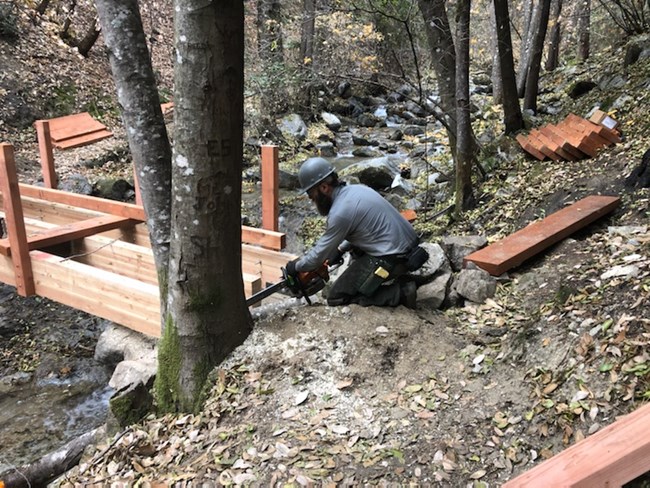 Reopening the Park: Success Stories

Ever since the fire, park staff and partners have been working hard to reopen Whiskeytown and rebuild lost infrastructure. While funding challenges are ongoing, and while the full reopening of the park will take years, significant progress has been made. Here are some accomplishments...
Lakeshore Day Use Areas Reopened. After significant burned tree removal and structural repairs, the most popular areas of the park reopened. This included but is not limited to: Brandy Creek Beach, Marina, Picnic Area, Boat Launch, and RV Campground; Oak Bottom Beach, Marina, Picnic Area, Boat Launch, Tent Campground, and RV Campground; and Whiskey Creek Picnic Area and Boat Launch.
Dozens of Miles of Roads Repaired and Reopened. This includes South Shore Drive, JFK Memorial Drive, Crystal Creek Road (from Highway 299 to the James K. Carr Trailhead), Paige Bar Road, and Mule Town Road.
Dozens of Miles of Trails Repaired and Reopened. The most popular trail in the park, the James K. Carr Trail to Whiskeytown Falls reopened on Valentine's Day 2020. To date, Davis Gulch, Oak Bottom Water Ditch, Mount Shasta Mine, Crystal Creek Water Ditch, Crystal Creek Falls, and the trails in the southeastern corner of the park have all reopened. To make the reopenings possible, several footbridges were rebuilt and numerous new water bars were established.
15,000 Hazard Trees Removed. Park maintenance staff and contractors have removed over 15,000 hazard trees to date! Hazard trees are defined as burned or partially burned trees near roadways, trails, picnic areas, campgrounds, or other developed areas that are in danger of falling. The hazard trees have therefore been cut and removed to reduce the chances of falling on a person, car, or park structure.
Public Firewood Sale. In the year after the fire, where terrain and access allowed, park staff placed hazard and other downed trees in piles, or log decks. Through special use wood collection permits, the park then opened up these log decks to the public so that locals could cut and collect them for use as firewood. This program occured in February and March of 2020 and over 150 permits were issued.
Shade Trees Planted for Day Use Areas. In the fall of 2020, park staff planted oak seedlings in and around Oak Bottom to create future shade for picnickers, beachgoers, and RVers. Oak acorns had been collected in the park a year prior, and these acorns became baby trees at CalFire's L.A. Moran Reforestation Center before being transplanted back to Whiskeytown.
Park Law Enforcement Office Repaired. This allowed for the park's "LE" rangers and dispatchers to return to their offices. After the fire, they worked out of a temporary trailer for months.
Oak Bottom Concessionaire Residence Rebuilt.
Redbud Recovery Community Healing Project. To support the healing process caused by the fire within the local community, in 2019, park staff spearheaded a "redbud recovery" project outside the Visitor Center. The project allowed visitors to write their thoughts down about Whiskeytown and the fire and then physically place these written comments on a statuary "redbud recovery" tree.
Art from the Ashes Community Healing Project. Also to support the healing process within the local community, Whiskeytown partnered with Art from the Ashes, a 501c3 nonprofit organization, on a public art project involving locals creating art from actual burned materials from the fire. In summer 2019, these art installations were showcased in various public locations within Redding.
Tower House Historic District Reopened. The park's signature historic area reopened in June 2020 after significant structural stabilization occured and after the main footbridge into the historic district was rebuilt. New wayside exhibits are being developed for Tower House Historic District and will be installed in spring 2021.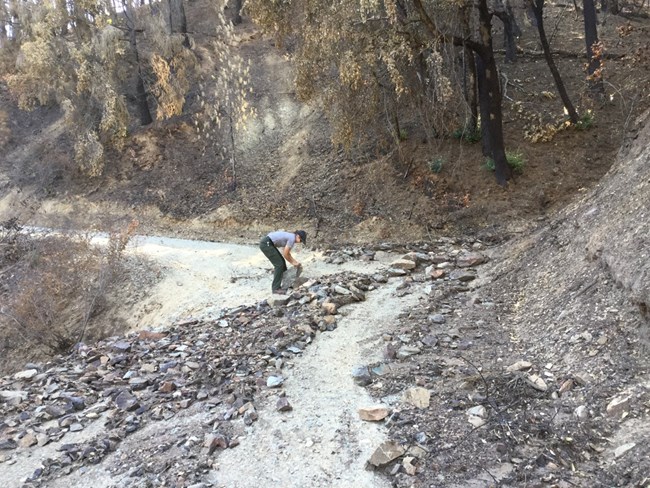 Ongoing Challenges, Ongoing Closures
While much of the park has reopened, and while repair work has reached substantial milestones, some areas of the park remain closed. This primarily includes backcountry trails and primitive roads on Shasta Bally. The highest mountain in the park at 6,199 feet above sea level, Shasta Bally has highly erosive soil made up of decomposed granite. Due to unprecedented burning of soil and vegetation on the mountain, there is currently not enough organic material holding the soil in place. Due to this factor, post-fire environmental hazards including flooding, erosion, and debris flows are being taken very seriously by the park, as visitor and employee safety is paramount.

The post-fire environmental hazard threat was realized during the winter after the fire when the park received 167% normal precipitation, or 100 inches of rain instead of the average 60 inches. This led to unprecedented erosion and washouts on dozens of miles of trails and roads on the slopes of Shasta Bally - including the Brandy Creek Falls trail system.

The BAER team noted in their report that the most highly erosive drainages on Shasta Bally should be minimally accessed until three to five years after the fire, at which point enough vegetation will have regrown. This reason, in addition to the post-fire trail washouts during the winter of 2018-2019, are the reasons why several roads and trails on Shasta Bally remain closed. Even after the three-year mark is hit, due to funding challenges, it will unfortunately take additional years to fully repair and reopen Whiskeytown's roads and trails In the meantime, the park asks for your ongoing patience.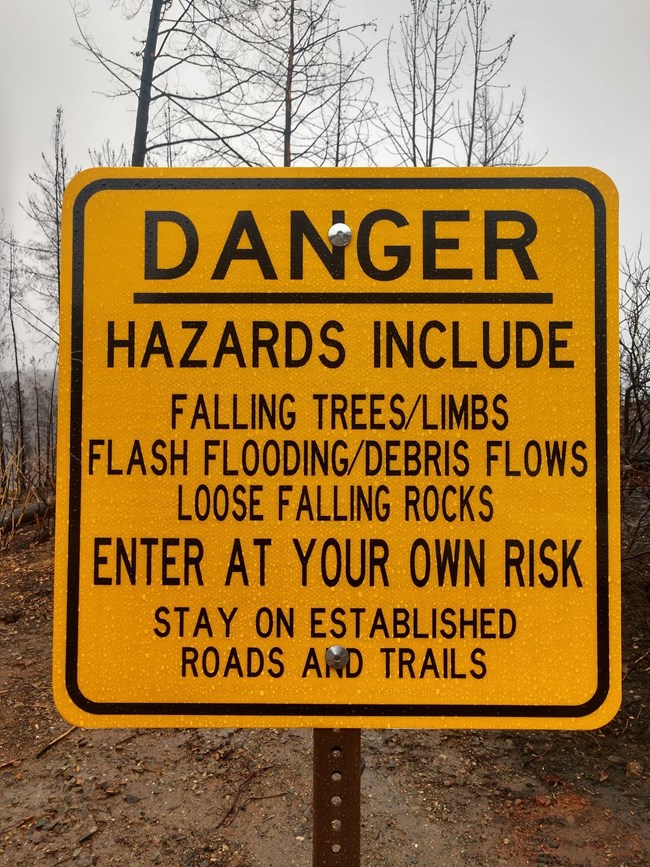 Safety is Up to You
When out and about in the park, you can do your part to remain safe and support ongoing post-Carr Fire recovery efforts. Please remain only in open areas of the park and please follow all park rules and regulations. Finally, even within the reopened areas, be aware of the new hazards that were created by the fire. Specifically, be alert and watch out for hazard trees (although park staff have removed over 15,000 hazard trees, they keep coming down!). Look up, look down, look all around! Also, do not enter or approach open pits and mine shafts. These historic "holes" are highly unstable and can emit dangerous gases.
Last updated: March 30, 2021