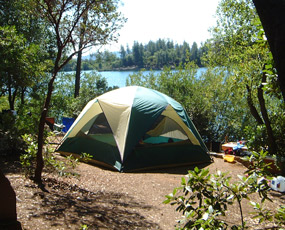 Oak Bottom Campground
Oak Bottom tent campground has fire grates and central restrooms. Lakeside tent sites are $26.00/night with other tent sites at $24.00/night. Oak Bottom RV sites (separate from tent campground) include a central restroom, dump station, water, but no hookups. Sites are $21.00/night during the summer season, April 15 to October 15, during the off season, October 16 to April 14, all sites are $14. Maximum 6 persons per site. If camper has a Senior Pass or an Access Pass, the cost is $5.50 per night. Your pets are allowed for a fee of $2.00 per night per pet.
For reservations at Oak Bottom call the campground directly at (530)359-2269 for the latest information.
For more information on Oak Bottom Campground:
Campground General Information
Campground Regulations