Celebrate the 50th Anniversary of President Kennedy's Dedication of the Clair A. Hill Whiskeytown Dam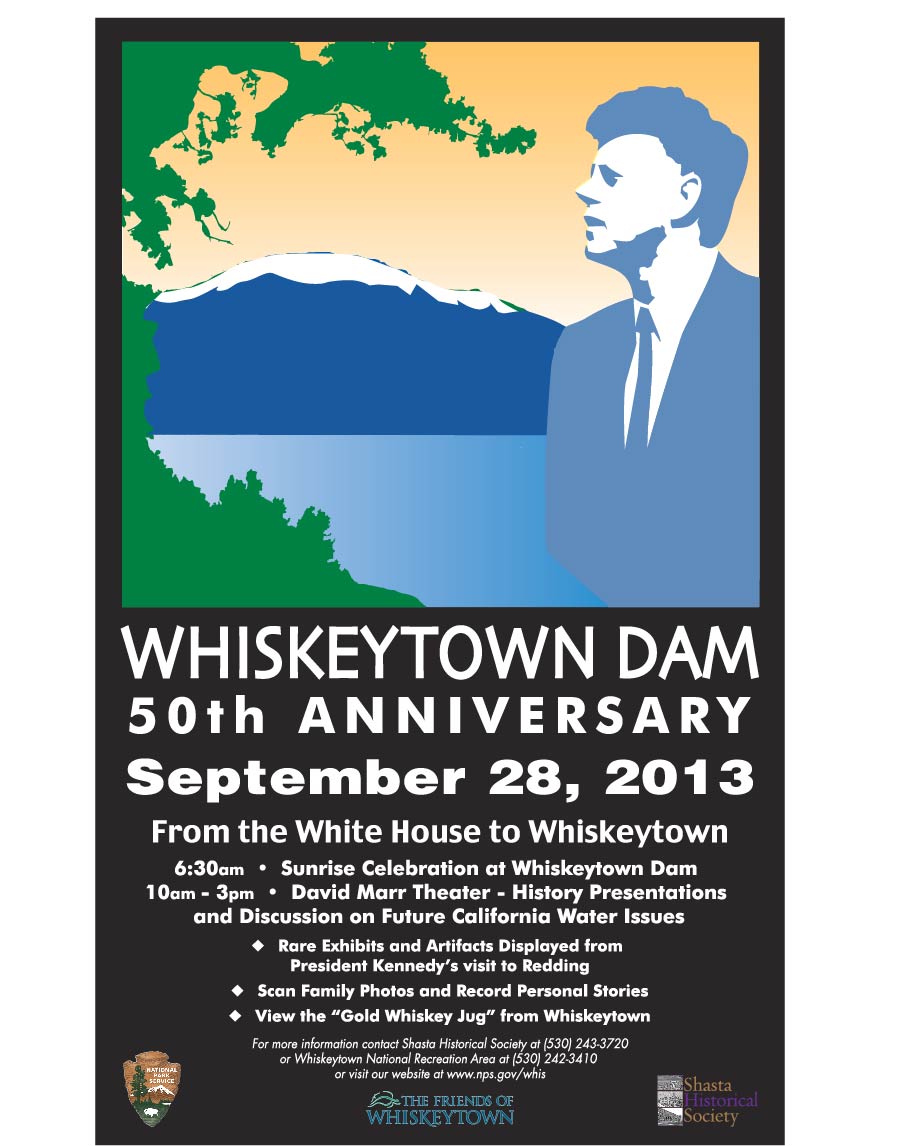 News Release Date:
September 19, 2013
Contact: Jim Milestone, (530) 242-3460
Contact: Christine Stokes, (530) 243-3720
To commemorate this poignant, historical event on September 28, the National Park Service at Whiskeytown National Recreation Area, Shasta Historical Society (SHS), Friends of Whiskeytown and Shasta Union High School District will be celebrating the 50th Anniversary of President John F. Kennedy's visit to the region and dedication of the Clair A. Hill Whiskeytown Dam. The public is invited to participate in two events that day.  
T
he first event is a Sunrise Celebration beginning at 6:30 am at the Kennedy Memorial on Whiskeytown Dam.  This ceremony will include remembrances of President Kennedy's visit to dedicate Whiskeytown Dam and the completion of the Trinity River Division of the Central Valley Project. This event will last just under an hour.
Following the early morning celebration, festivities will move to Shasta Union High School District's David Marr Auditorium in Redding, located at 2200 Eureka Way.  Beginning at 10 am, this event will include speeches, presentations, films, and a panel discussion.  The morning session (10 am – 11:45 am) will cover the historic aspects of the Trinity River Project, President Kennedy's 1963 national "Conservation Tour," and presentations about the men and women who planned and constructed the Whiskeytown Project. The afternoon session will start at 1:00 pm with a speech by U.S. Congressman Doug LaMalfa, followed by a panel discussion focusing on California's present and future water issues.  Presenters from different perspectives will share their views with the audience. The event is scheduled to conclude at approximately 3:00 pm.
The event will also provide the public with a chance to see rare artifacts and documents on display, dating back to the historic visit of President Kennedy's national Conservation Tour.  A gold plated whiskey jug created by the last resident gold miner of Whiskeytown will be publicly displayed for the first time. Artifacts from historic Whiskeytown, ranging from historic records from the relocation of Whiskeytown Cemetery to the old crank telephone from the Whiskeytown Hotel, will also be on display.
The Shasta Historical Society and the National Park Service are encouraging people to bring to the event old family photographs and personal stories from the President's visit. SHS and NPS staff will be available to digitize photos and collect personal stories for the historic record. 
Food trucks, Fallis Around Town, Mary's Pizza Shack, and Taco Loco, will be present outside the David Marr Auditorium to sell food and refreshments. The Friends of Whiskeytown, a non-profit group supporting Whiskeytown, will be offering commemorative lapel pins, posters and booklets of the President's historic visit. Shasta Historical Society will be selling reprints of September 27, 1963 Record Searchlight Special Edition on Whiskeytown Lake and President Kennedy's visit. 
Last updated: March 1, 2015