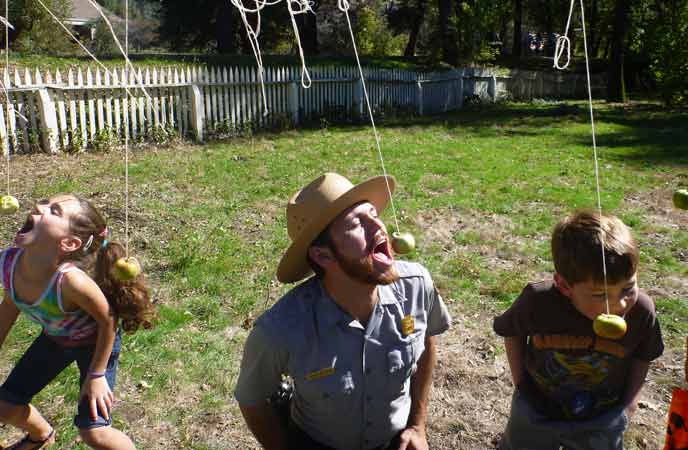 News Release Date:
August 31, 2012
Contact: Danica Willis, (530) 242-3438
Whiskeytown National Recreation Area staff and the Friends of Whiskeytown invite visitors to join us for the 2nd Annual Harvest Festival on September 22, 2012, from 10:00 am to 3:00 pm at the park's Tower House Historic District. This fun and family-friendly event will feature apple tasting, an apple-themed bake-off contest, games for all ages, and tours of the historic Camden House and orchards. Additionally, the festival will also offer a tour by world-renowned arborist Rico Montenegro, who will speak about ongoing efforts to restore and manage the historic orchards in the Tower House Historic District.
Over 15 varieties of apples will be available for tasting, all of which are heirloom cultivars, planted in the mid and late 19th century by Charles Camden and Levi Tower. These cultivars were grown organically, possess unique characteristics and are not found in modern apple varieties.
The bake-off will be judged by a local panel that include representatives from the culinary industry- prizes will be awarded to those with the best tasting creations. Please include the recipe for your dish, as it will be compiled into a harvest-themed cookbook, featuring historic Whiskeytown recipes from the journals of early settlers.
Visitors can park in the Tower House Historic District parking lot and follow the footpath to the Camden House where the festivities will be held. The day-use fee will be waived for those participating in the Harvest Festival event. For more information, please contact Danica Willis at (530) 242-3438. For more information about Whiskeytown National Recreation Area, please call or stop by the visitor center, or visit the park website at www.nps.gov/whis
Schedule from 10am to 3pm

10-3 All Day Activities: 
Apple Tasting: Try eleven different varieties of heirloom apples from the Camden House Orchards Children's
Apple Games 
Apple Poetry 
Apple Picking

10:00  Camden House Tour: Visit the historic Camden House and learn what it was like to grow up in Whiskeytown during the Gold Rush Years
10:30  Walk-in-Time Orchard Tour: From the Wintu to the Gold Rush to the establishment of the National Recreation Area learn about Whiskeytown's Historic District years of human occupation.
11:00  Camden House TourOrchard Restoration Tour: Take a tour with Rico Montenegro, a certified arborist, and learn about the fascinating world of historic fruit tree varieties.
11:30 Walk-in-Time Orchards Tour Deadline for Bake-Off entries
12:00 Bake Off Judging
12:30 Bake- Off Results
1:00  Camden House Tour Orchard Restoration Tour
1:30 Walk-in-Time Orchards Tour
2:00 Camden House Tour
2:30 Walk-in-Time Orchards Tour
3:00 Festival Ends
-NPS-