The Story of Kate Camden: Native American in a Gold Rush Family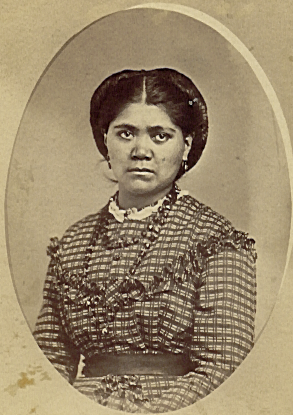 Kate Camden, a Native American girl, was an 1850s servant - likely an indentured servant - for the family of Charles Camden. Although there is no official record of how Kate came to live and work for the Camdens, indentured servitude amongst indiginous Californian girls, or what some refer to today as Indian Slavery, was very common during this time. The following article spotlights the story of Kate Camden and includes significant context for her time. Whiskeytown National Recreation Area thanks Laura Christman for researching and writing the following story about Kate Camden, which was published in the Redding Record Searchlight in 2017...

This story begins at the ending. A timeworn headstone in the brushy forest west of Redding. Barely legible, it reads:
In Memory
of
Kate Camden
(Indian)
Died Dec. 1st
1871
Aged 27 Years
Poor Katie Rest

Kate Camden, a Native American girl, lived in the home of prominent Shasta County pioneer Charles Camden during Gold Rush times as nursemaid to the three Camden daughters. The family's two-story home still stands in the Tower House Historic District of Whiskeytown National Recreation Area.
What Kate's life was like before she was called Kate and came to be in a place and among a race so different from her family, customs, language and culture isn't known. And there are few details of her life with the Camdens. But her story exists in the shadow of a larger story that is well documented — a brutal part of Gold Rush history when California Indians, often young women and children, were captured and sold to work in homes and on farms.
University of California at Davis history professor Andres Resendez says in researching his book, "The Other Slavery: The Uncovered Story of Indian Enslavement in America" (April 2016), the "greatest wonder is how thoroughly we have forgotten about this."
"I think it is a largely hidden part of California history," says University of California at Los Angeles history professor Benjamin Madley, author of "An American Genocide: The United States and the California Indian Catastrophe" (May 2016).
Kate is believed to have been born a few years prior to the 1848 gold discovery in California and likely joined the Camden household following the birth of Charles and Philena's first daughter, Ada, in 1854. In an undated letter to a niece, Charles wrote:
"We have a little Indian girl whom we have had with us four months and who takes a great deal of care of the baby, we call her Kate, she is about 10 years old as near as we can judge. She was perfectly wild or at least had never seen any civilized life before we got her, but she very quickly learns to work and is a great deal of help to me. I am learning her to read and xxx (illegible), she is very much pleased with her clothes and a good warm dry house. She already speaks the English language so that I can understand what she …"
The next page of the letter is missing.
It was not unusual for a Native American girl to be a nursemaid in a home of a white family. "Native American Cultural Overview," a report for Shasta-Trinity National Forest says: "In the 1850s, it was common practice to keep Indian girls as domestic help … According to one account, nearly every household in Shasta City had one of these young Indian girls to help around the house."

A Gold Rush-era letter penned by pioneer John Bidwell of Chico reports "Indians are all among us, around us, with us — hardly a farmhouse — kitchen without them."
Charles Camden was part of the surge of new arrivals to California triggered by the Gold Rush. He and friend Levi Tower traveled by brig from San Francisco to the Northern California coast and blazed a route from Unionville (Arcata) to Shasta. Arriving on foot in 1850, Camden settled near the confluence of Clear, Crystal, Willow and Mill creeks. It would be his home for decades.
Tower established the nearby Tower House Hotel, known for its charm, hospitality and extensive orchards and gardens. Camden found success through gold mining and in other ventures, including land investments, a sawmill and toll road. His 1912 obituary describes him as the most prominent man in the business affairs of Shasta County from the earliest days.
For native people, pioneer times were horrific times. They were displaced, killed with intention and died from starvation and disease. Scholars estimate the California Indian population went from 150,000 in 1845 to 30,000 in 1870.
The history of indigenous people in California goes back thousands of years. They lived off the land through resourcefulness, developing cultures rich in traditions.
Anglo-Euro arrivals to California feared the native people, viewing them as racially inferior and animalistic.
"California Indians particularly were viewed in a negative light," says Michael Magliari, a Chico State University history professor researching a book on California's Indian slavery. Magliari has published scholarly articles on trafficking of California Indians.
In Shasta, groups formed to hunt Indians, with bounties paid for scalps and heads. The Shasta Courier in March 1853 called for the annihilation of Indians:
"They must be whipped, if needs be — exterminated. It is a contemptible sickly mawkish feeling of philanthropy that urges by way of palliating the offenses of the miserable Devils that we have despoiled them of their fishing and hunting grounds. Would such exquisitely sensitive souls have Americans abandoned the country? The miner and packer are willing to live on terms of amity with the savages, but the savages will not. We repeat then: They must be whipped, terribly whipped, hunted through the mountains and shot down without mercy."
While the Act of 1850 required justices of the peace to approve guardianship, those safeguards were ignored or rarely enforced, Magliari says. The act quickly led to a violent trade, with killings of Indian parents and kidnapping of their children.
"You legalize the binding of Indian children, and you don't enforce these protections … it's pretty much setting up a situation where you are almost inviting the kidnapping," Magliari says.
An 1854 edition of the State Journal in Sacramento noted Indian children were brought to cities and farms, where a tale is told of them being orphans, or some other plausible story, and they are sold at prices varying from $100 to $200. Without a doubt, persons who purchase these children think that they are doing an act of charity, and perhaps in some instances they do; but it is sustaining a system of kidnapping from which a band villains are growing rich.
The same year, the Daily Alta California reported: This practice has become quite common. Nearly all the children belonging to some of the Indian tribes in the northern part of the state have been stolen.
In 1861, The Marysville Appeal wrote, "it is enough to chill the heart of man to know that these vile kidnappers in human flesh are making a regular business of killing the Indians in the mountains, or running them off, and kidnapping their children, packing them about the country, like so many sheep or swine to sell, at retail or wholesale."
Christian charity, paternalism and racial superiority were threaded through the narratives of justification: Indian children were provided food, clothing, shelter and the opportunity to become "civilized."

"I think mostly people were able to rationalize it as a contract relationship, all approved by the court," Magliari says.
Resendez says some individuals "became slavers in the worst sense of the meaning, hunting Indians down, killing the males and selling women and children," and others attempted to obtain Indian labor "in a less violent and less coercive manner."
"I think there were people who played by the rules. I'm sure that happened," Magliari says. But in the majority of instances, he says, Indian children "entered the system in a real violent and coercive way."
"A lot of these kids were basically orphaned or captured on battlefields or massacre sites," he says.
How Kate came to be with the Camdens isn't known. Whiskeytown is Wintu territory. Native people lived there thousands of years, says Nor-Rel-Muk Wintu elder Bob Burns. The area where the Camdens lived had been a key location for trade between tribes, according to Burns.
"It was an ideal spot, a bartering center," Burns says.
But Kate might not have been Wintu. Indian children were often brought to settlements distant from where they were found or captured to lessen the chance of escape or retaliation.
"It was much safer to bring them in from far away," Resendez says.
Kate is an enigmatic figure. There is little documentation of her life. Philena Camden mentions her in an 1855 journal entry, recounting her husband's return from San Francisco with a Mr. Clark: "Mr. Clark had bought Kate and Ada a doll apiece …"
Charles' autobiography refers to Kate once: "... we made a trip east to England, taking Ada and Grace (our two children), and the Indian girl Kate with us … On arriving in England we left the children and Kate with friends, which enabled us to go around with more freedom, even into France. We returned Nov. 1, 1859, having been gone six months."

By 1868, the Camdens lived mostly in Oakland, spending summers in Shasta County. The 1870 Census shows Kate living and working in the Shasta home of Adoram and Donna Coleman, who had a 1-year-old son. Kate had attended school within the year and was able to read and write. Donna Coleman later became the first woman elected as a county schools superintendent in California.
Two photographs of Kate exist. One is a Camden family portrait, likely taken near the time of the 1859 Europe trip, with Kate holding toddler Grace. The other, circa 1865-70, shows Kate as a young woman.
Kate died in 1871, possibly of tuberculosis. She is buried near at least two other graves, not of Indians, in an undisclosed location at Whiskeytown.
Life for Indian children in the homes of white families likely varied widely. Being taught to read, as Kate was by Charles Camden, is unusual, the three university scholars say. Reading wasn't required for a nursemaid. Part of Camden's motivation might have been his lack of formal education. In his autobiography, he says: "I left home at seventeen years of age almost without any education, only the commonest rudiments in figures and penmanship. What a source of regret this has been to me through life …"
A Native American nursemaid traveling to Europe also would have been unusual. As would a Christian burial plot for an Indian in the 1800s.
"That indicates a level of assimilation," Magliari says of the engraved headstone rather than an unmarked grave or a simple wooden marking.
Richard Patton, who grew up in Hayfork and has Wintu and Yakama heritage, researched the histories of two Indian girls in his family who were workers in the homes of white families in the 1800s. One went to San Francisco and the other to the East Coast.
Being taken as a child to live and work in a white household was an experience of "total upheaval," Patton says. The children lost parents, community, language and traditions.
Patton has searched for clues about Kate Camden.
"I've always been fascinated by the fact that she went to Europe and back," he says.
Teaching Kate to read is unusual and shows patience on Camden's part, Patton says, noting, "It's hard enough for someone to learn to read and write when they speak the same language."
What happened to Indian children after they became adults or their work was no longer needed?
"Their fates were varied," Resendez says, speculating that many died young. "I don't think there is a clear pattern."
"It's hard to trace these people. They really disappear," Magliari notes.
He describes the position they occupied as "a very awkward, in-between status" of not fitting in the world of the settlers and no longer being part of Native American life.
"I feel sad for her," Patton says of Kate. "There's no sign she ever got to talk to her family again. There's no sign she was there willingly."

Whiskeytown National Recreation Area thanks Laura Christman for researching Kate Camden and writing this article. Published in the Redding Record Searchlight in 2017.
Last updated: November 2, 2022