Anna Baker Weir
Anna Dwight Baker was just nineteen when her friend, artist Ernestine Fabbri, brought her to an art class taught by a young Julian Alden Weir. Ernestine later describes their first meet as, "a coup de foudre [love at first sight/a bolt out of the blue]." Anna and Julian were engaged a few weeks later. They were only married for nine years before her tragic death in 1892. Anna's memory is preserved within hundreds of Julian's works of art. However she wasn't just his artistic muse. She is remembered today as one of Julian's staunchest supporters. As their daughter Dorothy Weir Young noted, Anna was "a fundamental part of Weir's artistic as well as his personal life; and her moral support had been a bulwark to him."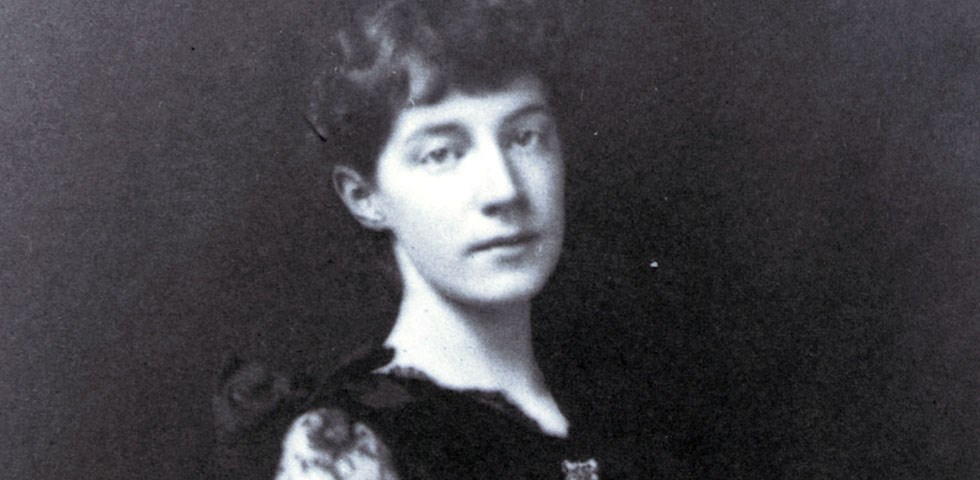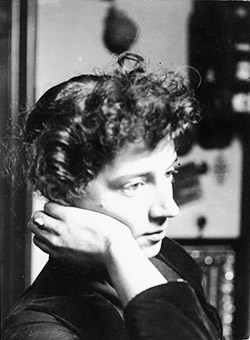 Early Years (1862-1880)
Born Anna Dwight Baker in Madison, New Jersey on May 18th 1862, Anna was the youngest daughter of Charles Taintor Baker and Anna Bartlett Dwight Baker. Anna was slender, of medium height, with dark blue eyes, and thick curly hair of reddish golden brown. She was passionate about the theater. As a young child, she often dressed up as Romeo and acted before invisible audiences. Anna loved reciting memorized verses and took elocution lessons, possibly in an effort to fulfill her dream of being on stage. After Anna passed away, acquaintances recollected that Anna was ethereal, believing that she had no knowledge of the "wrong side of life. Nothing like that entered her conscience." Perhaps some of this personality had to do with the Baker's lifestyle.
The Baker family often spent their summers between their historic home in Windham, Connecticut or in Europe. The family could afford this lifestyle because of inherited wealth. The family fortune originated from Anna's in-laws, the Taintors, who supplied American troops with clothing and provisions during the War of 1812. Anna's grandfather, Lieutenant Colonel Rufus L. Baker, was a successful businessperson that wisely invested the family's finances and grew the family's fortune.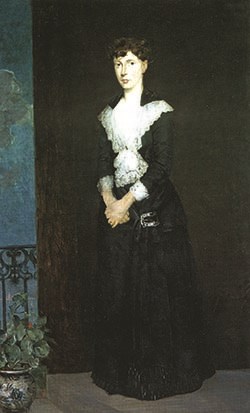 Courtship with Julian Alden Weir (1881-1882)
Anna was 19 when her friend, artist Ernestine Fabbri, brought her to an art class taught by a young Julian Alden Weir. Ernestine later described the scene as Anna entered the studio and settled into place as, "It was for him [Julian Alden Weir] a coup de foudre [love at first sight/a bolt out of the blue]." The evening after Anna first visited Julian Alden Weir's studio in the Benedick Building he called upon Anna and Ernestine and wanted to know everything about Anna. Ernestine later commented, "We were amused…and we knew at once that he had been hard hit." Following Anna's third lesson, it was raining and Julian volunteered to escort Anna home under his umbrella, this soon became the typical end to their evenings. Julian and Anna were engaged three weeks after their first meeting.

Soon after their engagement, Anna would return to her family's home in Windham, CT. However, the couple would write each other on a daily basis. In May, Anna wrote, "I can imagine no place of its kind more fascinating than your studio of a moonlight night. Sometimes I shall ask you to take me there; and…we can hold converse sweet together." Julian immediately responded, "The Benedict [sic] is becoming empty now…I shall be the monarch of the building and when you come here again we will do as you suggest, if there is still a moon." Julian and Anna wrote almost daily to one another throughout that summer of 1882, and included thoughts about artistic aspirations and their future family life. The letters revealed a tender romantic side to Weir.
Marriage and Death (1883-1892)
Anna Dwight Baker and Julian Alden Weir were married on Tuesday April 24th 1883 at the Church of the Ascension in New York. After the wedding, the newlyweds ventured to Branchville, Connecticut to see the farm Julian had purchased the previous year. During their honeymoon, the Weirs bought many of the furnishings now on view in the Weir House and Julian painted Anna on the Balcony of Duveneck's Studio. This painting signifies Anna's future importance, as a muse and ardent supporter, to her husband's professional development.

After returning from their honeymoon, Anna and Julian built a life together. They would split their time between their quiet summers in Branchville and Windham, Connecticut and Julian's professional life in New York City. Anna and Julian had four children together, three of whom survived to adulthood. Caroline Alden Weir was born soon after the couple returned from their honeymoon in March of 1884. Their son Julian Alden Weir Jr. died in infancy. Dorothy Weir and Cora Weir were the youngest daughters, born in 1890 and 1892 respectively. In the last letter Anna would write to her sister Ella, Anna illustrates her dedication to Julian's profession and how committed Julian was to her family;" Julian has just finished an etching which he is very much pleased with, and says to tell you he is keeping one of the best impressions for you, as he thought you were too far away to send it to."

Anna tragically died in 1892, just ten years after marrying Julian Alden Weir. Julian artistically preserved Anna's memory in his etching, Eternal Rest, and created a stained glass window for the Church of the Accession depicting Anna and Julian Jr. In their short time together, Julian made her the subject of hundreds of etchings, paintings, sketches and photographs. She is remembered today as one of Julian's staunchest supporters and his artistic inspiration. Anna is the subject of many of Julian's paintings that now hang in galleries across the country.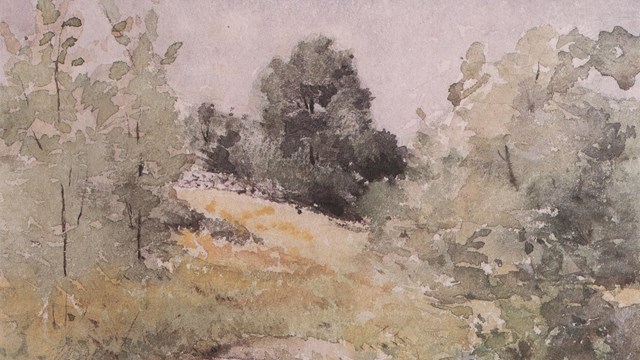 Julian Alden Weir Artwork Gallery
Julian Alden Weir spent nearly four decades painting at his farm. Click to see more of Weir's paintings and etchings.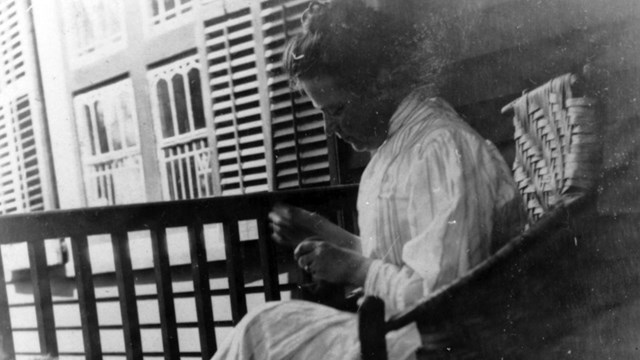 Ella Baker Weir (1852-1930)
Ella was a serious world traveler before becoming the rock of the Weir family following the passing of her youngest sister, Anna.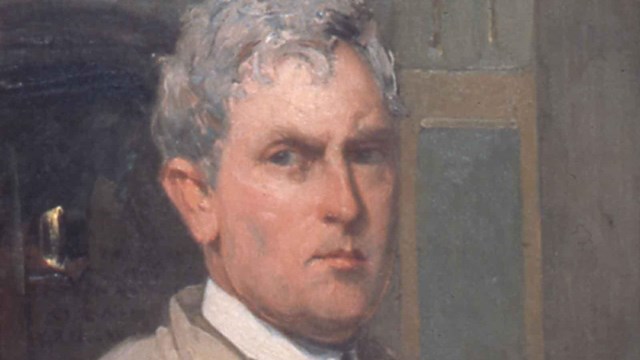 Meet the Artists
Learn about the prominent artists and their family members who lived and worked here.
Last updated: August 14, 2023