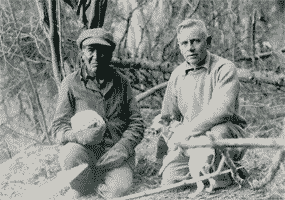 The voyageur - a French word meaning traveler - the namesake of Voyageurs National Park - began journeying through these interconnected waterways over 250 years ago; waterways that are one of the most important segments of the fur trade route used to open the "Great Northwest".
As park visitors travel the lakes today, it is easy to imagine the voyageurs of the past dipping their canoe paddles into the clear, dark waters to the rhythm of their songs, gliding past the rock and pines of this northern landscape.
Voyageurs National Park was established in 1975, but is filled with evidence of over 10,000 years of human life and use. Signs of Native Americans, fur traders, and homesteaders, signs of logging, mining, and commercial fishing are scattered throughout the park.
The Organic Act of 1916 created the National Park Service and decreed that nature and culture were to be protected hand-in-hand. Voyageurs National Park protects and shares a rich, unique cultural history that was shaped by the picturesque, rugged nature of its water and lands.