Tales From Namakan Lake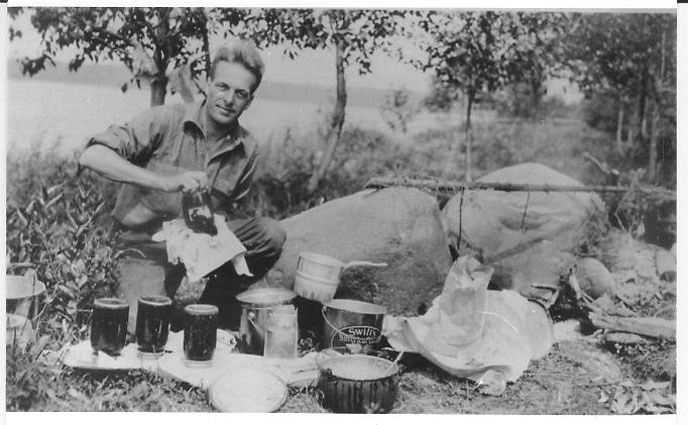 TALES FROM NAMAKAN LAKE
By I.W. Stevens
In 1932 I became interested in buying some lakeshore property in northern Minnesota and wrote to two men – whose names had appeared in a newspaper – asking for information about the availability of such land in the Kabetogama Lake area. There were no replies.
In August of that year, I spent a two-week's vacation camping on Kabetogama Lake. The algae was bad at that time and my young partner and I would motor around seeking some place free from algae. We finally located such a spot in Moose Bay on Namakan Lake and greatly enjoyed the clean water for our swimming. Incidentally, we were on this island---my future home. We passed the former Virginia, Rainy Lake Lumber Company's headquarters and figured it to be somebody's private property, when we saw the many buildings, and didn't stop. A mile to the east we came to where a stick was protruding out of the water. The arrow nailed to it pointed towards Kubel Island's shore. We looked for human habitations. There were none to be seen. Later I learned that the arrow was a warning to motor boaters that a bad reef was located there. We were only a quarter of a mile from Emil Torry's fish camp but were unaware of that fact.
After returning to Hibbing, I one day mentioned to a friend that I'd failed to receive any answers to letters I'd written seeking information on northern Minnesota lakeshore properties for sale. He told me that he'd seen an advertisement in the Hibbing Tribune that the Virginia, Rainy Lake Lumber Company were placing many parcels of land on Namakan Lake up for sale. To the letter I wrote them seeking further information about the land advertised, they replied that they'd take me to Namakan to look over the land at my convenience. It was agreed that I was to meet their representative at Orr on a specified Sunday morning. We drove to Gappa's Landing on Kabetogama in his car. The 20-mile boat trip began on a lovely fall day. We looked over several parcels of available land, including Shean's Point where we met an elderly commercial fisherman named Bert Phelps who had a shack there. The next place inspected was this property.
LOVE AT FIRST SIGHT.
I lost all interest in other properties after seeing this lovely spot with huge Norway and white pines, birches, maples, basswood, ash, spruce and balsam trees.
After our evening's repast, we spread our blankets on the floor of one of the smaller tar-papered shacks and retired as darkness fell. After a full day we looked forward to a good night's sleep. Did we get it? Not at all. Hardly had the flashlight been extinguished before small animals began scampering all over our beds. It soon dawned on us that our nocturnal visitors were mice. Realizing that it would be next to impossible to get any rest with those pests crawling over our beds, we went into action to improve the situation. While my partner held the flashlight, I contrived to rig up a contraption that would dump a mouse into a partially water-filled bucket when the mouse attempted to get at the bait fastened to the end of a piece of lath placed on top of bucket and balanced so that, when mouse dropped into bucket, the lath would fall back in place and be ready for next rodent. It didn't take long, after the light was turned off, before there was a ker-plunk as the first mouse hit it's Waterloo. That went on for half an hour or so before things quietened down so we could get our much needed rest.
Upon my return to Hibbing, I wasted no time closing the deal for the former Virginia, Rainy Lake Lumber Company's old headquarters. In March of 1932 I underwent surgery for hemorrhaging stomach ulcers. During my convalescence I decided that the best thing for me to do, in order to regain my health as quickly as possible, was to move to my recently acquired property. I, therefore, resigned from the position as manager of the Ladies' Shoe department of the Itasca Department store that I'd filled for fourteen years.
Accompanied by Jack Williams, a Michigander visiting relatives in Hibbing, we drove to Gappa's Landing on May 2nd and spent that night at Cline's resort. Next morning Cline's large boat was loaded with as much of my paraphernalia as we felt was safe and, with Morrie Cline at the controls, we left for what was then known as Hines Island. Jack and I moved into one of the largest tar-papered shacks and set up housekeeping.
A few days later the two of us started out for Gappa's Landing – 16 miles from here - to pick up a new rowboat I had ordered. My only water crafts at that time were a square stern canoe and a regular paddling canoe. Realizing that the canoes weren't suited for these large bodies of water, a larger boat had been ordered. We picked up the new boat, loaded it and the square stern canoe as heavily as we dared and began the journey for home. By the time east end of Kabetogama was reached, the wind had increased so much that we didn't dare take the risk of attempting to proceed any further. Landing in the lee of an island, we cooked and ate our supper. In the meanwhile, the wind had died down considerably and we felt it would be safe to be on our way. By the time we reached west end of Namakan Lake, it was getting dark and I couldn't find my way among the numerous islands. There was nothing to do but tie up and spend night on what later was to be called Foote's Island. The rock, on which we attempted to sleep, was anything but soft and we didn't get much sleep that night. At daybreak we were on our way and had no further difficulty finding my island..Jack departed for home a week later and I was left alone.
When first I arrived here the place was over-run with woodchucks. There were several families under every tar-papered shack and they kept me busy trapping and shooting them. Over one-hundred were eliminated that season. In 1933 the crop of woodchucks dropped noticeably. Only about 60 were sent to their happy hunting ground that year. No chucks have been seen here in the past four years. In case you entertain the idea that it was cruel of me to kill the woodchucks, I suggest that you plant a garden and it won't take you long to find out what the pests can do to it in a short time.
Because of my recent illness, I had to take things easy that summer. There was an abundant crop of luscious blueberries that season and most of my time was spent in the berry patches. The result really was something to crow about. I canned 165 quarts of blueberry sauce. (I hadn't figured out the recipe for blueberry-rhubarb jam at that time.)
Fishing was marvelous in those days. A person could go out on lake at any time and catch the limit of walleyes (if he wanted that many). It didn't matter whether the day was sunny or cloudy, calm or windy. The walleyes were usually not only willing but anxious to take the bait. There were a great many deer. Evenings I'd go outside and make some noise near the cattail slough just to hear many deer splashing as they left the water in the slough where they'd been feeding. In the fall of the year, deer would come to feed on the clover in the yard Partridges, too, were numerous. Believe it or not, I actually took a picture of 20 of them in one birsh at the same time. One of the dozen tar-papered shacks had no door but the window screens had been left when someone helped himself to the sashes. One day I noticed a partridge sitting on the window ledge attempting to get outside only to be stymied by the screen. To the man that was helping me at the time, I suggested that he go in, catch the partridge, carry it outside and turn it lose quite a distance away from the building, before turning it lose. He carried the bird at least 40 feet before letting it go. What do you suppose the darn partridge did? It just flew right back into the shack. Bird brain? Maybe so.
WHERE, OH, WHERE HAS OUR WILDLIFE GONE?
In the fall the remodeling of the best building on the place was begun. That job kept me busy all winter. The carpenter bench was moved into the living room and I got busy making cabinets, etc. The one job that I'm really proud of is the floor to ceiling bookcase that I made. It really turned out to be a beauty. With no electricity, there were no power tools so everything had to be hand made.
There was no mail deliveries to Ash River at that time. Every two weeks, weather permitting, I'd ski the four miles over there hoping that someone had brought in the mail. Mr. & Mrs. Wm. Palmer and Chester Barkdoll, a fishing and hunting guide, were the only people living on river. In the spring Palmer began building what now is Frontier Resort. - - John Alden from Hibbing, built a hunting shack on Moose Bay that fall. He, George Brown and Dr. Curtiss came up for Big Game hunting season. We hunted together and all were successful.
I shall now digress and enter the timberwolf controversy. During the many years I've resided on Namakan Lake, I've seen far too many piles of fur left on ice by wolf-killed deer to have anything but an undying hatred for the blood-thirsty killers. What's lost if the wolves become extinct? It would be far more desirable than to have our beautiful, innocent deer meet that fate. That could happen as the deer herd cannot indefinitely continue supplying meat for their many enemies. The worst of these, apparently, are the money-hungry DNR with their annual open hunting seasons. That department's main concern seem to be: How much money can we squeeze out of the hunters for license fees. The wolves come next followed by poachers and winters with deep snow. The widely publicized pictures of a lone wolf patiently following a migrating herd of caribou did so in hopes that one of the caribous would break a leg, become ill or too tired to keep up with the rest of the herd thus making it an easy prey for the wolf. That fallacy left the impression that wolves don't kill healthy animals: only the sick, injured or worn-out ones. When a pack of wolves manage to drive a deer out on the ice, where the footing is precarious for the small-hoofed deer, the wolves' only desire is to get fresh meat and warm blood. Little do they worry whether the deer meets the specifications that it must be sick, injured our worn-out. As far as I'm concerned, I fervently wish that every timberwolf on the North American continent would join New Zealand's Dodo birds. GOOD RIDDANCE! In case anyone may think that the reason I hate wolves might be that, if there were fewer of them, I would have less difficulty getting a deer during hunting seasons. Not so. The last time I shot a deer was back in 1961. No matter how many of us wolf-haters think that the law, making the timberwolf a member of the Endangered Species, was about as asinine as it possible could be, it still is the law of the land and should be obeyed. Attempting to eliminate the wolves by poison or trapping isn't the best method, it seems to me. A much more desirable way would be to put the heat on Congress and urge them to remove the wolves from the Endangered Species and turn the control of them back to the state. Then follow that move with a barrage of letters to the legislature. That might bring results. At least it would be worth trying.
What amazes me is that today's killers, be they human, animals or birds, get all, or most, of the sympathy. A case in point, is that of the fall migration of hawks that makes people go GA-GA by the sight. If anyone has ever stopped to consider the vast number of innocent birds that were killed to feed those hawks, I've failed to become aware of it.
Don't know how it came about that Judy Blais, of the Daily Journal staff, go the idea that, the old fellow living by himself on an island in Namakan Lake, might be news-worthy. It was a surprise to me when she flew here with Frank Bohman last fall to interview me. The results were that, after being shown my diaries, kept for 42 years, she became much interested and took them home with her. Excerpts from those diaries appeared in three articles in the Daily Journal. Later, she managed to interest Jules Loh, a feature writer for the Associated Press, in flying here to interview me. His article appeared in newspapers from coast to coast, border to border. Also in Canadian newspapers. For a person that never considered himself of any special importance, it was quite a jolt, suddenly being catapulted into the International limelight by all that publicity. I would be less than honest were I to deny that I enjoyed it. That is, up to a point. By mid-February, when the "Fan" letters had reached the staggering total of 170, the thrill was fading some. Unfortunately for me, I feel that most of those letters deserve an an answer. Ninety-five have been answered up to Feb. 28.
Now some good news for Daily Journal readers
that may have wasted their time reading the
trivia of above article. After having to be man,
woman, horse, dog and cat, there's very little
time left for any serious writing. That fact,
very likely will be the "Tail End" of
TALES FROM NAMAKAN LAKE.
Last updated: April 10, 2015