Voyageurs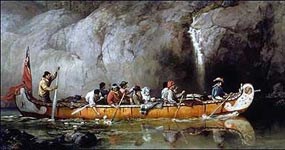 The earliest European exploration of this area is believed to have occurred about 1688 when French explorer Jacues de Noyon wintered along the Rainy River.

The European demand for beaver pelts brought fur traders into the region. The voyageurs paddled large birch bark canoes carrying trade goods and furs between the Canadian northwest and Montreal. The voyageurs were prompted by competition over the diminishing supply of furs in the east, and were the first Europeans to explore the northwest territory and to engage the indigenous peoples in the trade of furs on a commercial scale.

The Cree, Monsoni, and Assiniboin tribes were the primary inhabitants of the region at the time of initial European contact. However, by the mid-18th century they had largely abandoned the Rainy Lake area, leaving the region open for settlement by the Ojibwe.

By 1780 the Ojibwe had become the primary residents of the border lakes region, and they played a key role in commerce as suppliers of food, furs, and canoes. They were also guides during the fur trade, their intimate knowledge of the geography and resources was crucial to the European fur traders.
Last updated: December 7, 2017