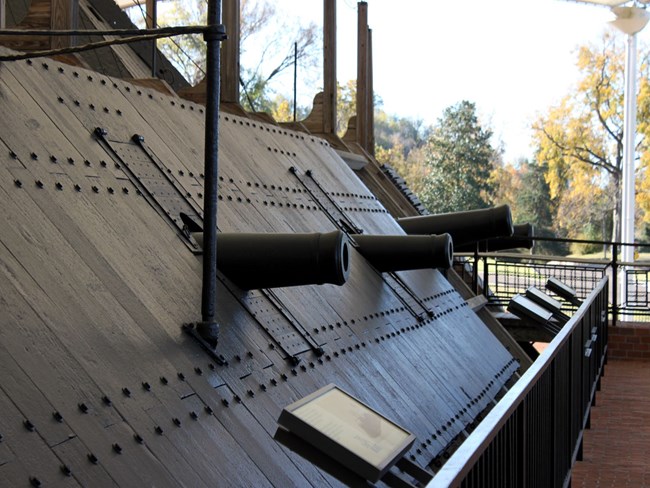 The U.S.S. Cairo was one of seven ironclad gunboats named in honor of towns along the upper Mississippi and Ohio rivers. These powerful ironclads were formidable vessels, each mounting thirteen big guns (cannon). On them rested in large part, Northern hopes to regain control of the lower Mississippi River and split the Confederacy in two.
The "city class" gunboats were designed by Samuel M. Pook and built by river engineer James B. Eads. Cairo was constructed at Mound City, Illinois, and commissioned in January 1862. The Cairo was destined to see only limited action in the engagement at Plum Point in May and in the battle of Memphis in June. Her most significant action came six months later when she kept a rendezvous with destiny.
The Cairo's skipper, Lt. Commander Thomas O. Selfridge, Jr., was rash and ambitious, a stern disciplinarian, but an aggressive and promising young officer. On the cold morning of December 12, 1862, Selfridge led a small flotilla up the Yazoo River, north of Vicksburg, to destroy Confederate batteries and clear the channel of torpedoes (underwater mines). As the Cairo reached a point seven miles north of Vicksburg the flotilla came under fire and Selfridge ordered the guns to ready. As the gunboat turned towards shore disaster struck. Cairo was rocked by two explosions in quick succession which tore gaping holes in the ship's hull. Within twelve minutes the ironclad sank into six (6) fathoms (36 feet) of water without any loss of life. Cairo became the first ship in history to be sunk by an electrically detonated torpedo.
Over the years the gunboat was soon forgotten and her watery grave was slowly covered by a shroud of silt and sand. Impacted in mud, Cairo became a time capsule in which her priceless artifacts were preserved. Her whereabouts became a matter of speculation as members of the crew had died and local residents were unsure of the location.
By studying contemporary documents and maps, Edwin C. Bearss, Historian at Vicksburg National Military Park, was able to plot the approximate site of the wreck. With the help of a pocket compass and iron bar probes, Bearss and two companions, Don Jacks and Warren Grabau, set out to discover the grave of the Cairo in 1956. The three searchers were reasonably convinced they had found the Cairo, but three years lapsed before divers brought up armored port covers to positively confirm the find. A heavy accumulation of silt, swift current, and the ever-muddy river deterred the divers as they explored the gunboat. Local enthusiasm and interest began to grow in 1960 with the recovery of the pilothouse, an 8-inch smoothbore cannon, its white oak carriage and other artifacts well preserved by the Yazoo mud. With financial support from the State of Mississippi, the Warren County Board of Supervisors and funds raised locally, efforts to salvage the gunboat began in earnest.