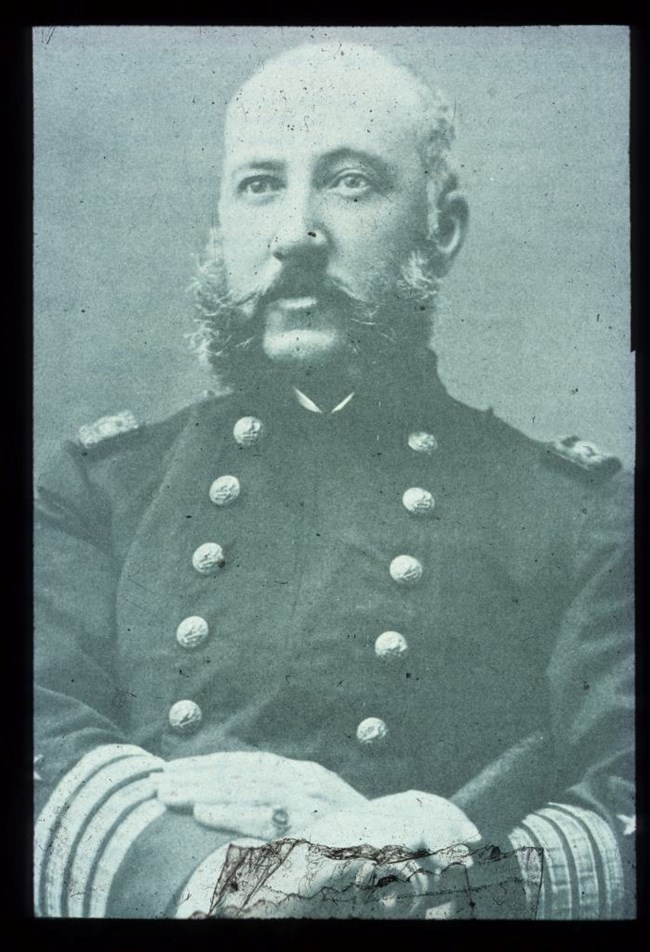 A Zealous Disposition...
In the annals of Civil War naval history, the name Selfridge does not stir the imagination quite like the legendary Farragut or Porter; yet Thomas O. Selfridge Jr. was an intelligent and gifted officer who rose to the height of his profession. The
USS Cairo's
third commander was born in Charlestown, Mass. In 1836. The son of a distinguished naval officer, Thomas Jr. was destined for a career in the Navy. In 1854, Selfridge graduated at the head of his class from the U.S. Naval Academy at Annapolis and by 1860 was promoted to lieutenant.
While serving on the wooden frigate
USS Cumberland
, Selfridge witnessed the effectivnesss of an ironclad warship. On March 8, 1862, the
CSS Virginia
rammed and sank the
Cumberland
after a brief fight taking two-thirds of her crew to the bottom. The young lieutenant survived only by jumping over the side of the sinking ship and swimming to a nearby lifeboat. This was the beginning of a string of bad luck that would follow Selfridge for the next two years.
After briefly serving as the commander of the
USS Monitor
and the experimental submarine ALLIGATOR, the twenty-six year old lieutenant Selfridge was promoted to lieutenant commander and placed in command of the ironclad
USS Cairo
. During the first three months of his command the
Cairo
spent much of her time patrolling the Mississippi River seeing little action. In November 1862,
Cairo
was assigned to an expedition being formed to attack Vicksburg. On December 12, the
Cairo
was ordered to ascend the Yazoo River and clear it of Confederate torpedoes (submerged mines) in hopes of allowing safe passage of Union transports carrying troops for the proposed attack. Shortly after 11:00 a.m. the ill-fated ironclad struck two of these "infernal machines" and sank in twelve minutes without loss of life.
For the loss of the
Cairo
, Selfridge received considerable criticism from fellow officers and Admiral Porter. In a report to the Navy Department, Porter remarked:
"
My own opinion is that due caution was not observed
." The admiral, however, apparently impressed with Selfridge's aggressiveness, later withdrew his criticism. "I
can see in it nothing more than one of the accidents of war arising from a zealous disposition on the part of the commanding officer to perform his duty."