Hiking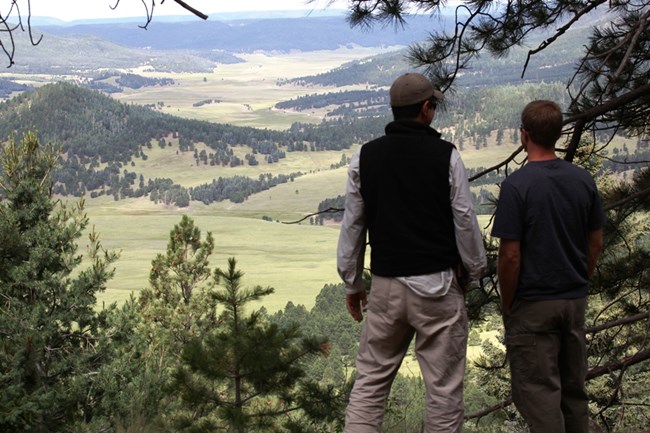 Hiking routes within Valles Caldera range from easy strolls to steep climbs. The land that today comprises Valles Caldera National Preserve was a private ranch for over 150 years, so the majority of hiking routes follow old logging and ranching roads, passing through open meadows and dense forest. They can also traverse areas burned by forest fires, so it is important to be cautious of deadfall. Check with rangers to get up-to-date trail and
weather conditions
before heading out.
As Valles Caldera National Preserve is a relatively new unit of the National Park Service, trails, roads, and points of interest are largely unmarked at this time. If you plan to hike at Valles Caldera, particularly in the backcountry, please be aware that many old road traces intersect the park's trails and can cause confusion if you do not have a map, compass/GPS, and proficient navigational skills.
Know Before you Go
High Elevation Dangers
Much of Valles Caldera is over 8,000 feet in elevation. Even very fit individuals coming from lower elevations may experience altitude problems. Symptoms include headaches, shortness of breath, insomnia and rapid heartbeat. After a few days your body will have made some physiological adjustments to higher elevations, but full acclimation may take weeks. To minimize symptoms drink plenty of fluids, avoid alcohol, don't skip meals, and get plenty of rest. Ultraviolet light is stronger in the mountains because there is less atmosphere for the sunlight to pass through. Wear sunscreen, a hat, sun glasses and consider wearing a long-sleeved shirt if you are out in the sun for an extended period of time.
Hiking Seasons and Conditions
The summer season runs from approximately May 15–October 31 (conditions permitting), at which time the backcountry is accessible. Most, but not all, routes require a backcountry permit (see individual hike descriptions for more details) and are thus only accessible during summer season. Several trails that do not require a backcountry permit can also be enjoyed in early spring and late fall, and offer possibilities for snowshoeing and cross-country skiing in winter. All routes are well above 8,000 feet in elevation, and many are quite exposed and can be potentially hazardous during monsoon season (generally June–August) due to lightning. It is possible to experience all four seasons in one day, and weather conditions can change rapidly, so be sure to be properly equipped with adequate clothing, including rain gear. This landscape has suffered extensive damage from wildfires, so do not linger when passing through a burned area and do not enter a burned area in high winds. Some routes pass through drainages or dry streambeds (arroyos), which can flood without warning.
Water
Due to the high elevation and dry climate, you must drink more water here than in other places, regardless of season. Always carry adequate water (2-3 liters per person per day). There is no drinking water available on the preserve exceot for the bottled water availalle for purchase at the entrance station. Water from East Fork, Jaramillo Creek, San Antonio Creek, and any other springs is not safe to drink. Boil or treat water from these sources before using.
Navigation
The maze of logging and ranching roads of the past create excellent avenues into this beautiful landscape, but navigation can be confusing. Some signage exists, but as a new unit to the National Park Service, Valles Caldera is in the process of developing its trail management and maintenance plan. Improvements to some routes will be made, while others may be decommissioned. For your safety, please take a navigable map and compass or GPS. Some smartphone applications can also help you navigate, but be sure to pick one that is functional in "airplane mode" and out of the service area. Most applications will meet this criteria by default. Avenza Maps has a free version, and once downloaded, you can search their library of maps. In the library, search for the free Valles Caldera National Preserve map. Make sure to download it to your phone before leaving your service area. Using Avenza, this map will show you in real time, where you are within the preserve. Be sure to put your device into airplane mode so that you save your valuable battery life. Always have a paper map for backup.
Wildlife
Valles Caldera is home to a wide variety of animals, from the thousands of elk for which it's famous, to black bears, mountain lions, coyotes, badgers, and prairie dogs, as well as many species of birds, smaller mammals, and reptiles. Do not approach or attempt to touch any wildlife. In the event that you encounter a black bear or mountain lion, raise your arms to appear as large as possible, make a lot of noise, throw rocks, back away slowly, and avoid eye contact. Do not run, and if it charges, stand your ground and fight back.
Choose a Hike
All distances are round trip. Follow the links for more details.
Missing Cabin Trail: 0.5 miles (0.8 km)
Pond Trail: 1 mile (1.6 km)
La Jara Loop: 1.5 miles (2.4 km)
Valle Grande Trail: 2 miles (3.2 km)
Hidden Valley Trail: 3.4 miles (5.5 km)
Coyote Call & Rabbit Ridge Trails: 2.9 miles (Coyote Call Loop) (4.7 km); 5.3 miles (with Rabbit Ridge Extension) (8.5 km)
Cerros del Abrigo Loop: 7.2 miles (11.6 km)
Rito de los Indios Trail: 7.8 miles (12.6 km)
South Mountain Trail: 8.2 miles (13.2 km)
Banco Bonito Loop: 9.2 miles (Loop) (14.8 km); 9.5 miles (Alternative Route with two-car shuttle) (15.3 km)
El Cajete Loop: 9.4 miles (15.1 km)
Valle Toledo Loop: 9.5 miles (15.3 km)
La Garita Summit Trail: 7.6 miles (12.2 km)
Northwest Corner Trail: 9.7 miles (main trail) (15.6 km); 12.3 miles (with Extension) (19.8 km)
San Antonio Mountain Trail: 11 miles (17.7 km)
Cerro Seco Loop: 11.2 miles (18 km)
Sulphur & Alamo Canyons Loop: 12.2 miles (19.6 km)
Valle Jaramillo Loop: 13.7 miles (with two-car shuttle) (22 km); 17.1 miles (without two-car shuttle) (27.5 km)
Cerro del Medio Loop: 13.8 miles (22.2 km)
Redondo Creek–Mirror Pond Trail: 13.9 miles (22.4 km)
Redondo Border Trail: 15.9 miles (25.6 km)
Northwest Rim Trail: 18.6 miles (main trail) (29.9 km); 21.2 miles (with Extension) (34.1 km)

Backpacking
Currently the only camping within the preserve is by Special Use Permit, however as a newer member of the National Park Service, Valles Caldera is working hard to improve access. As we move forward into the important stages of planning and responsible development to improve visitor access while protecting the cultural and natural resources that make this place so special, your input is critical and will be solicited on the National Park Service Planning Page.
Last updated: September 1, 2022